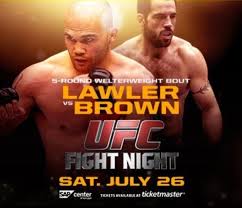 This Saturday is a huge UFC event with a free card being aired on Fox.  The UFC is always trying to make these Fox cards as stacked as possible in order to try to grow the sport and bring in new viewers who may not spend the money on a PPV card.  UFC on Fox 12 is taking place at the SAP Center in San Jose and the main event of the evening will be a title eliminator fight between Robbie Lawler and Matt Brown.  The other main event fights are also very interesting with ranked fighters competing from various weight classes.
I'm doing this betting preview early in the week because I'm excited about the card.  That said the sportsbooks don't have any prop bets up yet, so I will just be picking winners.  I'll also include how I think the fight will end though and you can decide if you want to bet the prop when they become available.
Robbie Lawler vs Matt Brown
This is the welterweight title eliminator fight with the winner expected to get the next shot at Johny Hendricks once the champ is ready to get back in the Octagon.  Lawler already lost a tight decision to Hendricks for the belt back in March of 2014, but he got right back into the Octagon in May and knocked out Jake Ellenberger in a one sided fight.  Robbie has been a beast since coming back to the Welterweight division beating Koscheck via knockout, Rory MacDonald via split decision and of course Ellenberger.  His only loss at this weight class was against Hendricks.  I personally don't think he should have the title shot even if he wins this fight because Rory simply dominated Tyron Woodley who is an even higher ranked fighter than Brown, but because Lawler gets knockouts he will have the opportunity in this fight against Brown.
Matt Brown is also a knockout machine and is currently ranked #5 by the UFC.  He knocked out Erick Silva (#15), Mike Pyle (#12), and three other non-ranked fighters in his last 5 fights and is on a 7 fight winning streak.  He definitely deserves to fight a big name like Lawler, but having not beaten a fighter in the top 10 I expect him to be out of his league.  Matt Brown is a killer, but I don't think he will be able to stand with Lawler in this fight.  I think the fight will stay standing and someone will get knocked out, but my money is on Lawler to be the one landing the final blow.
My Pick: Lawler
Anthony Johnson vs Antonio Rogerio Nogueira
Anthony Johnson came back to the UFC and showed he belongs near the top of the light heavyweight division with a huge decision win over perennial contender Phil Davis back in April.  He is now ranked #5 in the division and will fight Little Nog to cement his place in the UFC.  Little Nog hasn't fought since winning a decision over Rashad Evans in February of 2013.  At 38 years old Nogueira is getting too old for the sport and I expect him to be outclassed by Anthony Johnson.  Since moving to Light Heavyweight Johnson has been a beast and he even has a win over Andrei Arlovski at heavyweight from the WSOF.
I really can't see Johnson not winning this fight.  He is finally fighting at his correct weight class and I think he is a definite contender for the top of the light heavyweight division.
My Pick: Johnson 1.24
Clay Guida vs Dennis Bermudez
This is a big featherweight fight between Clay Guida who is currently ranked #7 in the division and Dennis Bermudez who is ranked #11.  Guida has actually lost 3 of his last five fights, but he moved down to Featherweight three fights ago and has a couple decent wins in this division, along with a knockout loss to top contender Chad Mendes.  That said I still think that Dennis Bermudez will win this fight.  Bermudez is younger and has more upside than Guida, who simply pushes the pace, but doesn't have many weapons to finish fights.  Bermudez is riding a 6 fight winning streak inside the Octagon and a win over Guida would put him up there with the top contenders.  This is his first fight against a top fighter though, but I think he is ready to make the jump up the division.
My Pick: Bermudez 1.72
Josh Thomson vs Bobby Green
Josh Thomson is the #3 contender in the lightweight division, but coming off a split decision loss to Benson Henderson he once again has to fight a lower ranked opponent.  This time around it's going to be Bobby Green who has won his first 3 UFC fights, including a solid decision win over Pat Healy last December.  Bobby Green is currently ranked #13 in the division, but a win over Thomson would elevate him hugely.  Thomson has really only lost to top fighters like Henderson and Gilbert Melendez in his career and although he is ageing I still think he takes this fight fairly easily.  I expect Thomson to be the more active fighter and to pull out a decision win in this fight.
My Pick: Thomson 1.45
Tagged With : Anthony Johnson • Josh Thomson • Matt Brown • Robbie Lawler • UFC on Fox