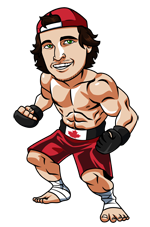 I was close to clean sweep for my picks on last weeks Fight Night card, but Lewis wasn't able to get the job done in the main event leaving my picks 3-1 on the card for +2.23 units. That said the Dariush and Price finishes came after both guys were likely down in the fights.
This week the UFC is heading to London for an afternoon card headlined by Darren Till vs Jorge Masvidal. The 3 main fights on the card are all big time fights and I've given my plays for each below.
The main card (6 fights) gets underway at 4pm EST on TSN 5 here in Canada.
Sportsbook
Features
Offers
Rating
Bet Now
Darren Till vs Jorge Masvidal
This is a tough fight to pick because I think both guys are overrated. Don't get me wrong, I'm excited for this fight and expect it to be a good one, but I would love to be able to fade Till in this spot. Unfortunately, I think Masvidal is a perfect matchup for Till, and even if this fight is close, we saw what a hometown advantage can do for Till in London after the judges handed him his win over Wonderboy in Liverpool.
Till will be the far bigger fighter with the much bigger shots. Masvidal is probably the better technical boxer, but I think Till's size and danger will force Masvidal to the outside, giving Till the middle of the cage which could play a factor in winning rounds in this fight.
I'm nervous to take Till because he's shown the willingness to not engage at all in both his recent fights with Wonderboy and Woodley, where he didn't even land a strike in over a round before being knocked down and submitted. That said, he's done well against smaller opponents who like to strike and I think he has a chance to overwhelm Masvidal in this fight.
Masvidal is a very solid fighter, but he's undersized at welterweight and that's a big issue for him. If he stayed at lightweight I think he could have pushed his way into title contention, but at welterweight he will only be able to pick off the fighters who are obviously less skilled.
Both of these guys are overrated in the welterweight division, but both are well known among fans, which is why I think the UFC has matched them up. I believe the UFC set this fight up to get a win for Till, and as long as he uses his advantages and actually throws punches he will probably get this win.
Play: Till 1.40
Gunnar Nelson vs Leon Edwards
From a title fight with two overrated welterweights we move to the co-main with two underrated welterweights in my opinion. I think either of these fighters could beat either of the guys in the main event, but instead of #3 vs #11 (main event), in this fight we have #10 Leon Edwards vs #13 Gunnar Nelson.
Edwards has won 6 straight fights since losing to the current champ, Kamaru Usman back in 2015. I'm most impressed with his win over Vicente Luque where he outclassed Luque over 15 minutes. If you ever read a write-up of a card with Luque on it you will know how high I am on Luque, who is 8-1 in his last 9 UFC fights with all wins by finish. Getting a decisive decision win over a guy like that shows how good Edwards is. He's also coming off a win over Cowboy Cerrone.
That said, I'm siding with Gunnar Nelson in this fight. Gunnar is the type of fighter who can win against anyone, but also get caught in other situations. He's coming off a huge win over Cowboy Oliveira where he won via submission, bouncing back from his knockout loss to Ponzinibbio over a year ago.
Edwards isn't a finisher, which likely gives Gunnar 15 minutes to work his unorthodox striking and elite submission grappling to try to get a finish. I could see Edwards getting the better of the stand-up at first, but it only takes one mistake and Gunnar has you in a choke.
This is the fight I'm most looking forward to and if you give me Nelson at + odds I'm going to take it against almost anyone.
Play: Nelson 2.25
Dominick Reyes vs Volkan Oezdemir
At this point I think it's fairly obvious that Oezdemir ascended to the light heavyweight title shot too quickly. His KO wins over Cirkunov and Manuwa don't look as good anymore with both guys losing the majority of their fights since and being knocked out since. Oezdemir was man handled by Cormier and outclassed by Anthony Smith. He's now just 3-2 in the UFC and I think he's still overrated based on those somewhat lucky KO's.
Reyes is now 4-0 in the UFC including a recent dominant decision win over OSP where half the MMA media had Reyes winning 30-26 (other half 30-27). Considering Oezdemir won his first UFC fight with a split decision over OSP (which almost all MMA media had scored 29-28 for OSP), I think that shows that Reyes will be the better fighter in this match-up. MMA math doesn't always work, but in this case it confirms what I already believed.
Oezdemir still has heavy hands so he has a shot against anyone, but Reyes is the better fighter and I think he will prove it while likely getting a finish in the first or second round in London.
Play: Reyes 1.40