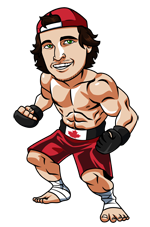 The UFC is headed to St. Louis for the first card of the year this Sunday night.  This is actually a very solid Fight Night card that will tune us up for UFC 220 very nicely.  The Korean Superboy is back after a year away from the octagon to take on Jeremy Stephens in the main event, and Paige VanZant, Kamaru Usman, Vitor Belfort, Michael Johnson and more well known UFC veterans will be showcased on this card.
As I mentioned above, the card is taking place on Sunday Night with the early prelims getting underway at 6:30pm EST on Fight Pass.  The prelims and main card will be featured on TSN2 here in Canada.
I'll be using the best odds being offered from any of our recommended bookies for each of my picks on this card.
Sportsbook
Features
Offers
Rating
Bet Now
1

Licensed and regulated in Canada
Easy deposits & withdrawals including Interac
Competitive betting lines
2

Licensed and located in Ontario
Entirely focused on Canadian betting market
Easy deposit/withdrawal options, including Interac
Jeremy Stephens vs Doo Ho Choi
Stephens has been able to build a reputation as a hard hitter in the lightweight division, but this reputation is mostly made up.  Yes, he throws everything into his punches and moves forward, but he's not a dangerous striker.  His two knockout wins in the last 5 years have been from a knee and a kick.  He actually doesn't have a ton of finishing ability in his hands.
Doo Ho Choi, on the other hand, looks to finish his opponents and has clinical striking that finishes fights.  He was on a streak of 7 finishes in the first round and had earned knockouts over Juan Puig, Sam Sicilia and Thiago Tavares in his first three UFC fights via punches.  His recent fight with Cub Swanson was a fight of the year candidate in 2016, and Choi took last year off after that epic battle to improve and get his head straight.  I think that was the right decision after that battle he had with Cub.
Now, Choi gets another shot at one of the ranked fighters in the lightweight division and I think he will be ready to produce an impressive finish.  Stephens does have an iron chin, which has helped him a ton in other fights, but I don't think it will be able to stand up to some clinical striking and knees against the Korean Superboy.
Look for Choi to get a big win here and begin a year that could send him to the top of the lightweight division.
Play: Choi 1.59
Paige VanZant vs Jessica-Rose Clark
This is my favourite bet on the card.  I think Paige should be a favourite in this spot, and I expect her to become the favourite by the time Sunday rolls around.
I agree that the Paige VanZant hype train got to a ridiculous level over the past couple of years, but I feel like everyone has flipped and now everyone seems to think she is absolutely awful.  Yes, her skills are not up to par with the top girls in the strawweight (or now flyweight) divisions, but she is still a very solid athlete who will be able to bully and grind out less athletic opponents who are not the elite of the division.  Let's not forget that Paige is 7-3 in her MMA career and those 3 losses have all come against high level opponents.  She has lost to Tecia Torres (currently ranked #5), Rose Namajunas (the champ) and Michelle Waterson (ranked #7).  She has yet to lose to an opponent who isn't considered one of the elite, and there is no question that Jessica-Rose Clark is not elite.
Rose-Clark squeaked out a split decision win over Bec Rawlings in her UFC debut, but she is only 2-2 in her last four fights and both of those wins were split decisions, so it's not like she's even dominating lower level opponents.
Rose-Clark is a bantamweight who has had difficulty making weight at flyweight.  She's missed the 125 pound limit in both of her last flyweight bouts.  This is a concern for me because VanZant will be the smaller woman, which could play a factor if this turns into a grinding fight, which it should if Paige has her way.  That said I still give Paige the edge against the fence and on the mat.  She should be the more athletic woman, and as long as she isn't giving up too much strength in her first move up to 125 pounds she should be able to get the better of Clark if this turns into a grinding fight.
Clark was taken down twice in her fight with Rawlings, who is not known for her takedown abilities, so I expect Paige to be able to get this fight to the mat if she chooses.  If Paige opts to test her stand up in this spot, she will likely lose.  I'm expecting her to fight smart and use her strength, which is her athleticism and toughness to grind out a win here.
Play: VanZant 2.10
Kamaru Usman vs Emil Meek
Usman is one of the top prospects in the welterweight division, but he keeps drawing mid level opponents in his fights.  This fight is no different.  Usman should be on an entirely different level to Meek.  In his UFC debut, Meek was taken down 3 times by a shell of Jordan Mein.  He was solid once the fight got to the mat looking for some submissions and improving position, but he won't be able to do that against Usman, who never gives up position on the mat and is one of the best grinders in all of the UFC.
I actually give Usman the edge on the feet as well after seeing him make quick work of Sergio Moraes with a knockout in his last outing.  But if he has trouble on the feet Usman should have no trouble turning this into a grinding affair, in which he should be able to dominate Meek for 15 minutes.
Look for Usman to finally get a highly ranked opponent after this win.
Play: Usman 1.18
Tagged With : Doo Ho Choi • Jeremy Stephens • Paige VanZant • UFC betting • UFC picks