After a very solid UFC 220 PPV card, the UFC is back this Saturday with a prime time UFC Fight Night card featuring Derek Brunson and Jacare Souza in the main event.  The card gets underway at 3:30pm EST with a couple fights on Fight Pass before moving to TSN5 at 5pm for the undercard and following that up with the four card main event at 8pm EST.
I'll be using the best odds being offered from any of our recommended sportsbooks for each of my picks on this card.
Sportsbook
Features
Offers
Rating
Bet Now
1
Licensed and regulated in Canada
Easy deposits & withdrawals including Interac
Competitive betting lines
2

Licensed and located in Ontario
Entirely focused on Canadian betting market
Easy deposit/withdrawal options, including Interac
Derek Brunson vs Jacare Souza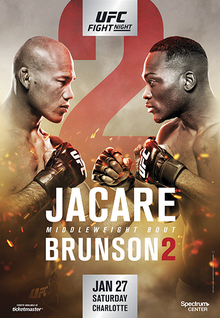 This is a very exciting main event between a couple of contenders in the now wide open middleweight division.  This is actually the second time these two will meet in the cage, with Jacare knocking out Brunson in a Strikeforce meeting between the pair back in 2012.
Jacare is a legend in the sport and has been on the verge of a title shot many times in his UFC career, but the timing just has not worked out.  He's now getting up there in age at 38 years old and likely only has one more attempt to get that UFC gold.  Unfortunately for Jacare, I feel that his time has passed him by.  He's coming off the TKO loss to Robert Whittaker where he was absolutely outclassed on the feet.  That's not to say Jacare is over the hill based on that one performance because we've seen what Whittaker can do against top guys in the division, but the way he outstruck Jacare 55-9 on the feet before landing the knockout blow really makes me question how much Jacare has left in the tank.
Jacare did win his previous two fights in impressive fashion, but wins over Tim Boetsch and Vitor Belfort just aren't of that high quality anymore, and prior to those he lost a tight split decision to Yoel Romero.  His last really big win would have to be his submission victory over Gegard Mousasi back in 2014 where he looked dominant.
Brunson, on the other hand, is still somewhat of a prospect in the division and I feel like he's really improved since taking his own KO loss to Robert Whittaker back in November of 2016.  Brunson was going into that fight having knocked out his previous four opponents in the first round and he went back to that super aggressive style against Whittaker, but it simply didn't work against a counter striker as technical as Whittaker and resulted in a KO.  In the next fight with Anderson Silva, Brunson looked to worry a lot more about defense, but he took his foot off the gas a little bit offensively and that cost him a decision loss, even though most agree he won.
In his last couple fights though Brunson has found the right amount of offense with defense absolutely destroying both Daniel Kelly and Lyoto Machida with quick first round KO's.
Even though Jacare got the KO of Brunson in their last meeting, I think Brunson has improved a great deal on the feet and should have a significant advantage there in this fight.  I think Souza's main path to victory is getting this fight to the mat and working for a submission.  Unfortunately for him, Brunson has some of the best takedown defense in the sport, with his wrestling often overlooked because of his devastating knockout power.  Brunson has actually never been taken down in his UFC and Strikeforce career, so I fully expect him to be able to keep this fight standing and patiently find an opening to land a knockout strike and punch his ticket into a potential title fight later this year.
Play: Brunson 2.45 @ SportsInteraction.com
Andre Fili vs Dennis Bermudez
I'm going right back to the slight underdog in this co-main event between a couple solid featherweights who seem to have trouble winning the big fights.  Bermudez will look to get this fight to the mat, but I actually think Fili has better wrestling than people give him credit for and I'm not completely convinced he will be the only one ending up on their back in this fight.
On the feet, Fili has to have the advantage.  Yes, he looked very ordinary against Calvin Kattar, but we saw Kattar once again make a top striker look very ordinary this past weekend when he knocked out Shane Burgos, so I can't knock Fili too much for that performance.
Fili is the more dangerous guy on the feet and he can throw some unorthodox stuff that I think could catch Bermudez coming in for a takedown.  Bermudez has shown a very suspect chin in some recent fights, as well as not the best gas tank against Darren Elkins.  The longer this fight goes the more likely I think Fili is to land a knockout blow on a tired Bermudez.  It's unfortunate to say, but I think Bermudez's best days are behind him, while Fili still has potential to do some big things in this division.
Play: Fili 2.30
Drew Dober  vs Frank Camacho
This is going to be a striking battle and I'm surprised that Camacho is the underdog.  Yes, Dober has a couple knockouts in his last 3 fights, with a submission loss to Aubin-Mercier sandwiched in between, but he's really not the best striker and his athleticism leaves something to be desired.
Camacho is a super aggressive fighter who has landed over 6 strikes per minute in his UFC career.  He's going to take the fight to Dober and I don't think Dober has the counter striking to land a knockout blow, which I think is his main path to victory.  Camacho should be the more aggressive guy in this fight, which should win him rounds and he also throws big power to go with his big volume so a knockout is not out of the question.
This could be a tight stand up war, but I think Camacho wins if he doesn't get KO'd coming in too aggressively, which I think is fairly unlikely even though Dober has shown some knockout ability in the past.
Play: Camacho 2.50 @ SportsInteraction.com
Bobby Green vs Erik Koch
For my final pick on the card, I'm going to make it four for four with underdogs.  I like Eric Koch in the final prelim fight on the card.  He looked quite bad against Clay Guida in his last outing, which I think plays a factor into why he's the underdog in this fight, but Bobby Green could not be a more different fighter from Clay Guida.
In the Guida fight, Clay was able to take Koch down, and grind him against the fence while not giving him any room to work.  Against Bobby Green we should see a stand up fight where Koch with both guys looking to bang.
Koch is still relatively young at 29 years of age and even though he has only fought twice in the past 3 years I still think his striking matches up well with Bobby Green, who has not won a fight since 2014.  Green did earn a controversial draw with Lando Vannata in his last outing, but most agree he lost that fight as well.
This is a close fight because we don't really know what we will get out of either fighter, but I think the match up suits Koch and I expect him to outclass Green on the feet, while potentially earning a knockout.
Play: Koch 2.30 @ SportsInteraction.com
Tagged With : Derek Brunson • Jacare Souza • UFC betting • UFC on Fox • UFC picks