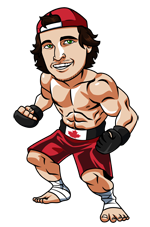 That superman punch to knockout Wonderboy last event came out of nowhere and is a candidate for KO of the year. I took Blaydes and Wonderboy last week, and after Blaydes dominated his fight and Wonderboy looked like he was cruising I was confident, but that explosive counter bouncing off the fence was vintage Pettis.
This weeks card is very solid for a Fight Night. The main event is sure fire action with Gaethje vs Barboza, while Hermansson, Emmett, Yuseff and others are quality prospects looking to take a step forward on this card.
Sportsbook
Features
Offers
Rating
Bet Now
1
Licensed and regulated in Canada
Easy deposits & withdrawals including Interac
Competitive betting lines
2

Licensed in Ontario and Malta (accepts bettors from across Canada)
Competitive betting lines
Easy deposit/withdrawal options, including Interac
Edson Barboza vs Justin Gaethje
I like Gaethje to get the upset in this fight. I think his pressure and relentless leg kicks is going to make it difficult to for Barboza to get off his best offense. I think Gaethje's skills are somewhat overlooked. He's coming off a huge knockout win against James Vick, but it's his fight with Dustin Poirier that really impressed me. He was winning that fight with Poirier and looked like he was taking over late before getting KO'd by Dustin. The fact he could hang and arguably get the better of Poirier and then go out and KO Vick proves that Gaethje is the real deal.
Barboza is an amazing striker, but I don't think he's going to be able to deal with the constant pressure and leg kicks. Gaethje also has wrestling credentials in his bag of tricks, which he doesn't often use. That said, Barboza has struggled against strong wrestlers his entire career, so that is another potential path to victory for Gaethje.
I think Gaethje will find a way to get this win. That said, there's always the potential of Gaethje to get KO'd at any point because of his aggressive style. This isn't a confident play, but I think it's a dog or pass spot.
Play: Gaethje 2.37
David Branch vs Jack Hermansson
I like Hermansson to get this win. He's just as good of a grinder as Branch, and has the youth and power on this side.
I just don't see Branch being able to hang around for 15 and grind out a decision win, which is his usual path to victory.
Play: Hermansson 1.80
Josh Emmett vs Michael Johnson
Emmett was on the verge of a title shot before getting knocked out stiff by Jeremy Stephens. It's been over a year since that loss and I think Emmett should have fully recovered and be ready to once again showcase his skills.
Michael Johnson won back to back fights in the UFC for the first time since 2014-2015. That said his recent win was over Artem Lobov who has proven time and again he's not a UFC level fighter. I still think Johnson is overrated even after going 3-5 in his last 8.
Emmett has the power on the feet and should also be able to get this fight to the mat when he wants.
Play: Emmett 1.95
Shymon Moraes vs Sodiq Yusuff
Yusuff is one of my favourite prospects in the UFC. I think he will be a champion within the next few years. Sheymon Moraes is a nice step up in competition for Yusuff, but I still think Yusuff will prove he's elite with a dominant win in this fight.
I watched Yusuff in Dana White's Contender Series and his UFC debut which was an easy first round KO. I'm very impressed with his technique and speed on the feet.
There are still some question marks that Moraes could exploit, but I'm happy to bet on what I've seen and take Yusuff to add another big win to his UFC resume.
Play: Yusuff 1.56
Tagged With : UFC betting • UFC picks