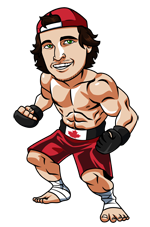 Michael Bisping is stepping up on short notice to take the spot of Anderson Silva and keep the main event of this card just as enticing.  I'm also excited to see Li Jingliang and Alex Caceres back in action, and I will likely try to wake up for the Zabit Magomedsharipov fight as well.
This card takes place in prime time in China, which means its anything but prime time over here in Canada.  The prelims will be shown on Fight Pass starting at 3:45am with the main card of four fights taking place at 7am on Fight Network.  If you are just interested in the Bisping vs Gastelum fight then you should be tuning in around 8:30am EST to catch the fight with your breakfast.
I've added 3 picks from the main card below.  I'll be using the best odds being offered from any of our recommended bookies for each of my picks on this card.
Sportsbook
Features
Offers
Rating
Bet Now
1
Licensed and regulated in Canada
Easy deposits & withdrawals including Interac
Competitive betting lines
2

Licensed and located in Ontario
Entirely focused on Canadian betting market
Easy deposit/withdrawal options, including Interac
Kelvin Gastelum vs Michael Bisping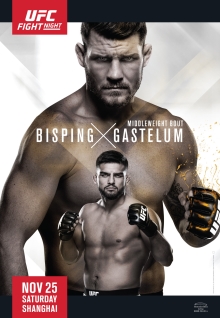 Bisping is stepping in on short notice to headline this card after Anderson Silva popped for PED use once again.  It will only have been 3 short weeks since Bisping lost his middleweight belt to GSP at UFC 217, so you have to wonder whether he will be fully mentally in this fight, but one thing that you cannot question is his toughness and willingness to fight.
Bisping's camp has stated that Gastelum is a tougher opponent than GSP, and I would have to agree with that assessment.  The oddsmakers also agree with Bisping coming into this fight as a 3/1 dog, while he was a pick'em in the GSP fight for the title.  I picked GSP in the title fight and I'm going to pick Bisping here based on the odds.  I do think Gastelum is a tougher opponent, but you have to look for line value.  On a side note the fact that Bisping is a 3/1 dog against Gastelum, but was in a pick'em fight with GSP and was a 2/1 favourite against Dan Henderson in his first title defense, just shows how unimportant meritocracy is when rewarding title fights these days.
Moving on, I do think Gastelum is a tough opponent for Bisping and I believe that Bisping should be the underdog, but I'm handicapping him at odds closer to 2.75, which leaves some value on Bisping at this price.  The reason I see value on Bisping is because I think he will be able to keep this fight standing or at least be able to get back to his feet quickly if taken down.  Against GSP, Bisping had no problems getting back to his feet and actually did a lot of damage from the bottom.  It was just when he was actually knocked down the left hook that he gave up his back and was submitted.  Although I do think Gastelum is faster than GSP was and actually has a better chance of hurting Bisping on the feet, I just don't think it happens more often than not.  Watching that GSP vs Bisping fight, it actually looked like GSP was tiring and Bisping was ready to start running away with the fight.  If he had survived the third round, I think we could have left that fight with an entirely different narrative.  But all it takes is one strike to land clean for either guy, and in this case it was GSP who landed the flush blow.
So, like I said, Bisping should be able to keep this standing and if he is at a disadvantage on the feet it would only be a very small disadvantage.  The x-factor for Bisping is those championship rounds.  Bisping has shown tremendous cardio and the ability to run away with fights late.  Against Dan Henderson he lost the first two rounds, but won the final 3 to pull out the win.  Against Anderson Silva he pulled out the fourth round after nearly being KO'd to finish the 3rd.  Against Thales Leites he had the cardio to continue winning rounds late as well.  Bisping has gone through the 5 round wars and proven he has the cardio and will to pull out wins in those tight contests.
Gastelum has been the main event in his last two outings, but he never got to the championship rounds, finishing Belfort right away and getting submitted by Weidman in the third.  I think Gastelum will have strong cardio, but we haven't seen him in the championship rounds before and you could even argue that it was a little bit of a gas tank issue that resulted in him being bullied and submitted by the larger Chris Weidman in his last fight.
I do not think Bisping is completely outclassed in this fight and he's shown in the past that he can win close fights.  At these odds I think he's a good play.
Play: Bisping 3.45
Li Jingliang vs Zak Ottow
Li Jingliang is the real deal.  He rallied in his recent fight with Frank Camacho after losing the first round and finished the fight by really destroying Camacho with a 10-8 round in the third.  If anyone watched Camacho's fight with Damien Brown this past weekend then you will realize how impressive that win really was for Jingliang.
Jingliang is a high paced fighter who will definitely be the more active guy in this bout.  If this fight goes to a decision I would be very surprised if Ottow got the nod.  On the other hand, Jingliang is a finisher as well so this fight very well could end with a Jingliang knockout.  Either way I don't see see many likely paths to victory for Ottow.  If he could get this fight to the mat and work for a submission he has a shot, but I don't think that's very likely.
I expect another big win for Li Jingliang in front of his home fans.
Play: Li Jingliang 1.57
Alex Caceres vs Guan Wang
When you look at these fighters records you might think that Guan Wang should be the favourite in this fight.  After all, he's 19-1-1 in his career, while Caceres is only 13-10.  The difference though is level of competition.  Caceres was 5-2 when he entered the UFC in 2010 and since then he's been facing top level competition with about a .500 record in the big show.  Guan Wang has been on the Asian regional circuit mostly knocking out guys in their first professional fights.  In fact, of his last 5 wins, 4 have been over fighters with 0 professional fights.  His other win in that span was a decision win over Shane Young, who we saw get dominated by Alexander Volkanovski this past weekend.
Wang does have knockout power, but I think that's really his only path to victory in this fight.  He's a very inactive fighter who just looks to flurry for a finish.  On the flip side, Caceres is a very active fighter who should easily get the nod if this fight goes to a decision, which I think is very possible.  Caceres is also very solid on the ground, which is something I wasn't really impressed with from Wang.
Caceres has only been knocked out once in his entire career, so I think the chances of that happening this weekend are slim.  There are simply far more paths to victory for Caceres which makes him a good bet against Wang, who is getting a massive step up in competition in this fight.
Play: Caceres 1.59
Tagged With : UFC betting • UFC picks