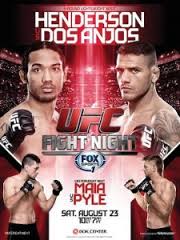 UFC is back with a couple more Fight Nights this coming Saturday.  There are two Fight Night events because the first is taking place in Macau, China, which will mean the event will take place early in the morning on Saturday here in Canada.  The second Fight Night will be coming out of Tulsa, Oklahoma and will be showcased in prime time.
Fight Night 48 out of China has a couple of very interesting fights.  The main event is a middleweight tilt between the hated Michael Bisping and MMA fighter turned Hollywood actor Cung Le.  The main event is a high profile affair, but the co-main event in China is really the fight with the most impact on the top of the rankings.  In a welterweight battle, Tyron Woodley, who was just destroyed by Canadian Rory MacDonald in his last fight, fights Dong Hyun Kim, who is currently ranked #10 in the division (Woodley is ranked #4).
Fight Night 49 out of Oklahoma doesn't interest me quite as much.  Benson Henderson, who is the top contender at lightweight is fighting Rafael dos Anjos (ranked #5) in the main event, and that should be a good tilt.  The co-main event is also somewhat exciting with Mike Pyle taking on up and comer Jordan Mein at welterweight.
I'm going to break down these four fights and give you my picks.  To see the full odds for either card I suggest checking out each of our three recommended sportsbooks for Canadians.  The odds vary dramatically between sportsbooks for MMA fights, which is why it's essential to compare odds to get the biggest payout possible.
Michael Bisping vs Cung Le
Michael Bisping 1.32
Cung Le 3.50
Bisping didn't look like himself in his last fight, which was a decision loss to Tim Kennedy.  Cung Le is a better stylistic match up for him, but I'm just not convinced that Bisping will ever be the same after his detached retina injury.  His eye still looks swollen and I'm not convinced he can see out of it properly.  Cung Le on the other hand hasn't fought since 2012 when he knocked out Rich Franklin.  He's been focusing on his movie career in the meantime, but I do expect a strong Cung Le to show up for this fight.  He has continued to train while pursuing his action acting career and I think he will be able to catch Bisping with a knockout blow that Bisping may not see coming.
Play: Cung Le 3.50.
Dong-Hyun Kim vs Tyron Woodley
Tyron Woodley 1.62
Dong-Hyun Kim 2.50
Woodley is coming off a big loss to Canadian Rory MacDonald and he needs a big win over Kim to remain high in the welterweight rankings.  Woodley is a counter puncher and I think that style will work well against Kim who is always moving forward.  I expect Woodley to catch Dong-Hyun Kim with a knockout blow at some point in this fight.
Play: Tyron Woodley 2.50
Check out the video below from TriStar coach Firas Zahabi.  It's a great video that breaks down Woodley's style and how Rory beat him.  I just don't think that Kim will have the patience that Rory did in that fight and Woodley will catch him at some point.
Benson Henderson vs Rafael dos Anjos
Benson Henderson 1.31
Rafael dos Anjos 3.58
Henderson isn't the most exciting fighter, but he gets the job done.  He hasn't been beaten by anyone except for current champ Anthony Pettis in his 16 fight WEC/UFC career.  That said he has had 3 split decision victories out of his last 5 wins so he isn't exactly dominating his opponents.  I do still think he beats dos Anjos this Saturday though.  Dos Anjos only really has one high profile win in his career and that was over Donald Cerrone last August.  Henderson should be able to stay active enough to beat dos Anjos, who doesn't really have a lot of finishing weapons that could factor into the fight.
Play: Benson Henderson 1.31
Jordan Mein vs Mike Pyle
Jordan Mein 1.48
Mike Pyle 2.75
I was excited for both the Jordan Mein vs Brandon Thatch (two up and comers) and the Mike Pyle vs Demian Maia (two ranked veterans) fights that were on this card, but after Thatch and Maia withdrew due to injuries we now just have a Jordan Mein vs Mike Pyle fight.  Mein is a young 24 year old, but he has a lot of fights under his belt.  He has only fought 3 times in the UFC and he was knocked out by Matt Brown a couple fights ago.  Mike Pyle was also knocked out by Brown two fights ago, so this will be an interesting bout between two guys who have really only recently lost to top men in the Welterweight division.
I personally like Pyle's UFC experience heading into this fight.  He's beat Rick Story and John Hathaway in the UFC and has only really lost to the top guys in the division such as Matt Brown, Rory MacDonald and Jake Ellenberger.  Jordan Mein is in a similar boat having lost to only Matt Brown and Tyron Woodley lately, but he hasn't beaten any top guys in the division either.  I like Pyle in this one because he is the underdog and I'm not sure Mein is ready to take that next step just yet.
Play: Mike Pyle 2.75
Tagged With : Benson Henderson • Cung Le • Dong-Hyun Kim • Michael Bisping • Rafael dos Anjos • Tyron Woodley • UFC betting • UFC Fight Night 48 • UFC Fight Night 49