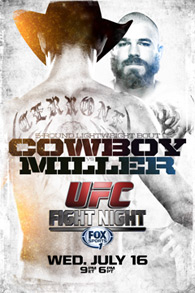 The UFC is back this week with a couple of great Fight Night cards.  The first takes place tonight in Atlantic City, New Jersey at the Revel Casino and there are some big fights on this card.  Donald "Cowboy" Cerrone vs Jim Miller is the headliner for the card and it's a big fight for both of these guys with the winner definitely taking a big jump up the lightweight rankings.  At this time Cerrone is ranked #6 and Jim Miller is ranked #7 according to UFC.com's rankings so this is the perfect fight for both of these guys.
There are also some other interesting fights going on today such as Edson Barboza also fighting at lightweight against Evan Dunham.  Rick Story is another fairly big name in action and he will take on newcomer Leonardo Mafra.  Another fight I'm interested in is John Lineker fighting Alptekin Özkiliç at Flyweight.  The Flyweight division is depleted at the moment with Demetrious Johnson having already beat all of the top guys John Dodson, the top contender getting injured.  A big win from Lineker here could put him in the discussion for a title shot after Chris Cariaso fights Johnson (Cariaso is actually ranked lower than Lineker).
Donald Cerrone vs Jim Miller
These are a couple of very talented and exciting fighters.  Cerrone is on a 3 fight win streak and two of these wins actually came over the co-main event fighters of Dunham and Barboza.  He received submission of the night, knockout of the night and performance of the night nods in his last 3 fights so you know this guy is going to be exciting.  I see him outmatching Jim Miller who really hasn't beaten anyone of Cerrone's stature yet in the UFC.  He actually lost to Pat Healy just over a year ago via submission, but the decision became a no-contest when Healy tested positive for marijuana.  Jim Miller will be tough, but I think the overall skills of Cerrone will get the job done.
My Play: Donald Cerrone by submission (4.25)
Edson Barboza vs Evan Dunham
This will be an interesting fight because Barboza hasn't really had to fight many top guys in the division.  He's currently ranked #13 and is the favourite in this fight, but Evan Dunham has been going against some very tough opponents of late.  His last two fights were losses against Cerrone #6 and dos Anjos #5 so he will be read y to fight a top guy and he is looking to turn those losses into a win this time.  I think there is a lot of hype behind Barboza, which is why I'm going to take the odds and play Dunham on this one.
My Play: Evan Dunham 3.29
Rick Story vs Leonardo Mafra
The Story of Rick's career has been wins over lesser known opponents and then losses to higher ranked fighters.  His last four losses have been to Gastelum, Pyle, Maia and Kampmann, each of who you've probably heard of.  His wins are not nearly as impressive.  I don't know a lot about Leonardo Mafra but he is on a five fight winning streak after being cut from the UFC after one fight at UFC 147.  I  think the second time around he will be more ready for this fight and the fact that the UFC is taking another chance on him tells me that he is a strong fighter.  Not to mention each of his last five wins have been knockouts.  I'm going to roll the dice on Mafra in this one.
My Play: Leonardo Mafra inside distance 5.00
I don't know anything about the Ozkilic fighter than Lineker is up against so I'm going to pass on betting on that fight.  We are just a few hours away so get your bets in!
Tagged With : Donald Cerrone • Edson Barboza • Jim Miller • Rick Story • UFC betting • UFC Fight Night betting