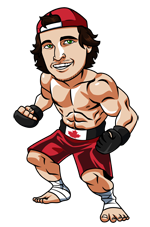 The UFC is headed to Calgary this week with one of the best non-PPV cards I've seen in recent memory.  The UFC is finally back in Calgary and making up for the UFC 149 debacle which saw Silva, Sonnen, Aldo and Bisping all drop from the card leaving one of the weakest PPV cards in history.
This time around it's a UFC on Fox event (CTV TWO here in Canada) heading to Calgary, but with Poirier vs Alvarez as the main event, and two perennial champs in Aldo and Jedrzejczyk also on the main card, I think everyone would agree that this card is better than UFC 149.
The fact that this is a UFC on Fox card means the main card will take place in prime time.  Here in Canada the 4 fight main card will take place from 8pm to 10pm EST on CTV Two, while the prelims will be starting at 6pm EST on TSN 2.
I have three plays for this card below.  I've used the best odds available at any of our recommended betting sites for Canadians.
Sportsbook
Features
Offers
Rating
Bet Now
1

Licensed and regulated in Canada
Easy deposits & withdrawals including Interac
Competitive betting lines
2

Licensed and located in Ontario
Entirely focused on Canadian betting market
Easy deposit/withdrawal options, including Interac
Dustin Poirier vs Eddie Alvarez
This is a fight that is sure to be action-packed.  Poirier and Alvarez fought last year with the fight ending in a no contest due to Alvarez landing some illegal knees on a grounded Poirier.  Since that fight, both guys were able to outlast Justin Gaethje in a couple of epic main event fights, while Poirier also added a win over former champ, Anthony Pettis, to his resume.
I do think Poirier is the more technically sound and talented fighter, but I was hoping this fight would be more of a pick'em to bet on Poirier.  Alvarez is a very difficult opponent with a ton of grit and toughness to go deep into a five round fight.  It looked like he may have been taking over their last fight in the second round, after Poirier dominated the first, before he landed those illegal knees.  At these odds I don't think there's a ton of value in this play, but my pick is still Poirier to get his hand raised.
Lean: Poirier 1.63
Jose Aldo vs Jeremy Stephens
This will be the first time since knocking out Cub Swanson in a WEC title eliminator fight on June 7th, 2009 that Jose Aldo is not fighting for a belt.  Aldo came into the UFC as the champion when the UFC brought in the WEC featherweight division, and defended the UFC belt 9 times before getting knocked out by Conor McGregor at UFC 194 in December of 2015.  He then won the interim belt with a win over Frankie Edgar, and proceeded to lose twice in a row in featherweight championship fights to Max Holloway.
Put simply, Aldo is in uncharted territory, but that is a testament to the high level he's maintained for the past decade in this sport.
After hearing those stats it may come as a surprise that Aldo is actually a year younger, at 31 years of age, than Stephens, who is 32.  Stephens is riding a 3 fight winning streak, but those wins have come over a level of competition far below Jose Aldo.  I think most fighters would beat Gilbert Melendez at this point in his career, and although the knockouts of Doo Ho Choi and Josh Emmett were impressive, Choi seems to have been an over-hyped prospect, while Emmett really only has one big win in his UFC career over Ricardo Lamas, who has always had trouble with power punching wrestlers.
Yes, Stephens has looked like he's taken his game to another level of late, but let's not forget that he's only 5-5 in his last 10 fights and he has faltered in his UFC career when going up against the top level of competition such as Holloway, Edgar, or even Swanson, Oliveira and Carneiro.
I'm not convinced that Aldo has had this sharp decline in his abilities that many others seem to suggest.  He's only lost to Conor McGregor and Max Holloway in the past decade and has beaten fighters of Stephens level every single time they've been put in front of him.  I don't expect that to change on Saturday.
Look for Aldo to find a way to outclass Stephens and grind out a unanimous 3 round decision.
Play: Aldo 1.80
Joanna Jedrzejczyk vs Tecia Torres
Like Aldo, Joanna is not used to 3 round fights and not being the main or co-main event.  She was the UFC strawweight champ with 5 title defenses, before losing her belt and subsequent rematch to Rose Namajunas.  Certain fighters just match up poorly against others.  Rose was Joanna's kryptonite.  Joanna was unable to use boxing while staying out of range of Rose's counters because she did not have a reach advantage in that fight and Rose was able to land the more effective shots when both fighters were in the pocket.
That said, I think Joanna's in and out high paced style will work well against Tecia Torres.  Joanna was able to absolutely piece up both Carla Esparza and Jessica Andrade in two of her title fights.  Both of these fighters were short and simply couldn't walk down Joanna who would stick, land and move against them with relative ease.  Tecia Torres is even smaller than these two other fights, with an even shorter reach.  She has better footwork than either Esparza or Andrade, but I still don't think she will be able to close the distance against Joanna, who is so good at finding correct range against these shorter fighters.
Joanna should get back in the win column with this fight and if Rose happens to lose the belt at any point in the future, Joanna should be positioned to get another crack at the belt.
Play: Jedrzejczyk 1.35
Alex Morono vs Jordan Mein
People seem to be high on Alex Morono, but I personally don't see it.   Sure, he's a decent boxer, but his output is moderate at best and he's not an athletic guy.  He's coming off an easy win over Joshua Burkman, but basically anyone on the UFC roster would beat Burkman with relative ease.  Before that fight Morono was knocked out by Niko Price and lost a decision to Keita Nakamura, who is nothing special himself.  I don't get the confidence in Morono in this fight.
Yes, Jordan Mein has lost 3 of his last 4 fights, but he really hasn't looked that bad.  He was knocked out by a Thiago Alves kick back in January of 2015, which can happen to anyone in the UFC.  After that KO Mein took two years off before returning against Emil Meek.  This was not a great fight for Mein who just didn't look like himself.  After that fight he also lost to Belal Muhammad who I consider a very solid fighter.  In his most recent fight Mein looked much better, completely outclassing Erick Silva for the full 15 minutes.  He looked to have regained his confidence and pretty much everything he tried was working.
I think Mein is the more athletic and more well rounded fighter in this tilt.  He won't have to worry about takedowns from Alex Morono, but he can include some of his own if things aren't going his way on the feet.  That said, I actually think Mein still has a good chance if this fight stays standing.  Mein has the more dangerous strikes and if this fight ends with a KO, I think it's more likely to be Mein doing the damage.
Morono's path to victory is keeping this fight standing and out landing Mein.  It's possible, but I think there are far more ways that Mein can win, and I think he has the experience and renewed confidence to find one of these paths to the victory.
Play: Mein 2.00
Check out our UFC betting page for a breakdown of the various bets you can make on each fight.
Tagged With : UFC betting • UFC Calgary • UFC picks