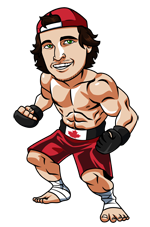 The UFC is finishing up their packed July with the UFC 240 PPV event that features a main event title fight between Max Holloway and Frankie Edgar. Outside of this fight, the card is very weak for a pay-per-view event. Cris Cyborg is really the only other big name on the card and she's fighting a girl with just a single win in the UFC. It's unfortunate for Edmonton that they aren't getting a better card, which would have been expected when the UFC announced a pay-per-view was going to the city.
I went 2-2 with my UFC picks last week (and I felt robbed on the Trinaldo loss) for a very small profit. I'll look to stay in the black with a few picks this week at UFC 240 in Edmonton. I will once again be using the best odds available from any of our three top rated betting sites for Canadians.
Sportsbook
Features
Offers
Rating
Bet Now
Max Holloway vs Frankie Edgar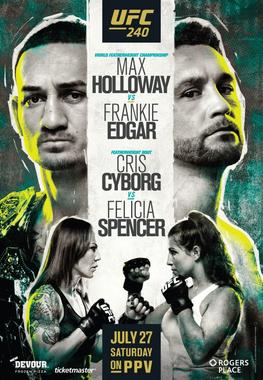 The only chance Edgar has in this fight is if he is able to secure takedowns on Holloway, and I just don't see that happening. Max has developed some of the best takedown defense in the UFC, and even when he was taken down in his last two fights he was able to quickly get back to his feet. Prior to the Brian Ortega fight, which Max dominated, but was taken down a couple of times, he hadn't been taken to the mat in 9 straight fights.
On the feet Holloway has a huge advantage and I see him just piecing up Edgar from distance until he overwhelms him and finishes the fight. Holloway puts on a ridiculous pace and his length should allow him to land a ton of strikes, while staying out of Edgar's range.
On paper, this seems like a straight forward fight for Holloway. He just has to go out and execute. The biggest threat may be taking Edgar lightly, but his recent loss to Poirier in the jump up to lightweight should fuel Holloway's fire and I expect him to get the win.
Play: Holloway 1.25
Geoff Neal vs Niko Price
Neal is a terrific prospect who is extremely athletic and talented, but Price has the ability to generate knockout power from strange positions and this has served him well in his UFC career. Price is now 6-2 in his UFC career and he's only be a favourite in one of those fights (a couple fights were pick'em). Even in his most recent fight with Tim Means he was a significant underdog before getting another first round KO.
Price has finished all 6 of his wins in the UFC and his unorthodox style allows him to get knockouts from strange positions. He throws with everything he has and he's able to surprise a lot of guys with flush strikes that end fights.
I do think Neal is the better fighter, but Price has been in the octagon with the much better competition and has gotten the better of his opponents more often than not. At this price, I have to take Price to once again surprise and quiet his critics.
Play: Price 3.50
Arman Tsarukyan vs Olivier Aubin-Mercier
OAM is on a two fight losing streak with decision losses to Gilbert Burns and Alex Hernandez, and I think this has a lot to do with why he's an underdog in this fight. That said, I don't think OAM fought particularly bad in either of those fights. They were just bad match-ups against stronger wrestlers, which were able to negate OAM's game. You know what you're going to get with Aubin-Mercier. He's not a good striker, but if he can close the distance and get a hold of you he has solid grappling.
Tsarukyan is 0-1 in the UFC after dropping his first fight to Islam Makhachev. He gave up 4 takedowns in that fight en route to losing a decision. I do think Makhachev is better than OAM, but it shows that OAM's style may work in this fight. He's going to look for takedowns and he will work for more submissions than Makhachev, and we really don't know how skilled Tasrukyan is at defending submission attempts.
I think this fight should be a pick'em at worse for OAM, but his recent two losses have caused the public to lose faith in him. He has a clear path to victory and we have not seen Tsarukyan beat a fighter of his caliber before in his career, so I will take OAM at dog money all day long.
Play: Aubin-Mercier 2.85