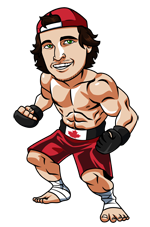 The UFC is heading to Melbourne, Australia this weekend, for the latest PPV event in the promotions busy schedule. The card will be headlined by hometown favorite Robert Whittaker vs Kelvin Gastelum for the middleweight title, and the co-main featuring Israel Adesanya and Anderson Silva is the other big time fight on the card. Outside of these two big fights, the card is very underwhelming, and I would venture to say it's one of the weakest PPV's the UFC has put on in recent memory.
Sportsbook
Features
Offers
Rating
Bet Now
1

Licensed and regulated in Canada
Easy deposits & withdrawals including Interac
Competitive betting lines
2

Licensed and located in Ontario
Entirely focused on Canadian betting market
Easy deposit/withdrawal options, including Interac
Robert Whittaker vs Kelvin Gastelum
Whittaker is on an amazing streak at middleweight, having beat Brunson, Souza, and Romero twice in a row over his last four fights. He's won 8 straight UFC fights since moving up to middleweight and he has looked amazing on the feet in the majority of these fights.
Gastelum earned this title shot with a split decision victory over Jacare Souza in a fight that truly could have gone either way. Before that he knocked out Bisping in China, after Bisping made the poor decision of taking a fight on a few weeks notice after losing his middleweight belt to GSP. Before that Gastelum lost to Chris Weidman via submission in July of 2017, and this is Weidman's only win in his last five fights. Kelvin did beat Kennedy and Belfort before the Weidman loss, but those fights were against somewhat washed up legends. Overall, I am simply not too impressed with Gastelum's body of work at middleweight, but he still did deserve this title shot based on some key victories and decisions.
I expect Whittaker to be too much for Gastelum in this fight. Whittaker is very technically sound on the feet, and I think he will be able to use his reach and size advantage to keep Gastelum at bay. Kelvin has used his speed very successfully at middleweight, but this was against older, slower fighters like Kennedy, Belfort, Bisping and Souza (all late 30's). Whittaker is only 28 years old and just entering his prime. He has speed himself and I don't think he's going to get caught by Gastelum.
I expect this to be a stand-up fight and I side with Whittaker's power, technique, ability to find range and control of the octagon.
Play: Whittaker 1.40 @ SportsInteraction.com
Israel Adesanya vs Anderson Silva
I'm surprised so many people are completely writing Anderson Silva off in this fight. Yes, he is far past his prime, but he really hasn't looked that bad in his recent performances. He earned a decision win over Derek Brunson in his last fight out, albeit a fight I think he lost. Before that he fought Daniel Cormier at light heavyweight on a few days notice in a fight he never had a chance in. Before that he had a hard fought battle with Michael Bisping that many think he won, and Bisping went on to win the middleweight strap after that fight. Overall, Silva hasn't looked like the great Silva of old, but he hasn't proven himself to be completely washed up either.
Adesanya looked good in his last fight with Derek Brunson, but Brunson fought completely scared, telegraphing his takedowns and punches from miles away. It was an awful performance from Brunson and Adesanya took full advantage. Before that Adesanya had hard fought battles with Tavares and Vettori. Adesanya has had two really good fights in the UFC, and is no doubt a top prospect and likely a future champ, but this shouldn't be a walk in the park.
All of that said, I expect Adesanya to win this fight. He's the younger fighter, who should be faster and more technical on the feet. The odds make it seem like Silva has no shot though and I don't think that's the case. This is a dog or pass spot for me, but I will likely be passing.
Play: Silva 5.50
Rani Yahya vs Ricky Simon
Yahya is a submission specialist and I think he will have plenty of opportunities to tap Simon on the mat. Yahya has won three straight fights via submission and he's won 7 of his last 8 UFC fights.
Simon is 2-0 in the UFC, but both fights have been littered with takedowns both for an against Simon. He has 9 takedowns and has been taken down 8 times in these two wins. With Yahya often only needing to get the fight to the mat once to get his submission, I think he has a clear path to victory.
Simon will have had to work on his takedown defense and try to keep this fight standing to get the win. I don't think he will have the ability to stuff everything Yahya throws at hime. Yahya is a good takedown fighter in his own right, averaging 3.13 takedowns per fight. I expect Yahya to get this fight to the mat and sink in a submission for the minor upset.
Play: Yahya 2.10 @ SportsInteraction.com
Tagged With : UFC 234 • UFC betting • UFC picks