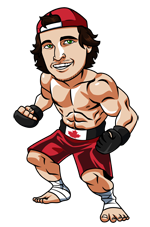 The UFC is closing out the year with a very solid UFC 232 pay-per-view card that will be headlined by the Jon Jones vs Alexander Gustafsson rematch and a very intriguing co-main women's featherweight title fight between Cris Cyborg and Amanda Nunes.
This card is top heavy with two of the most anticipated title fights of the year. Jon Jones is one of the few transcendent stars that the UFC has on its roster, so I'm expecting this PPV to do some good numbers to close out the year.
Sportsbook
Features
Offers
Rating
Bet Now
1
Licensed and regulated in Canada
Easy deposits & withdrawals including Interac
Competitive betting lines
2

Licensed and located in Ontario
Entirely focused on Canadian betting market
Easy deposit/withdrawal options, including Interac
Jon Jones vs Alexander Gustafsson
Jon Jones is only about a 2.5/1 favorite in his rematch with Alex Gustafsson. This is compared to that around 6/1 he was heading into the first fight with Gustafsson. Yes, that fight was close with some arguing that Gustafsson should have gotten the decision (I'm not one of them), but it's not like Gustafsson has shown he's improved since that loss. He's just 3-2 since that fight with losses to Anthony Joshua and Daniel Cormier in that span. And we've learned that Jones probably wasn't at his best in that fight to begin with due to all of his partying the week prior. We've seen Jones go 4-0 since the Gustafsson fight, including two big wins over Cormier.
I feel like there is this misconception out there that Jones has been out of action for this long period of time. Even with all of his run in's with the law and popping for drugs after each of his past 3 UFC fights, Jones still somehow managed to never miss a full calendar year. His last fight against Cormier was in July, 2017, which is a long time ago, but it's actually more recent than Gustafsson's last fight, which was a win over Teixeira way back in May of 2017. Jones has been kept in the spotlight during his hiatus's, but the facts are that he's fought more recently than Gustafsson, and only has one fewer fight (but one more win) since their first fight at UFC 165.
Overall, I think people are grasping at straws as to why Gustafsson will win this fight. In my opinion he missed his chance when he didn't pull out the win in their first fight. I think Jones will have a better strategy of how to deal with a fellow long light heavyweight in this fight, and I believe he is simply the superior fighter in every aspect.
These are great odds to take on Jones. I'm expecting him to get a decisive, but measured win in this fight.
Play: Jones 1.36 @ SportsInteraction.com
Cris Cyborg vs Amanda Nunes
This is a very intriguing fight between the two best female fighters on the planet. Cyborg has been an absolute monster for her entire career, but being so scary has made it tough for her to get top quality opposition. You could argue that Cyborg's only win against top talent was her decisive decision win over Holly Holm (and I don't even think Holm is a top 5 bantamweight). Nunes has beaten the who's who in women's MMA with wins over Sara McMann, Shevchenko twice, Tate and Rousey in her recent title reign and overall winning streak.
Cyborg is the rightful favorite because she's done nothing in her career to really appear beatable. Nunes is coming up to her weight class and this size could play a factor for Cyborg.
That said, in my eyes we really don't know just how good either of these fighters are. I actually think Nunes is the more proven commodity and she's shown a good depth to her game where she can be as dangerous as she was early in her career, while also possessing the intelligence to fight smart and an improved gas tank to last the full five rounds.
I really don't know who is going to win this fight and I think it should be closer to a pick'em, with Cyborg as a slight favorite. For this reason I'm taking Nunes at these odds.
Play: Nunes 3.25 @ SportsInteraction.com
Carlos Condit vs Michael Chiesa
The book is out on Carlos Condit. He has almost 0 takedown defense, which leaves him very vulnerable against any fighters outside of pure strikers. Condit is now 2-7 in his last 9 fights, starting with a loss to GSP in a title fight that really showed Condit's lack of takedown defense. Condit was taken down 7 times in that fight and the trend has continued with his 37% takedown defense being simply abysmal.
Chiesa is moving up to 170 pounds, and I'm not overly high on him, but he does have some wrestling ability and I expect him to be able to get this fight to the mat when he chooses.
From there it's up to Chiesa to fight smart and grind out a win, or find a submission to finish this fight. Condit does have some submissions skills from his back and Chiesa has been caught a few times before, so that's something to watch out for.
The path to victory is extremely clear for Chiesa, so even though he's not a great fighter and is a pretty big favorite, I still think he's a smart bet in this spot.
Play: Chiesa 1.53
Cat Zingano vs Megan Anderson
Megan Anderson was exposed in her last fight with Holly Holm. As I mentioned earlier, I'm not high on Holm and she was able to outclass Anderson on the feet, while also adding in four takedowns and showing some grappling skills on the mat, which isn't Holm's specialty.
Zingano is coming off a nice win over Marion Reneau where she took Reneau down 6 times and dominated the fight on the mat. I think Cat should be able to use those exact same skills in this fight to get Anderson to the mat and go to work.
Zingano is very experienced fighter and actually the last fighter to beat Amanda Nunes. She's getting up their in age, but I believe she has one more title run in her and a win here over Anderson could set her up for a 145 pound title shot if she chooses to take it.
Anderson will be the bigger fighter, but I'm siding with Zingano's skills and experience against other elite fighters.
Play: Zingano 1.72
Tagged With : Alexander Gustafsson • Jon Jones • UFC 232 • UFC betting • UFC picks