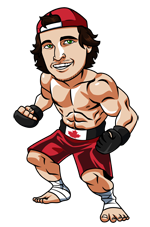 After a fun Fight Night card in Canada where I went 3 for 3 on my picks (including Smith as an underdog in the main event), the focus now shifts to the UFC 230 PPV event taking place at MSG in New York City.  This card has gone through some major changes over the past two months and now looks nothing like it did to start out, but overall it's still a solid UFC card.  Derrick Lewis gets a shot at the heavyweight title against Daniel Cormier after using his time on the mic brilliantly after his comeback win over Volkov at UFC 229.  The card also features an interesting fight between Chris Weidman and Jacare Souza, a big test for rising star Israel Adesanya as he takes on Derek Brunson, and various other fun fighters that like to bring the action.
The early prelims will begin at 6:15pm EST, with the main 4 prelim fights then taking place on TSN 3 at 8pm and the PPV portion of the card beginning at 10pm EST.
Sportsbook
Features
Offers
Rating
Bet Now
1

Licensed and regulated in Canada
Easy deposits & withdrawals including Interac
Competitive betting lines
2

Licensed and located in Ontario
Entirely focused on Canadian betting market
Easy deposit/withdrawal options, including Interac
Daniel Cormier vs Derrick Lewis
I'm not going to spend a lot of time on this fight because I'm not actually placing a bet on the main event.  That said, if I was forced to bet I would wager on Cormier.  Sports Interaction actually has decent odds on him to win of 1.18, but I expect the odds to come down to the 1.15 that most other sites are offering.  A return of $15 on a $100 bet just isn't something I'm interested in when going up against someone with the power and resilience of Lewis.  That said, Cormier has a clear path to victory by getting Lewis to the mat and going to work grinding him out.
**Lean: Cormier 1.18 @ SportsInteraction.com
Chris Weidman vs Jacare Souza
This is an interesting fight that just came together a couple weeks ago.  Weidman was expected to fight Luke Rockhold, but an injury to Rockhold allowed Souza to be bumped up from this fight with Branch to make this intriguing co-main event.
I like Jacare as the underdog in this spot.  I think his stand up is better than Weidman's, and his jiu jitsu is definitely superior.  The question will be whether or not he can transition into successful submission positions on the mat when Weidman inevitably gets the takedown.  Jacare lost a close split decision to Kelvin Gastelum in his last fight, and a close split decision to Yoel Romero in a big fight back in 2015.  I personally thought he won both of those fights and if he did get those decisions he would be in an entirely different position in the UFC.
That said, Souza did get lit up on the feet by Robert Whittaker with no answer for the distance striking of the Aussie, but he won't have to worry about that gameplan against Weidman.  Looking at Fight Metric, one crazy statistic that sticks out to me is the fact that Souza only has a takedown defense of 58%, but he's not been taken down since 2010, more than 15 fights ago.  Fighters do not want to go to the ground with Jacare.
I think Weidman will look to stand, but once he realizes Jacare is getting the better of him on the feet he will look for the takedown.  If he gets it then it will be a classic wrestler vs jiu jitsu specialist on the ground.  I'm giving the edge to Jacare in that battle and I actually think there's a chance that Jacare gets the takedown as well, in which case he would be in a great spot in top position.
Overall, I just think Jacare has more paths to victory in this fight.  I actually like his chances to knock Weidman out on the feet as well.  This is a juicy line for Jacare in my opinion.
Play: Souza 2.50
Derek Brunson vs Israel Adesanya
I'm surprised that Adesanya is such a big favourite in this spot.  Brunson is a big step up in competition for Adesanya and he presents some very different problems than either Marvin Vettori or Brad Tavares did.  Adesanya was able to get the better of both Vettori and Tavares on the feet, and I think he will be the more technical striker in this fight with Brunson as well, but Brunson has power in his hands that neither Vettori or Tavares possesses.
Brunson goes for the KO, but this also leaves him open to the counter, which could show off Adesanya's counter striking.  That said, if Brunson does land clean he has just as good a shot of getting the knockout as Adesanya.  Add in the fact that Brunson also has his wrestling in his back pocket and I think he has some clear paths to victory.
Adesanya was taken down 3 times by Rob Wilkinson, twice by Vettori and once by Tavares in his first 3 UFC fights.  He is susceptible to the takedown and Brunson's wrestling is better than any of those 3 guys.
Brunson was showing improvements in his striking defense, but he got caught with a head kick against Jacare in his last outing.  That said, I'm not convinced Adesanya gets the KO in this one and I do think Brunson has the ability to win with the big KO punch of his own or by taking Adesanya down and grinding out a wrestling based decision.
I'm not ready to anoint Adesanya as an elite UFC middleweight, which is what these odds indicate.  I'll gladly take these big odds on Brunson.
Play: Brunson 3.55
Other Plays
Brian Kelleher 2.30
Shane Burgos 1.36
Tagged With : UFC 230 • UFC betting • UFC picks