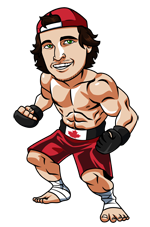 Last weekends UFC Calgary was everything it was set up to be.  The Dustin Poirier vs Eddie Alvarez main event was a great fight with lots of talking points, and both former champs, Jose Aldo and Joanna Jedrzejczyk delivered in a big way.  I went 4 for 4 on my bets and it was nice not having to stay up until 1 in the morning to see the big fights.
This week, the UFC heads to Las Vegas for the UFC 227 PPV card.  There are two title fight rematches headlining the card with Demetrious Johnson renewing acquaintances with Henry Cejudo for the flyweight belt in the co-main event and Cody Garbrandt being gifted an immediate rematch with TJ Dillashaw for the bantamweight belt in the main event (thanks to the bad blood).  These are two great title fights, but after these headliners the card really takes a turn for the worst and I would argue that UFC Calgary was easily the better card when looking at the whole.
UFC 227 gets underway on Fight Pass at 6:15pm EST, then you can catch the four prelim fights here in Canada on TSN 5 at 8pm.  The PPV portion begins at 10pm EST with an interesting fight between Cub Swanson and Renato Moicano.
I have only two plays and one lean for this card below.  I've used the best odds available at any of our recommended betting sites for Canadians.
Sportsbook
Features
Offers
Rating
Bet Now
TJ Dillashaw vs Cody Garbrandt
This is a title fight that I really think could go either way, so this will only be a lean, not an actual play.
I was surprised to see that Garbrandt was given an immediate rematch after never even defending his belt and getting knocked out in the second round, but the UFC seems to want to build him up and the bad blood between these two I guess was enough to warrant running this back.  Don't get me wrong, I think these guys are very evenly matched and it should be a fun fight.
Garbrandt did knock TJ down at the end of round 1 in their first fight and you could argue that Dillashaw was saved by the bell.  That said, I think TJ recovered quickly from that blow and could have found his way back into the fight.  In the second round it was TJ who landed the clean strike and he had more than enough time to finish the job over a clearly wobbled Garbrandt.
These guys are so evenly matched that I think it's really going to come down to the first guy to land the clean strike who will win.  Cody is a great counter striker with very fast and powerful hands, while TJ is an aggressive fighter who has plenty of techniques to do damage and enough power to finish fights himself.  I think Cody may be the faster striker, but I also think he has the worst chin.  Basically this fight is a coin flip.
The one thing making me lean towards Garbrandt is the fact that he needs to win this fight to get his revenge.  It seems like TJ has been told he will get an immediate rematch even if he loses this fight, which could be a factor in him not having quite the motivation heading into this one as he did in the first fight.  I'm going to lean slightly towards Cody because he has a lot of pride on the line, while TJ doesn't have as much to lose seeing as he would likely get a rematch anyways.
Lean: Garbrandt 2.00
Demetrious Johnson vs Henry Cejudo
Johnson is probably the most skilled fighter in the UFC.  He destroyed Cejudo via a first round TKO back in April of 2016 and has defended his belt three more times since then, arguably looking better each time.  Cejudo lost a razor close decision to Benavidez in his first fight after the Mighty Mouse loss, but he's looked great in wins over Reis and Pettis to once again earn this title shot.
The problem I see is that both Reis and Pettis are fairly one dimensional fighters.  Cejudo was able to use superior striking to destroy Reis, and then he went back to his wrestling to beat Pettis.  There is no obvious path to victory to beat Mighty Mouse.  I think he's better than Cejudo everywhere, including MMA wrestling.
Mighty Mouse has had 3 rematches in his career and has looked far better in the second fight each time.  He fought to a draw with Ian McCall in their first fight back in 2012 and then won a clear decision in their next fight.  Against Benavidez he won a split decision and followed it up with a first round KO in their rematch.  Against Dodson, Mighty Mouse won 48-47 on the scorecards in a very close fight, and then cruised to a 49-46 (50-45 on one card) decision in their next fight.  It's going to take a lot to look better against Cejudo in this rematch than he did in their first fight, but a dominant performance over a few extra rounds could show just how dominant he is.
I like Johnson even at these odds.
Play: Johnson 1.21
Cub Swanson vs Renato Moicano
This is a tricky fight to call.  I do think Moicano should be the favourite, but at these odds I see some value on Cub Swanson.
There's good reason why all of the UFC touts seem to be so high on Moicano.  He's coming off a striking clinic over another elite striker in Calvin Kattar and he was beating Ortega decisively before getting caught with a submission in the third round.  That said, his other two recent UFC wins (Stephens and Tukhugov) were split decision victories so he really hasn't been quite as dominant as people think.  Pretty much everyone who Ortega fought on his way up the rankings was beating him until they got caught, so I can't give too much credit for him controlling that fight either.  All indications point to Moicano being a real threat at featherweight, but we haven't really seen him dominate a true gate keeper such as Cub Swanson before.
Cub is coming off a couple losses to Edgar and Ortega, but before that he was on a 4 fight winning streak through 2016 and most of 2017.  He's a guy who has only lost to the very elite of the featherweight division.  He's 16-8 in the UFC/WEC and his losses have come to Edgar x2, Ortega, Holloway, Lamas, Mendes, Aldo and Pulver.  Literally the who's who of the elite featherweights over the past decade.  Swanson is the definition of a gatekeeper, so the real question is whether or not Moicano is elite.  A win over Swanson would indicate that he is.
Cub will not be outpaced on the feet in this fight, which is one way Moicano has won decisions in the past.  If this fight stays standing, which I think it will, I could see this being a very close fight that comes down to the judges.  If that's the case, I prefer Swanson.  He fights with a lot of emotion and the judges generally like his style.  If he can avoid being taken down or submitted and can go toe to toe with Moicano I like his chances of getting the nod.
At these odds I think a small bet on Swanson is a good investment.  I could see this line moving to closer to 4.50 by Saturday, so you may want to wait to pull the trigger.
Play: Swanson 4.00
Tagged With : UFC 227 • UFC betting • UFC picks • UFC predictions