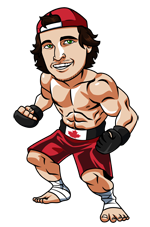 It's UFC International Fight Week in Vegas and that means we are getting a tent pole UFC PPV event this Saturday.  UFC 226 takes the honors from UFC 225 as the most stacked card of 2018 in my opinion.  The main event is a super fight for the heavyweight belt between heavyweight champ Stipe Miocic and light heavyweight champ Daniel Cormier.  The co-main is arguably the people's main event with Holloway and Ortega, two young fighters in their primes, battling it out for the featherweight belt.
UFC 226 gets underway on Fight Pass at 6:30pm EST and the action then moves to TSN2 at 8pm for the prelims.  The prelims include some amazing fights such as Assuncao vs Font, Perry vs Felder and Costa vs Hall, so be sure to to miss that on free tv.  At 10pm EST the PPV portion of the card starts with a certain knockout in the Saki vs Rountree fight.  The two other fights on the PPV portion are Pettis vs Chiesa and Lewis vs Ngannou, which are both high quality fights as well.
I have four plays for this card below.  I've used the best odds available at any of our recommended betting sites for Canadians.
Sportsbook
Features
Offers
Rating
Bet Now
1
Licensed and regulated in Canada
Easy deposits & withdrawals including Interac
Competitive betting lines
2

Licensed and located in Ontario
Entirely focused on Canadian betting market
Easy deposit/withdrawal options, including Interac
**I don't have a play on the main event because I have no clue how that fight will go.
Brian Ortega vs Max Holloway
With the Frankie Edgar win it seems like everyone who was doubting Ortega is now on the bandwagon.  I personally still think there is a very clear path to victory against Brian Ortega and I think Holloway is smart enough to follow the game plan and get the win.
Ortega was losing his fights with Thiago Tavares, Diego Brandao, Clay Guida and Renato Moicano before getting third round finishes to snatch victory from the jaws of defeat in each of those fights.  It shows his composure and ability that Ortega was able to rise to the occasion and finish those fights when he needed to, but it's definitely not a safe way to go about winning fights.  Against Swanson it seemed like it was only a matter of time before Ortega found a submission, and then against Frankie Ortega found an early knockout.  The Edgar win was impressive, but Frankie seemed to be stuck in limbo because he was afraid to get submitted if he took the fight to the mat.
Holloway should be able to piece Ortega up on the feet while pressing the action and avoiding big shots or submissions.  Holloway is a pressure fighter and I don't think he's going to change his fighting style for Ortega.  Holloway will get in Ortega's face and land a ton of shots.  Holloway should easily win the first two rounds with a ton of shots.  The interesting part of the fight will be rounds 3-5.  If Ortega is still fighting, Holloway will need to stay composed and continue the game plan.  There's a reason Holloway is on a 12 fight winning streak in the UFC though.  He knows how to win.  I don't see him making a mistake in this one.
Play: Holloway 1.67
Derrick Lewis vs Francis Ngannou
The advantages Lewis uses to win most of his fights, I don't see working against Ngannou.  Lewis does get hit quite a bit, but he has a great chin and keeps moving forward.  I cannot imagine any chin being able to withstand an Ngannou bomb.  Mark Hunt has that type of power as well and he knocked Lewis out a couple fights back.
Ngannou is an absolute beast and I think he's better everywhere in this fight.  Lewis definitely has a punchers chance because he throws with power himself, but I think Ngannou will be patient enough and land the more decisive shots in this fight.
Play: Ngannou 1.27 @ SportsInteraction.com
Anthony Pettis vs Michael Chiesa
I see that the Pettis fade is in full effect from these odds.  People have really given up on Pettis at this point in his career.  Yes, he's 2-5 in his last 7 fights, but he's only losing to top 5 level competition.  In my opinion, Chiesa is a step down in competition from these 5 losses.
Chiesa is a guy who gets wins, but it doesn't look pretty.  He's coming off a submission loss to Kevin Lee, where even if he argues he didn't tap, it looked like he was outclassed.  Prior to that loss his best win in the UFC was over Beneil Dariush and he was losing that fight before finding his way onto Dariush's back to get the rear naked choke.
With this fight I think people are really underestimating Pettis' grappling ability.  It seems like everyone points to Chiesa's submission grappling as to why he's going to win this fight, but let's not forget that Pettis has never been submitted in his career, while Chiesa lost via submission to both Lee and Jorge Masvidal.  I actually give Pettis the advantage in the grappling.  On the feet Pettis has the advantage at range and still has dynamic power that can finish fights.
This is a buy low opportunity on Anthony Pettis.  Even if the book is out on him for the high level guys, I still think he has the skills to beat the middle level guys, which is where I put Chiesa.
Play: Pettis 2.35 @ SportsInteraction.com
Uriah Hall vs Paulo Costa
Costa has looked like an absolute beast in his 3 UFC fights, but I'm still surprised he's such a big favourite against Uriah Hall.  Costa beat Garreth McLellan and Oluwale Bamgbose in his first two UFC fights.  Yes, he looked good, but those are two of the worst middleweight's to ever fight in the UFC.  In his most recent fight he then bullied Johny Hendricks to a second round finish, but if you watched that fight it was an obvious size mismatch.  Hendricks is a welterweight and Costa is a huge middleweight.  In reality we still don't know what we have with Costa.  He's a great prospect, but Hall is a legitimate step up in competition from his first 3 middleweight fights.
Hall got a ton of hype from the UFC coming out of the Ultimate Fighter and it's resulted in him fighting very tough competition for his entire UFC career.  Sure, he lost 3 in a row in a year from November 2015 to November 2016, but those losses came to Robert Whittaker (current middleweight champion), Derek Brunson (top contender) and Gegard Mousasi (arguably best middleweight in the world).  Those are not bad losses.  In his recent fight Hall showed he still has his dynamic striking with a second round finish of Krzysztof Jotko, who was a rising prospect at the time.
If we're looking at common opponents, Hall destroyed Bamgbose in just over 2 minutes, while it took Costa into the second round to beat a guy we now know is a low level fighter.
I'm not saying Costa is a fraud.  I actually do think he's a top prospect in the division.  I'm just surprised Hall is such a big underdog.  He's a dynamic striker who can finish fights at any moment.  At worst I think he should only be a small underdog, not the biggest dog on the entire card!
Play: Hall 4.70 @ SportsInteraction.com
Check out our UFC betting page for a breakdown of the various bets you can make on each fight.
Tagged With : UFC 226 • UFC betting • UFC picks