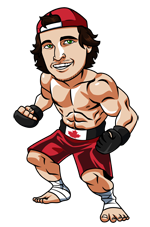 The UFC is heading to Chicago for what I think is the best PPV card of 2018 to date.  Whittaker vs Romero is the main event, but it's the Colby Covington vs RDA co-main tilt, and the return of CM Punk that really has people buzzing this week.  These also happen to be the two fights I have my wagers on for Saturday evening.
UFC 225 gets underway on Fight Pass at 6:15pm EST and this card is stacked so even Fight Pass has some great fights like Guida vs Oliveira, Pettis vs Benavidez and Evans vs Smith.  The broadcast then moves to TSN 5 at 8pm here in Canada with four more top level fights concluding with Alistair Overeem vs Curtis Blaydes.  At 10pm we move the PPV portion of the card with CM Punk kicking off the action.
I will give a lean for the main event, and then I have two main plays for this card.  I've used the best odds available at any of our recommended betting sites for Canadians.
Robert Whittaker vs Yoel Romero
I won't be betting on this fight myself because I think it's a tough one to call and I think the line is pretty accurate at the moment.
I do lean Whittaker though because he went 25 hard minutes with Romero in his last fight and was able to pull out the win with his distance control and stamina late in the fight.
That said, Romero won the first two rounds on all three judges scorecards, which tells me he definitely has the ability to hang with, and beat, Whittaker.  It just comes down to if he's improved his endurance since that last fight, and whether he can do more with the takedowns he secured in the first couple rounds to potentially stop the champion.
The other way to look at it is that Whittaker figured Romero out late in the fight and cruised to a win.  I don't really think this is the case because it really looked like Romero gassed.
So overall, I think this fight could go either way, but I would lean Whittaker.  The value might be on the underdog at these odds though.  Romero has shown the ability to pull out wins from the jaws of defeat before, which makes him a very scary fighter to bet against.
Lean: Whittaker 1.43 @ SportsInteraction.com **I won't have action**
Colby Covington vs Rafael dos Anjos
This is my favourite bet on the card.  I personally got quite a bit of action on Covington at odds of 2.10 shortly after the lines went up, but I still think there is value at odds of 2.00.
RDA has done nothing to impress me since moving up to welterweight.  He got the better of Saffiedine, who isn't even ranked anymore (and has lost 3 in a row), in a fairly close striking battle.  He then poached Neil Magny, the most overrated fighter in the division, and easily beat him early in the first round, like he should.  I bet on him in that fight also, but I will try to fade Magny against any decent all-around welterweight.  Finally, RDA was able to get a fight with Robbie Lawler, who was ranked #2 in the division at the time even though he's only won 2 fights since 2015.  Lawler's wins were over Carlos Condit (15 media members scored the fight for Condit vs only 3 for Lawler), who anyone with takedown ability in the division can beat, and Donald Cerrone (another very close fight) who welterweight prospects are now running through.  And RDA  Basically, I think RDA is a smart guy who picked the 3 most over-ranked fighters on his way to this interim title shot.  That's good for him, but it also makes him a prime fade candidate in this fight.
Covington has been getting the hate for not deserving this shot, but his welterweight resume is better than RDA's in my opinion.  He's coming off a win over Demian Maia, who had just lost in a title fight, and he beat him handily.  Maia even had a full camp to fight Covington, which Woodley did not allow him to have (Woodley is another smart fighter in terms of gaining every edge possible), and Colby still beat Maia handily, including dominating with a 10-8 on two judges scorecards in the 3rd round.
I'm expecting Covington to be able to get RDA to the mat in this contest.  RDA has not faced a strong wrestler yet at welterweight and I think the move up in weight will show itself in this fight more than his past 3.  Covington isn't a big welterweight by any means, but he's an elite wrestler and RDA was always the bigger guy at lightweight.  He won't have that advantage in the grappling battles in this fight and I expect Colby to be able to get him to the mat when he chooses.  I could see this fight being similar to the RDA vs Nurmagomedov destruction back in 2014.
RDA is an all around fighter, but he performs best against fighters where he has the wrestling advantage.  That will not be the case in this fight with Colby and RDA will be forced to fight on the defensive, which does not suit him.
Look for Colby to control the action for 15 minutes and really cement himself as the challenger for Woodley at 170 pounds.
**On a side note, Woodley is already campaigning for a fight on the UFC 227 card on August 4th.  Considering this RDA vs Covington fight is for the interim belt it would make sense for the winner to fight Woodley.  That two months turn around time is not what most fighters would want when preparing for a title fight.  Just another way Woodley likes to use his demands to gain an edge in his title fights.
Play: Covington 2.00
CM Punk vs Mike Jackson
I'm looking at CM Punk as a 2/1 underdog for my only other bet on this card.  This is primarily a fade of Mike Jackson and it is far from a lock, but at these odds based on the information we have, I think there could be value on the WWE wrestler in his second fight.
Both CM Punk and Mike Jackson were finished early and easily by Mickey Gall in their UFC debuts.  These also happened to be both fighters pro MMA debuts as well, so they both sport a (0-1) record coming in this fight.  This shows that Jackson is a much better opponent for Punk and one that you have to give him a legitimate chance against.
Jackson is being touted as a golden gloves boxer and a muay thai fighter, but he only has 1 pro muay thai fight that I could find and it was a unanimous decision loss.  From the footage I've seen his striking is nothing special and I don't think he will be able to go out there and just KO Punk right out of the gates.
Punk also seems to have awful striking, but I'm expecting striking to be a very small part of his game plan against a fighter like Mike Jackson.  Duke Roufus should have Punk ready to go out there, close the distance, and take Jackson to the mat where he can work some ground and pound and potentially get a submission.
Let's not forget that CM Punk has had almost two more years of training at Roufusport since his Gall fight.  He presumably has improved significantly since then, and fighting a striker he should be able to use what he's learned on the mat against a muay thai fighter.
To be fair, CM Punk actually looked like he new the basics of defending on the mat after Gall took him down in their fight.  Jackson on the other hand took an overhand right and was submitted within seconds.  Punk lasted half the round.  He has the toughness and I'm banking on him having the better grappling in this fight.  He's not an athletic guy, but I still think he's a good bet at these odds against an MMA cameraman.
Play: Punk 2.95 @ SportsInteraction.com
Check out our how to bet on the UFC page for a further breakdown of the various wagers you can make on the fights.
Tagged With : UFC 225 • UFC betting • UFC picks