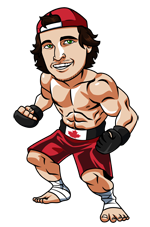 The UFC is back this weekend with the UFC 224 PPV card after another two weeks without UFC action.  The main event for the PPV is Amanda Nunes defending her bantamweight belt against Raquel Pennington.  The oddsmakers have the fight lined as a very one sided affair in favour of Nunes and I would have to agree.  The co-main is the more interesting fight on the card, in my opinion, with Jacare Souza taking on Kelvin Gastelum in an important middleweight tilt.  Overall, the card is really not very strong for a PPV, either in terms of star power or depth.
The card gets underway at 6:15pm EST with the Fight Pass prelims and then moves to TSN 2 here in Canada at 8pm for four prelim fights.  The PPV portion of the card gets underway at 10pm with a legends fight between Vitor Belfort and Lyoto Machida kicking things off.
I have three plays for this card below.  I've used the best odds available at any of our recommended betting sites for Canadians.
Sportsbook
Features
Offers
Rating
Bet Now
1

Licensed and regulated in Canada
Easy deposits & withdrawals including Interac
Competitive betting lines
2

Licensed and located in Ontario
Entirely focused on Canadian betting market
Easy deposit/withdrawal options, including Interac
**I don't have a play on the main event because I don't see value in a -900 line in MMA.  That said, I think Nunes is on a far different level than Pennington and fully expect her to defend her belt.
Kelvin Gastelum vs Ronaldo Souza
I really don't know what to make of Gastelum at middleweight.  He's definitely too small for the weight class, but he's been able to go 3-1 using his speed on the feet.  His 3 wins though have been over 3 fighters far past their primes in Kennedy, Belfort and Bisping (even though he was champ he's still not a top 10 fighter in the division).  When Gastelum fought an actual top 10 fighter in Chris Weidman the size differential really showed through with Weidman securing 7 takedowns before getting a late submission.
The question is which camp does Jacare fall into.  He is 38 years old after all.  That said, there's no reason to think he shouldn't be able to get this fight to the mat and get a submission of Gastelum.  If you throw out the loss to Romero, which could have gone either way, he's still only lost one fight in his UFC career, which was the recent KO loss to Robert Whittaker.  He bounced back from that with his recent KO of Derek Brunson.  The issue is whether Gastelum will be able to light him up on the feet like Whittaker was able to.  I do not believe he will be able to because I just don't think Gastelum has the length and size to get in and out, while avoiding the potential takedown, which could be the end of the fight with Souza's submission grappling ability.
Gastelum is a welterweight fighter and I think that will show through against any true top 10 fighter at middleweight.
Play: Souza 1.71 @ SportsInteraction.com
Amanda Cooper vs Mackenzie Dern
Mackenzie Dern is an accomplished jiu jitsu practitioner with multiple world titles and arguably the best women jiu jitsu player in teh world today.   That said, she has only been fighting MMA for two years and she has been brought along against fairly weak opponents.  She has been able to submit 3 women, and went to decision to get her wins in the other 3 fights.  In her first UFC fight she won a tight split decision over Ashley Yoder, but what really stood out was the fact that her takedown offense was very lacking.  She connected on one takedown of 6 attempts against Yoder and instead had to win the fight with volume striking, which will not work against higher level opponents.
Amanda Cooper also has just 6 pro MMA fights, but she also had 9 amateur/exhibition fights so she is by far the more experienced MMA fighter in this matchup.  She is only 3-3 in her pro career, but the level of competition has been far higher than Dern's with the 3 losses coming to Aspen Ladd, Tatiana Suarez and Cynthia Calvillo, three very accomplished women's MMA fighters, each of who are currently high level prospects in the UFC.  The other thing each of these three women have in common is they beat Cooper by submission.  That said, the three women all are very high level wrestlers, perhaps three of the best in the strawweight division in fact.
The UFC is probably looking at Cooper, seeing her 20% takedown defense and that she lost three fights via submission and thinking that Dern should be able to get this fight to the mat and get a tap.  I don't see it that way though.  Looking at Dern's wrestling in her last fight, I think Cooper should be able to keep this fight standing if she chooses to do so, which she should.  She's the far better striker on the feet and she should be able to win a striking based decision in this fight.  Cooper is also an extremely strong athlete, so I don't give Dern the advantage there either.
Overall, I think Cooper actually has more ways to win this fight.  Dern, on the other hand, has the one method of victory, which is to get the tap.  It should be a fun fight, but at these odds I think there is some real value on Cooper.
Play: Cooper 3.15 @ SportsInteraction.com
Oleksiy Oliynyk vs Junior Albini
Albini was getting a lot of hype after his win over Timothy Johnson in his UFC debut, but he looked very average and was out struck by Andrei Arlovski in his recent UFC outing.  I'm just not sold on Albini.  His boxing looks solid, but he's not active or athletic enough to really pose a threat to the top guys in the heavyweight division.
I'm not saying Oliynyk is a top guy, but he's a threat to anyone in the division and he's a lot better than many people give him credit for.  Oliynyk is 4-2 in the UFC and his first true loss was his last fight against Curtis Blaydes.  I think Blaydes is one of the top fighters in the division and Oliynyk still got his licks in during that fight.  One thing I love about Oliynyk is he throws with everything he has and closes the distance looking for takedowns.  If you stay in the pocket with him and try to counter you had better knock him out or he will have closed the distance and have a good chance of getting the fight to the mat, which is his bread and butter.
When I look at this fight, yes Albini is probably the more technical boxer, but I think Oliynyk actually has just as much chance of getting the KO with his huge punches as he closes the distance.  And if he does manage to get this fight to the mat I think he has a great chance of working for the submission.  I see a lot of paths to victory for Oliynyk in this fight and he will keep coming for 15 straight minutes.
Play: Oliynyk 2.30
Tagged With : UFC 224 • UFC betting • UFC picks