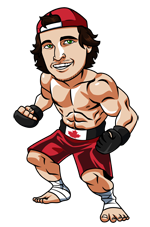 UFC 220 is setting up to be the biggest PPV card of the first half of 2018.  The heavyweight title fight between Miocic and Ngannou is carrying a ton of hype with many critics feeling like Ngannou could be the next massive star in the heavyweight division.  I'm extremely excited for this heavyweight tilt and consider it the biggest heavyweight title fight since possibly Velasquez vs Dos Santos 2 back in 2012.
The rest of the card isn't overly stacked, with Cormier vs Oezdemir for the light heavyweight belt really the only other big fight on the card.  That said, there are a lot of interesting fights with significant implications in the mid-rankings of divisions, so there's plenty for hardcore fans to like.
There are 12 fights scheduled on the card, with the early prelims getting underway at 6:30pm EST on Fight Pass.  The undercard then takes place at 8pm and will be shown on TSN5 in Canada before the PPV portion of the card gets underway at 10pm EST.
I'll be using the best odds being offered from any of our recommended bookies for each of my picks on this card.
Sportsbook
Features
Offers
Rating
Bet Now
1
Licensed and regulated in Canada
Easy deposits & withdrawals including Interac
Competitive betting lines
2

Licensed and located in Ontario
Entirely focused on Canadian betting market
Easy deposit/withdrawal options, including Interac
Stipe Miocic vs Francis Ngannou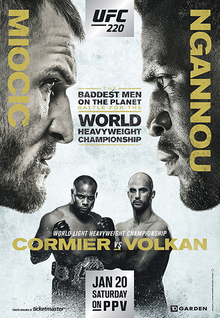 Miocic vs Ngannou is probably the biggest main event the UFC can make at this point of time, outside of a big name fighter like McGregor, Rousey GSP or possibly Diaz.
In this fight we have the undisputed champ, who has defended the belt twice already and is riding his own 4-fight, first round knockout streak over some of the best fighters in the division.  It may seem crazy that a guy who has the belt and those defenses is actually coming into the fight as a fairly sizable underdog.
That said, when you look at Francis Ngannou and what he has done in his 6-0 UFC career you can start to see why the hype train for this fighter is real.  You could easily argue that he is the hardest puncher the UFC has ever seen, and his most recent 2 first round KO's were over two of the same guys that Stipe knocked out in his current streak (Arlovski and Overeem), so it's not like he hasn't faced top level fighters.
I was skeptical of Ngannou at first, but those recent two knockouts have made me a believer.  He shows patience in the pocket and picks his spot to throw fight ending shots.  Yes, both Arlovski and Overeem have a history of KO defeats, but I would be very surprised if anyone could have taken those shots and stayed conscious.
Miocic has been impressive in his wins, but if you actually go back and watch the victories they become a little bit less impressive.  Dos Santos came out with a very strange style and essentially backed himself into the fence and allowed Miocic to tee off on him.  Overeem actually rocked and wobbled Miocic early in the fight before getting caught himself in a first round that really looked like it could have gone either way.  Werdum ran at Miocic with his chin out and got countered, which was one of the stupider decisions Werdum has made in his career.
Miocic is hittable and has been gifted some of his wins by scared or stupid tactics from his opponents.  If Ngannou comes out calm and collected looking to land big shots with patience I think he has the reach and knockout power to land fight ending strikes in the pocket against Stipe.
Play: Ngannou 1.63
Daniel Cormier vs Volkan Oezdemir
Oezdemir is another prospect who quickly climbed the ranks in his division.  He's shown a lot of power in his hands knocking out both Cirkunov and Manuwa in his last two fights, but I'm still skeptical in his abilities because we really haven't seen much from him.  Yes, he also won a decision over Saint Preux, but it was a split decision win where gassed out in the third round.  Also, 14 out of 16 media members scored the fight for Saint Preux according to MMADecisions.com.
Overall, I think Oezdemir's only chance to win this fight is a first round knockout.  He obviously has power in his hands, but that won't be enough to beat a crafty veteran with an amazing wrestling base in Daniel Cormier.  If Cormier can get this fight to the mat early then this fight will basically be over.
I really like Cormier in this fight.  We know he won't gas and the only time he's been knocked out in his career was by that vicious head kick from Jon Jones in his last outing.  If he's survived against guys like Anthony Johnson (twice), Dan Henderson, Roy Nelson and Anderson Silva then I like his chances against Oezdemir.
Play: Cormier 1.30
Shane Burgos vs Calvin Kattar
This is an interesting fight between two lesser known prospects at featherweight who could become household names in the coming year.  Calvin Kattar came in and impressed in his UFC debut with a dominant win over Andre Fili.  He was the far better technical striker in that match-up and he wasn't fazed by any unorthodox strikes from Fili, simply picking him apart on the feet.
This fight against Burgos is quite a bit different for Kattar though.  Burgos is a powerful puncher who likes to stay in the pocket and throw strikes that are meant to finish or at least hurt his opponents.  You won't see Burgos take a backwards step in this fight and he will surely take the center of the octagon in this one.  I'm not convinced that Kattar will be the more technical guy either, with Burgos having some very strong striking credentials.
Burgos is the far more dangerous guy on the feet, which is where I see this fight taking place.  Kattar is technical, but I think the pressure and in your face style of Burgos will win on the judges scorecards if this fight goes to decision.  And if it doesn't go to decision it is far more likely that Burgos gets the finish.
Play: Burgos 1.79
Abdul Razak Alhassan vs Sabah Homasi
In this fight we have a rematch between Alhassan and Homasi, who fought just over a month ago in Detroit.  Alhassan officially won the fight via TKO, but it was fairly obviously a mistake by referee Herb Dean, who thought that Homasi was knocked out when he really was going for a takedown.  It was an obvious early stoppage, which is why these two will meet again in this fight.
In the last fight I was actually impressed with Homasi, who was holding his own in the striking exchanges.  That fight really seemed like it could go either way, which is why I like Homasi at these odds in the rematch.  Also, in my experience it's the losing fighter who performs the best in the rematches.  He is the fighter who knows what he did wrong and can improve upon it with a better game plan.  Yes, it was an early stoppage, but that's not to say that Alhassan wasn't still on his way to finishing Homasi in that exchange.  With that said, I think Homasi can come in here with a better game plan, having already fought Alhassan and knowing what he's in for against the athletic judo fighter with a strong striking pedigree.
Also, if these two get into another brawl it's really anyone's guess who goes down first, which is why I like the value on Homasi here.
Play: Homasi 2.90
Tagged With : Francis Ngannou • Stipe Miocic • UFC 220 • UFC betting • UFC picks