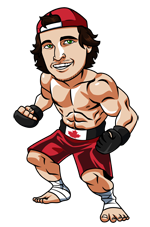 The UFC is headed back to Vegas for their year end UFC 219 PPV featuring Cris Cyborg and Holly Holm as the main event.  The main card is fairly solid, but I would still classify this as one of the weaker PPV events of the year.  The people's main event of Edson Barboza vs Khabib Nurmagomedov is the fight I'm most looking forward to, but I wasn't able to get a good read on the fight from a betting perspective.  I actually only have 2 bets on this card, and just one that I like a lot.
There are only 10 fights on this entire card.  Tim Elliott vs Mark De La Rosa kicks off the card at 7:30pm on Fight Pass, before the card shifts to TSN 2 for four prelim fights prior to the 10pm PPV.
I'll be using the best odds being offered from any of our recommended bookies for each of my picks on this card.
Sportsbook
Features
Offers
Rating
Bet Now
1

Licensed and regulated in Canada
Easy deposits & withdrawals including Interac
Competitive betting lines
2

Licensed and located in Ontario
Entirely focused on Canadian betting market
Easy deposit/withdrawal options, including Interac
Cris Cyborg vs Holly Holm
***This is only a lean, I will not be betting on this fight.
That said, if I was forced to place a bet I would go with Cyborg.  She is an absolute beast who throws with the intention of hurting her opponent every time.  She also has a very solid ground game, and if she can get this fight to the mat I'm pretty sure it will be over.
Holm is a solid counter striker, who will look to maintain distance and pick Cyborg off if she over commits.  I can see Holm having a bit of success on the feet, but she won't throw with enough power to hurt Cyborg with her hands, and I do think that Cyborg will eventually be able to cut Holm off and let her hands go in the pocket or against the fence.  I think Holm's only road to victory in this fight is if she finds a home for that high kick that put away both Rousey and Correia, and I think the chances of that landing is low.
Cyborg is the more dangerous fighter on the feet and she's showed more patience in her last couple fights, so I don't expect her to rush in and get tagged.  If she can close the distance I expect her to be able to land some big shots, then take the fight to the ground and get the finish there.
Lean: Cyborg 1.30 @ SportsInteraction.com
Carlos Condit vs Neil Magny
This is a weird fight that I really think could go either way.  That said, I see some clear paths to victory for Neil Magny, so I'm willing to take a small flyer on him at these odds.  Condit has some of the worst takedown defense in the UFC and Magny, even though he doesn't go for a ton of takedowns, does have the ability to get this fight to the mat.  Magny has actually scored at least 1 takedown in every one of his UFC wins, including 6 takedowns in his win over Kelvin Gastelum a couple years back.  I do think Magny gets Condit to the ground a few times in this fight, and although Condit likely is able to scramble back to his feet, those takedowns could steal rounds if the stand up exchanges are close, as I expect them to be.
Condit is the far more dangerous fighter on the feet, but Magny is generally quite active, so if he can avoid getting tagged with some big shots, I think he will keep the stand up exchanges close enough where he can steal rounds with smart takedowns.
I also question Condit's commitment to the sport.  He's been using the retirement word for quite some time now, and he was absolutely dominated by Demian Maia in his last fight, which was now 16 months ago.  Magny isn't the best fighter, but you can't question his commitment.  With a path to victory, I'm willing to put some money on Magny because I know he's fully invested and will give it everything he has to get back in the win column.
Play: Magny 2.40
Louis Smolka vs Matheus Nicolau
Smolka is on his way out of the UFC.  He's now lost 3 fights in a row and gone from top prospect to a guy who is extremely beatable.  Even looking back at his wins, the only really impressive W came over Ben Nguyen, who is a guy that goes hard and sometimes gets caught.  Losses to Moreno, Borg and Elliott in his last 3 fights, I'll admit are against solid competition, but he did not look good in any of those fights and I feel like he's been figured out.
Mattheus Nicolau is coming off a close win over John Moraga, but that's a win over a top level guy and he beat him on the feet, which is where Moraga is at his best.  Nicolau is a BJJ black belt, so him showing that level on the feet was very impressive.
Smolka is a guy who constantly puts himself in bad positions, but who has amazing scrambling ability.  Against a black belt like Nicolau, I could see the first bad position he finds himself in being the end of the fight.  Smolka has never fought a BJJ black belt before and I'm confident that his style will play right into the hands of Nicolau.
This is my favourite bet of the night.  Nicolau will easily be able to take Smolka to the mat, and once he finds a good position, I don't expect Smolka to be able to scramble out.  I'm expecting an early submission.
Play: Nicolau 1.40
Tagged With : Cris Cyborg • Holly Holm • UFC betting • UFC picks