UFC 209 is finally here!  I've been waiting for this card since the end of 2016.  It's been an underwhelming first two months of 2017 in the UFC, but UFC 209 is a solid card and the PPV's coming up are all solid as well.  The first Wonderboy vs Woodley fight was an absolute barn burner and I'm expecting more of the same between these two on Saturday.  The co-main between Khabib and Ferguson has almost as much fanfare as well after the bad blood has built up between these two over the course of the past year.  Overall UFC 209 is a solid card top to bottom.
There will be 3 fights on Fight Pass followed by four prelim fights on TSN2 before the pay-per-view gets underway at 10pm.
I'll be using the best odds being offered from any of our recommended bookies for each of my picks on this card.
Tyron Woodley vs Stephen Thompson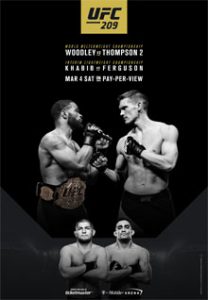 Woodley so deeply wants to be respected as the champion and be considered the best welterweight in the world that it must really cut him deep to once again be a significant underdog heading into his fight with Wonderboy.
Woodley came close to finishing the first fight on two occasions, but if you watch the entire fight Thompson was getting the better of him outside of those two instances.  Thompson threw a lazy leg kick in the first round that allowed Woodley to get a takedown and do quite a bit of damage in the first round.  This may have made Thompson more tentative moving forward, which resulted in him not doing enough damage to really put Woodley in danger.  When Thompson was letting his techniques fly and throwing spinning attacks he was hurting Woodley who was continuing to back into the fence, which is one of his main flaws.
I expect Wonderboy to adjust his style for this fight and to leave it all in the cage this time around by coming out more aggressive, throwing more techniques and looking to actually finish Woodley rather than more or less point fighting.  Woodley does not like to be hit and you could see him struggling when Wonderboy was landing combinations.  If Wonderboy can be aggressive and push Woodley to the fence this will also dramatically limit Woodley's offense.
Woodley definitely has the power and ability to finish this fight with a big shot, but if Wonderboy fights like he should and like I expect him to he will easily win this fight if it goes to a decision and has a great chance of finishing Woodley if he lands some of his kicks and combinations earlier in the fight.
I'll be honest, I don't love these odds for Wonderboy, but I do think he's going to win so he's my pick.
Play: Thompson 1.63
Khabib Nurmagomedov vs Tony Ferguson
This fight has a ton of intrigue for several reasons.  Number 1 this is considered a title fight for the interim belt at lightweight and (hopefully) the right to fight Conor McGregor.  On top of that these two have a lot of bad blood built up after being booked to face each other on numerous occasions to only have the fights fall through.  Add in the fact that one of these guys has to lose, which hasn't happened since Ferguson lost a decision to Michael Johnson 5 years ago and you have all the makings for a classic.
Nurmagomedov is the favourite.  He is undefeated in his career after all at 24-0, but in my opinion he has fewer big wins than Ferguson and if you check on MMADecisions.com you might be surprised to see that the popular opinion was that he lost his fight to Gleison Tibau back in 2012.
I consider Khabib's wins over RDA and Michael Johnson solid W's, but other than that he's really not faced elite competition.  Ferguson has actually fought a lot of the same lower level guys that Khabib did in the UFC with Tony getting finishes over Abel Trujillo and Gleison Tibau, while Khabib only won decisions.  Add in a great performance over RDA in a 5 rounder to set up this battle with Khabib and a submission victory over Edson Barboza who is one of the most dangerous guys in the division and I would dare say that Ferguson's resume is more impressive than Khabib's.
Khabib did not look good standing up against Michael Johnson in his last fight and although he was able to get the fight to mat basically at will, Ferguson should have a big advantage on the feet in this tilt.  If Khabib gets the fight to the mat, which I do expect he'll be able to do, Ferguson is also one of the best submission fighters from his back and he may be able to keep Khabib on the defensive long enough to scramble to his feet or at least not take much damage.
I think people are sleeping on Ferguson in this fight.  He is the better overall martial artist and if he can either keep the fight standing or win scrambles on the mat and threaten with submissions I think he could win this fight either by decision or a submission out of a scramble.
Play: Ferguson 2.62
Rashad Evans vs Daniel Kelly
Evans vs Kelly is a very interesting fight.  I've been on the Kelly bandwagon for his past several fights and cashed in some nice bets in his last two especially (2.80 win vs Camozzi and 5.00 win vs Carlos Junior).  Kelly is the real deal.  He's a very feisty and gritty fighter who has represented Australian four times in judo at the Olympics.  He's an unorthodox strikers and although he looks very sloppy on the feet his striking has worked against lower level opponents.
All of that said, I'm surprised Evans isn't a bigger favourite in this fight.  Kelly is actually the second smallest dog he's been in his entire UFC career (he's been a dog in every fight throughout his 5-1 UFC career).  Evans is a massive step up in competition for Kelly and his wrestling base should allow him to counteract the judo throws of Kelly if the two get up against the fence or in the clinch in this fight.  Everyone is considering Evans to be washed up based on his KO loss to Teixeira in his last time in the octagon, but let's not forget that Teixiera is a top 5 light heavyweight and his previous loss to Bader was against another top 5 light heavyweight.  Evans is now making the cut to middleweight and fighting a guy who is average at best in the UFC.
It's a tough fight to call because there are some questions regarding whether Evans is a shot fighter and there is truth to the statement that Kelly is a tough out for anyone in the UFC, but you have to give the nod to Evans in this one because stylistically this is the toughest fight Kelly has had in the UFC, combined with his opponent also being the most experienced and biggest name he's ever faced.
Also, Kelly has fought almost all of his UFC fights in Australia as a hometown hero, so coming across to Vegas will pose a different challenge for him.  The odds are definitely stacked against Kelly in this fight.
Play: Evans 1.57
Lando Vannata vs David Teymur
Vannata burst onto the UFC scene by having a very solid late notice performance against Tony Ferguson.  He did end up losing that fight, but he showed he has very exciting and technical striking that could make him a top prospect.  He followed up that loss with an amazing first round wheel kick KO of John Makdessi at UFC 206.
David Teymur is a solid striker in his own right, but I have to give the edge to Vannata on the feet based on his technical striking, unpredictability and agility.  He also has a very solid submission game so if for some reason he's not winning the standing battle he could look to sink something in on Teymur.
Overall, Vannata is the superior fighter and should get his hand raised this Saturday.
Play: Vannata 1.40
Mark Hunt vs Alistair Overeem
This is a very interesting heavyweight tilt and it will be just as interesting to see how Mark Hunt and the UFC deal with fight week with Hunt having legal action currently pending against the UFC.
In terms of the fight though I have to go with Overeem here.  Yes, Hunt has the power to put Overeem's lights out at any point in this bout, but I do think Overeem's fight IQ has improved over the past few years.  He will have a significant reach advantage over Hunt, which is something he didn't have when he was KO'd by Stipe in his last fight, and if he can maintain distance he should be able to piece Hunt up while staying out of range of the big KO blows.
This could be a slow fight with Overeem content to move in and out, but both of these guys have power in their hands and Overeem especially can go lights out at any moment so even if the pacing is slow the fight could be over at any moment.  That said, I'm still on Overeem to get the job done.
Play: Overeem 1.71
Be sure to check out our UFC betting information page to learn more about betting on UFC events and make sure to take advantage of the promo I outlined at the top of the page.
Tagged With : UFC 209 • UFC betting • UFC picks