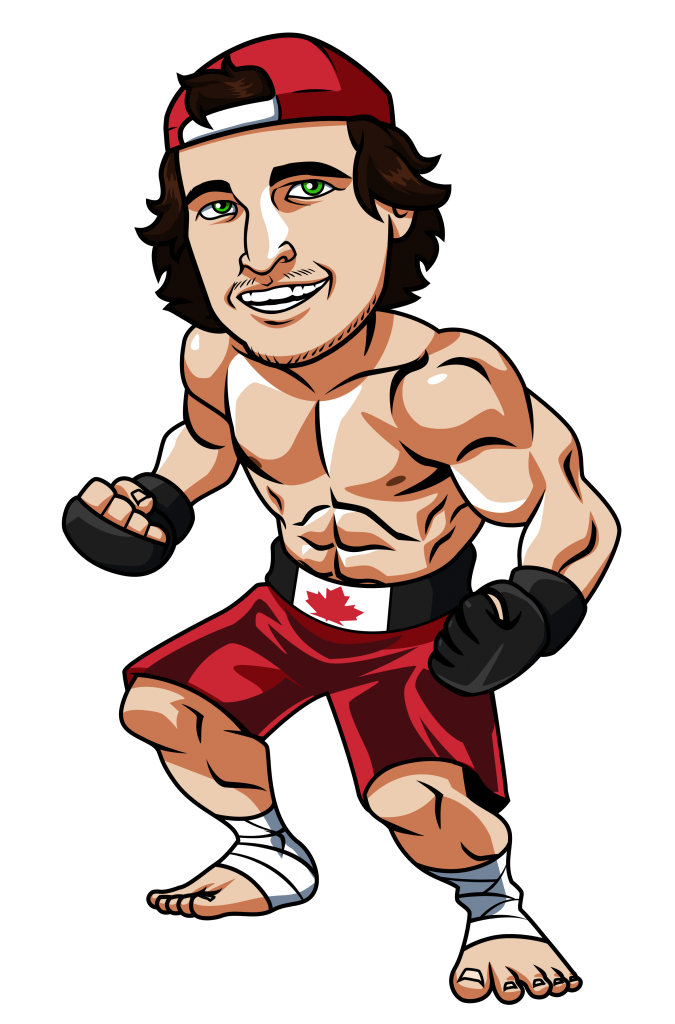 UFC 205 at Madison Square Garden.  It's likely going to go down in history as the biggest UFC event to this point in history, and with Conor McGregor trying to become the first fighter in UFC history to hold two belts at the same time, this could be a massive event in the history of the UFC, on top of the MSG angle.  The fight card has the depth of UFC 200, with the star power of a Conor McGregor PPV.  I think those facts, along with the MSG story line, will result in UFC 205 breaking the recent UFC 202 record of 1.65 million PPV buys.  I actually think they could get up to close to 2 million, which would shatter the record.
The card is great for betting from top to bottom.  On top of the Conor vs Alvarez Lightweight Title headliner, we're also treated to two more title fights with Wonderboy challenging Woodley at Welterweight and Kowalkiewicz taking on Joanna Jedrzejczyk for the Women's Strawweight title.  Then add in Weidman vs Romero, Gastelum vs Cerrone, Tate vs Pennington, Edgar vs Stephens, Nurmagomedov vs Johnson and Evans vs Kennedy, and you can see just how monumental this card is from top to bottom.  Here's the full card.  You can catch the prelims on TSN5 at 8pm, with the PPV starting at 10pm EST.
I'll be using the best odds being offered from any of our recommended bookies for each of my picks on this card.
Conor McGregor vs Eddie Alvarez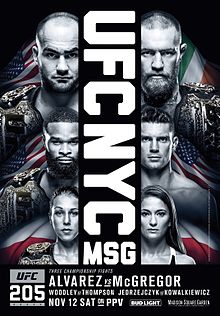 I'll be honest, I would feel a lot more comfortable with this bet if McGregor wasn't such a big favourite.  I don't really think he deserves to be such a big favourite against a very tough opponent in Eddie Alvarez, but I've learned my lesson about underestimating Conor McGregor.  When he says he's going to do something he gets it done.  The only loss he has in his UFC career was against Nate Diaz and I think the short notice combined with underestimating the durability of Diaz did him in for that fight.  He won't make the same mistake of underestimating a guy who has proven through his career to be very durable when he fights Eddie Alvarez.  We might see a similar style to when he fought Diaz the second time and I actually do think Conor puts Alvarez to sleep in this one.
It's a lean, but if I put money on this fight it will go on McGregor.
Play: McGregor 1.67
Tyron Woodley vs Stephen Thompson
I want to preface this bet by saying I'm a big Wonderboy fan.  I love his style and he's show that he's perfected the karate style for MMA, which many fighters have tried and failed at in the UFC.  He just controls distance so well and is always moving, while staying active, and throwing a wide range of strikes and kicks.  Woodley is probably the most purely explosive fighter he's faced yet in the UFC, so he will have to be on his toes and ready to get out of range quickly when Woodley goes for his big shots.  If Wonderboy can stay out of range for the first two rounds I think that explosiveness from Woodley will be gone and Wonderboy should be able to pick him apart while setting up the finish.
Woodley needs to get an early KO to win this fight.  Otherwise it will be a long night for him, which will likely end with a finish.
Play: Thompson 1.53
Joanna Jedrzejczyk vs Karolina Kowalkiewicz
This is a fight between two very similar styles of fighter.  Each of these ladies has a huge output of punches throughout the course of a fight and both have the ability to keep throwing at a ridiculous rate throughout an entire five round fight.  The difference for me is the speed and technical striking that Joanna possesses.  She's simply faster and throws more angles than Karolina and I think she should be able to get the better of Karolina in their exchanges.  This could be another 5 round fight with a ton of output on both sides similar to the Joanna vs Letourneau fight where Joanna landed 220 significant strikes to 103 from Letourneau over the course of 5 rounds.
Play: Joanna 1.26
Chris Weidman vs Yoel Romero
People forget that Yoel Romero earned a silver medal in freestyle wrestling at the 2000 Olympics in Sydney.  Most people consider Weidman's NCAA Division 1 wrestling credentials to be his biggest weapon in the UFC, but I actually have him pegged as the inferior wrestler in this match up.  Then you can add in the fact that Romero is obviously the more dangerous striker having finished off Machida, Tim Kennedy (controversially) and Derek Brunson in his recent 6 fight winning streak in the UFC.  He also won a tight split decision over Ronaldo Souza in his last time out, in a fight that he was a significant underdog.
I'm simply not impressed with Weidman's resume even though he won four title fights in the Middleweight division before getting dominated by Luke Rockhold last December.  He caught Anderson Silva, and then won based on a freak injury in their rematch.  Yes, he was dominating Silva to that point, but Silva was far past his prime (he hasn't won a fight since, except against Nick Diaz in a fight that was changed to a no contest due to Silva getting popped for PED's).  Next it was Lyoto Machida, another washed up Brazilian who is 1-2 since losing to Weidman.  Finally he beat up Vitor Belfort, yet another Brazilian legend way past his prime who is also just 1-2 since losing to Weidman.
Basically, I think Weidman is overrated, while Romero doesn't get any respect, which leads me to like Romero in this one.
Play: Romero 2.40
Miesha Tate vs Raquel Pennington
This is a fight between two solid fighters who win based on toughness.  Neither of these ladies are the most athletic or dangerous fighters in the division, but they both are very complete martial artists who are willing to grind out wins.  I give the edge to Miesha because she is the more athletic of the two and she will not wilt under the pressure applied by Pennington.  This could be a close fight, but I see Tate getting a decision win here.
Play: Tate 1.57
Kelvin Gastelum vs Donald Cerrone
Don't bet against Donald Cerrone.  That's the lesson I've learned over the past 3 years.  Cerrone is 11-1 over his last 12 fights in the UFC, and this is against the biggest names the UFC has to offer.  The only blemish on the record was a title fight loss to RDA, where Cerrone simply didn't look like himself.  Since that loss he's walked through three top opponents at Welterweight and now he gets another high end guy in Gastelum, with a win definitely putting him back in the title picture.
Gastelum is a tough fighter, but Cerrone is able to attack from range very well and he looks very comfortable and strong at this new weight class.  He has more weapons than Gastelum and if he can avoid this fight becoming a grind he should be able to pick Gastelum apart.  I'm not convinced he'll be able to finish Kelvin, but I do see him picking him apart over the course of 3 rounds.
Play: Cerrone 1.625
Frankie Edgar vs Jeremy Stephens
The only way Stephens wins this fight is likely if he hits Edgar with a clean bomb.  I just don't see Frankie allowing that to happen.  He's too saavy of a veteran to lose a fight against a guy with one main weapon.  Frankie should be able to pick apart Stephens in this one, while avoiding the power of his opponent.
Play: Edgar 1.31
Khabib Nurmagomedov vs Michael Johnson
Khabib could very well be the best lightweight in the world, but there are just so many unknowns with him because he hasn't had a really meaningful fight since 2014.  Yes he's 23-0, but really his only big win came against Rafael dos Anjos.
With Michael Johnson we all saw how on point he was against a very tough opponent in Dustin Poirier, getting the KO in the first round.  If that Michael Johnson shows up again and he's able to stuff a few takedowns I think he has a great chance to win this fight.
At these odds I have to lean towards Johnson.
Play: Johnson 3.25
And be sure to check out our UFC betting information page to learn more about betting on UFC events.
Tagged With : Conor McGregor • UFC 205 • UFC betting • UFC picks