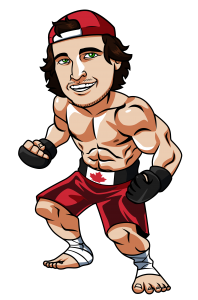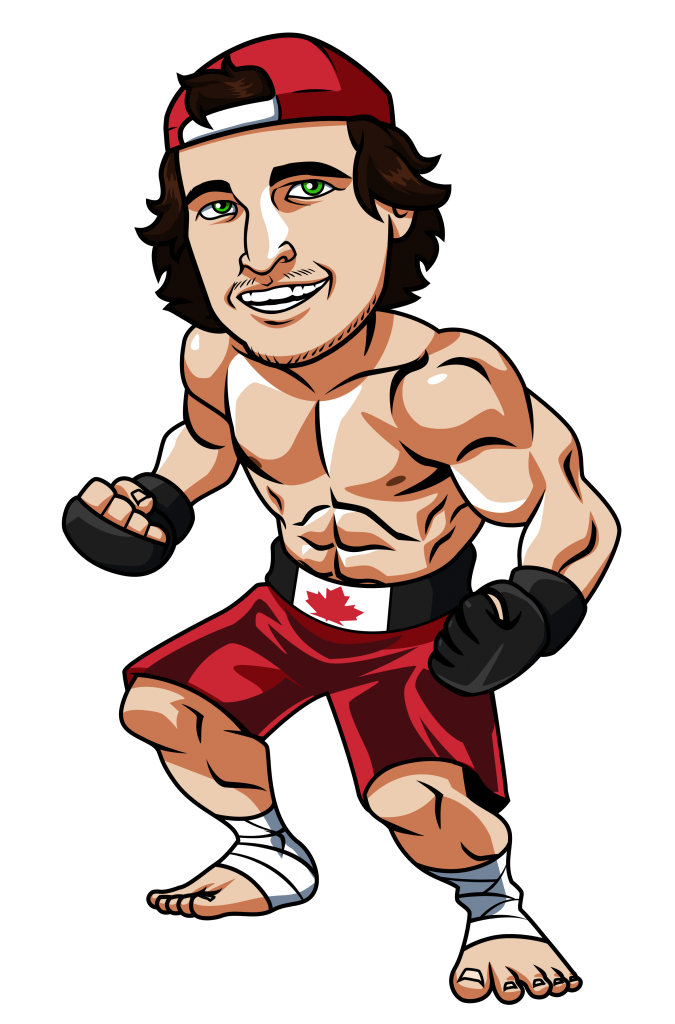 It's time for another UFC pay-per-view event.  With UFC 203 coming only a few weeks after the massive UFC 202 spectacle it seems like there isn't a ton of hype for this card, but it's a very solid event from top to bottom.  The city of Cleveland is probably still reeling from both the Stipe's win over Werdum back in May and following that up with the Cavs win the NBA Finals.  It's a good year to be a sports fan in Cleveland.
The card is solid from top to bottom and with CM Punk making his debut, as well as the heavyweight title on the line, I expect the buzz to pick up for this card quite a bit this week.
On top of the heavyweight title and CM Punk debut fights there are also some solid fights throughout the card that I'll give my picks for below including Werdum vs Browne, Faber vs Rivera, Andrade vs Calderwood, Eye vs Andrade and McCall vs Borg.  I'll be using the best odds from any of our recommended sportsbooks for my picks.
Stipe Miocic vs Alistair Overeem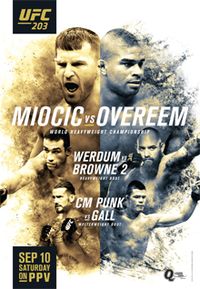 Miocic is a monster and probably the best boxer in the heavyweight division.  If he touches you with those mitts, whether he's coming forward or moving backward there's a good chance your night is over.  That said, Stipe is far from the perfect mixed martial artist.  He has heavy hands and a solid chin, which are both huge in the heavyweight division, but if I had to pick who is the better overall martial artist without factoring in the chin I'd lean towards Overeem.
Overeem has a ton of experience in the sport with a 41-14 record and with 4 straight wins he actually has a longer winning streak than Stipe.  And that includes wins over both Stefan Struve and Junior dos Santos, the two men to have beaten Miocic in his career.  After losing via TKO to Ben Rothwell in September of 2014 for his 3rd knockout loss in four fights (Travis Browne and Bigfoot Silva were the other finishers) Overeem seemed to realize that he couldn't just go in there and hope to KO the other fighter before getting knocked out himself.  His chin simply cannot handle that strategy.
On his four fight winning streak I've seen a very smart and technical Alistair Overeem, who is using his entire arsenal to win fights while taking as little damage as possible.  His win over JDS, who I think is a somewhat similar fighter to Miocic, impressed me the most.  He outclassed dos Santos on the feet by using a lot of striking techniques that keep the distance.  It's this similar game plan that I think will serve him well against Miocic.
Stipe has the KO power that one mistake could end Overeem's night, but in his last four fights he's given me no reason to believe he is going to make a mistake in this one.
Play: Overeem 2.25
Fabricio Werdum vs Travis Browne
Werdum beat Browne by a unanimous decision back in April of 2014.  Since that fight Brown has gone 2-2 in the UFC, but those wins were over a shot fighter in Brendan Schaub who retired right after the fight, and an eye poking display against Matt Mitrione.  He was TKO'd by both Arlovski and Velasquez in that span.  Browne is still working with Edmond Tarverdyan at Glendale Fighting Club, which has become known as one of the worst clubs in top professional MMA.  I'm under the impressive that Browne has regressed since his last fight with Werdum and I expect Werdum to make light work of the big, athletic Browne.
If Werdum avoids another stupid mistake like chasing Stipe across the Octagon he should be able to win this fight easily and get his name back into the top contenders list coming off a win.
Play: Werdum 1.44
CM Punk vs Mickey Gall
I respect the fact that CM Punk put in the work to become an MMA fighter and I hope people tune in to watch the PPV this Saturday if they're old wrestling fans, but unfortunately I think they are going to tune in to see him get finished.  Punk is 36 years old and never trained in any form of MMA discipline before signing his contract and heading over to Roufusport.  Watching the Evolution of Punk TV series you see just how bad Punk was to start out a year and a half ago.  He's improved in recent episodes, but you still have to wonder how much he could have picked up in a years time.
Even if Punk has become a legitimate MMA Fighter I think he's caught a tough break with his match up against Mickey Gall.  Not only is Mickey Gall younger and by the looks of it far more athletic than Punk, he's also been training MMA his entire life.  He is 2-0 as a professional, but he also has two amateur fights that he won.  The kid looks like the real deal and I wouldn't be surprised at all if he continues to work his way up the UFC ladder after this fight with Punk.
Add in the fact that Gall is brown belt in jiu jitsu and I can't see this fight even getting out of the first round.  Gall will simply be too much for Punk in this one.
Play: Gall 1.28 @ SportsInteraction.com
Jimmie Rivera vs Urijah Faber
I'm very surprised to see Faber as a slight underdog in this fight.  Yes, he got absolutely outclassed by Dominick Cruz in his most recent fight, but that's what Cruz does.  Here are some crazy stats about Faber that will make you see why I'm so shocked he's the underdog.  Faber is currently 9-0 in non-title fights in the UFC and has won every single one of the non-title fights in his long career if you don't include him jumping up to featherweight recently to fight Frankie Edgar.  That's plain ridiculous and it shows that Faber only loses to the best of the best.
I'm not ready to crown Jimmie Rivera as the best of the best.  Yes, he's a great prospect who is 19-1 in his MMA career and on an 18 fight winning streak, but he only has 3 wins in the UFC and these wins were over Marcus Brimage (who was cut right after that loss and lost his next two fights outside the UFC), Pedro Munhoz (a split decision win over a guy who has only baeten Matt Hobar and Russell Doane in the UFC) and Iuri Alcantar (a close fight of the night battle against a guy who has lost to Faber previously).
This is a massive jump up in competition for Jimmie Rivera.  You won't find me betting against Faber until he loses a non-title fight in his own division.
Play: Faber 2.00 @ SportsInteraction.com
Jessica Andrade vs Joanne Calderwood
Andrade looked like an absolute beast in her last fight inside the Octagon.  It was her first fight at Strawweight and she simply bulldozed Jessica Penne on her way to a second round finish.  Calderwood is a similar, albeit better, fighter to Jessica Penne and I see this fight going similar to Adrade's last fight.  I think Adrade will come forward and simply overwhelm Calderwood on her way to either a finish or a decision win.
Play: Andrade 1.77 @ SportsInteraction.com
Jessica Eye vs Bethe Correia
Jessica Eye has now lost 3 straight fights and 4 of her last 5, but I still think she wins this fight against Correia.  Another loss could spell the end for Eye, so this is a huge fight for her even though her losses have come against the best in the division.
Correia is simply a very bad fighter.  She got her fight with Ronda because she beat three of her friends, none of who are very good fighters.  In her last fight she went out and lost a split decision to Raquel Pennington, who I'll admit is a tough, solid fighter, but she's not as skilled on the feet as Jessica Eye.
I expect Eye to pick Bethe apart on the feet and I actually wouldn't be surprised if we saw a finish in this one.
Play: Eye 1.72
Check out the UFC section here at the site to learn more about betting on the UFC and the various bets you can make on each fight.
Tagged With : UFC 203 • UFC betting • UFC picks • UFC predictions