Before I get into my picks for UFC 188, I want to start off with some awesome personal news that relates to UFC betting…..
Now that I've shared my exciting news, we can get on to this weeks UFC 188 card from Mexico City. The heavyweight final is finally on the line after almost two years without seeing Cain Velasquez in the Octagon. Will he have lost a step or that crazy endurance that he uses to overwhelm opponents?
The other big fight on the card is Eddie Alvarez vs Gilbert Melendez, which has been a long time in the making. Both of these guys were champions of other promotions before coming over to the UFC, so it will be interesting to see which fighter was really the best outside of the UFC for those years.
Other big names on the card include Kelvin Gastelum and Henry Cejudo, but both are big time favourites in their respective fights.
Cain Velasquez vs Fabricio Werdum
Cain Velasquez 1.22
Fabricio Werdum 4.80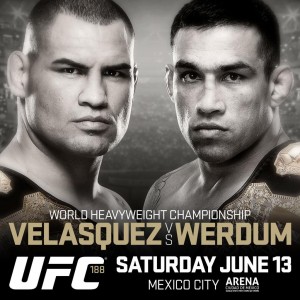 Cain hasn't fought since UFC 166 when he completed his trilogy with a 5th round TKO of Junior Dos Santos. A lot of injuries have kept Cain from defending his title and after another injury the UFC decided to have an Interim belt between Werdum and Hunt, which Werdum won easily.
Fabricio Werdum poses a lot of threats for Cain, but his wins haven't exactly been over the top quality of competition. He has never beaten either JDS or Stipe Miocic, the #2 & #3 ranked heavyweight fighters and his other UFC wins haven't impressed me that much. Mark Hunt, Roy Nelson, Mike Russo and Antonio Nogueira were never going to challenge for the UFC belt. Travis Browne was a big win and a dominant one at that, but it was still a decision.
I just think Cain will be too much for Werdum in this fight. He's not going to let Werdum use his striking and he's going to smother the Brazilian with wrestling. Cain doesn't get caught by submissions and I think that would be the only way for him to lose this fight.
Play: Velasquez 1.22
Eddie Alvarez vs Gilbert Melendez
Eddie Alvarez 2.50
Gilbert Melendez 1.57
The battle between the two underground MMA Champions of old. Eddie Alvarez dominated Bellator, while Melendez dominated Strikeforce before both fighters joined the UFC. Now we get to see which lightweight champion was the best outside of the UFC.
Both of these fighters can be considered grinders who have been in absolute wars. I do think this fight could go either way, but I'm going to be backing Alvarez for a few reasons.
First of all Donald Cerrone is a beast so the decision loss to Cowboy in his opening UFC fight doesn't affect my decision much. Melendez does not have close to the leg kick abilities of Cerrone, which just destroyed Alvarez in that fight.
Melendez does have bigger victories in his career, but neither man has really beaten any top fighters on the UFC rankings so we don't know exactly what to expect from either. Yes, Melendez is ranked #4 and Alvarez #9, but the biggest win between the 2 of them is Melendez beating Josh Thomson who is ranked #10 (he beat him twice and lost once). We just really don't know what to expect out of these fighters yet and for this reason I'm taking Alvarez. I like his scrappiness and his ability to win fights when it seems like he may be behind on the scorecards.
Play: Alvarez 2.50
Kelvin Gastelum vs Nate Marquardt
Kelvin Gastelum 1.22
Nate Marquardt 4.50
After Gastelum had trouble making Welterweight in his last fight, Dana and company have forced him to move back up to Middleweight. I don't necessarily think that's a bad thing though because let's not forget that Gastelum won The Ultimate Fighter over Uriah Hall at Middleweight. He was extremely sick heading into his fight, due to the weight cutting issues, with Tyron Woodley at UFC 183 and he still only lost a split decision that many people thought he won.
I'm expecting a very determined Kelvin Gastelum to come out and just dominate this fight from start to finish. I'm not sure he'll finish Marquardt, but he will surely win the fight.
Marquardt has lost 4 of his last 5 fights and he could be on the way out of the promotion with another loss or two on his record. He has been fighting decent competition, but I believe that Gastelum will be a title contender at either Middleweight or Welterweight within the next couple years.
Play: Gastelum 1.22
There are my three big fight picks for this card.
Tagged With : UFC 188 • UFC betting • Velasquez • Werdum