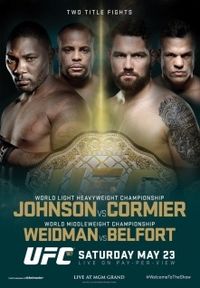 Those of you who read the site often know that I was at UFC 186 in Montreal.  It was an amazing event that has made me an even bigger fan of the UFC.  As much fun as that was, the upcoming UFC 187 card puts UFC 186 to shame, and I for one am already eagerly awaiting Saturday night.
There are two huge title fights on the card with Daniel Cormier getting the nod in place of Jon Jones, who has had quite a bit of legal trouble lately, against Anthony Johnson, who earned shit shot after beating Alexander Gustafsson in devastating fashion his last time out.  The other title fight has been a long time in the making with Vitor Belfort finally getting back in the ring to take on current champion Chris Weidman.
***I'm running a contest for this card through our Facebook page, that I will explain here, before providing a few of my favourite picks for the card below.
Sports Betting Canadian UFC 187 Contest
First of all, let's get to the prize.  This is a Winner-Take-All contest with a $100 voucher for online sports betting going to the winner.
This is a fantasy MMA contest that I'm going to run through DraftKings.com.  Each fighter on the card has a set salary and you're given $50,000 to pick 5 fighters to be apart of your team.  As an example from the upcoming card Anthony Johnson costs $9400, while Daniel Cormier costs $10100.  You then earn points based on significant strikes, advances, takedowns, knockdowns and the fight conclusion.  Basically you want your fighter to finish the fight early or at least be very active throughout the rounds.
So, let's move on to how to enter…..
1. Click here to select your lineup.  This is the $3 entry fee event at DraftKings that has a guaranteed prize pool of $30,000 and $2,000 to first place.
2. Enter your DraftKings username in the contest post at the Sports Betting Canadian facebook page (it will be sticked).  Your first entry under your username in the DraftKings contest will count towards our contest.
3. Whichever entry finishes with the most points will win the $100 voucher on top of your winnings from DraftKings!
If you don't currently have a DraftKings account you will have to deposit to enter the $3 contest.  DraftKings is extremely easy to deposit into as they accept all Credit Cards & Paypal.  You can learn more about the DraftKings payment options on our review page.
Let's see which of our readers has the most UFC knowledge!
Now on to a couple of my betting picks.
Daniel Cormier vs Anthony Johnson
Cormier is getting a second shot at the title in back-to-back fights, which is something not many fighters will ever have the opportunity to receive.  He missed his chance in the last opportunity when he was outpointed by Jon Jones in an entertaining fight.  You have to believe that Cormier will be ready to battle it out this time, without wanting to fail twice in a row.
Anthony Johnson is simply a beast.  I can't figure out how he used to fight at Welterweight.  That just seems ridiculous to me.  He probably has the most power in the division and he can mix in kicks with his punches as good as anyone.  He definitely has the ability to finish this fight early, but if Cormier can keep the fight going into the late rounds I think the advantage shifts to Daniel.
Add in the fact that Cormier has Velasquez as a training partner for this fight (which he didn't have against Jones) and you have to give the nod to Cormier.  I think he grinds it out, without making the mistake that allows Johnson to finish the fight.
Play: Cormier 1.72 @ Bet365.com
Chris Weidman vs Vitor Belfort
Weidman is still looking for validation at the Middleweight division.  After the two Silva wins people were saying he got lucky both times.  At least against Machida he showed he can dominate a fight for 5 rounds against a legend, but after Machida lost so handily to Luke Rockhold, there is still the question about whether Weidman truly is the top fighter in the division.  He can further quiet those critics with a win against Belfort on Saturday.  I for one believe that Weidman is the real deal and I actually think his most difficult opponents at Middleweight will come in the form of Rockhold or Jacare in his next fights.
That's not taking anything away from Belfort, who definitely has the ability to finish this fight.  There are just so many question marks with Belfort because he hasn't fought in a year and a half and this will be his first fight without taking TRT.  I could see Belfort finishing this fight with a TKO, but I think Weidman wins the fight 80% of the time.
Play: Weidman 1.20 @ Bodog.eu
So I'm going with the favourite in both title fights.  That's all I'm going to be giving you here because I need to keep some of my sleeper picks for the DraftKings contest I've set up above.  Click here to enter that contest and remember to add your username to the Facebook post that is stickied at the Sports Betting Canadian Facebook page.
Tagged With : UFC 187