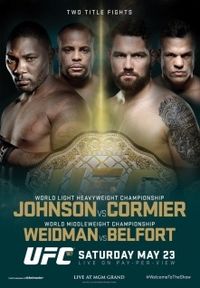 Those of you who read the site often know that I was at UFC 186 in Montreal. It was an amazing event that has made me an even bigger fan of the UFC. As much fun as that was, the upcoming UFC 187 card puts UFC 186 to shame, and I for one am already eagerly awaiting Saturday night.
There are two huge title fights on the card with Daniel Cormier getting the nod in place of Jon Jones, who has had quite a bit of legal trouble lately, against Anthony Johnson, who earned shit shot after beating Alexander Gustafsson in devastating fashion his last time out. The other title fight has been a long time in the making with Vitor Belfort finally getting back in the ring to take on current champion Chris Weidman.
Daniel Cormier vs Anthony Johnson
Cormier is getting a second shot at the title in back-to-back fights, which is something not many fighters will ever have the opportunity to receive. He missed his chance in the last opportunity when he was outpointed by Jon Jones in an entertaining fight. You have to believe that Cormier will be ready to battle it out this time, without wanting to fail twice in a row.
Anthony Johnson is simply a beast. I can't figure out how he used to fight at Welterweight. That just seems ridiculous to me. He probably has the most power in the division and he can mix in kicks with his punches as good as anyone. He definitely has the ability to finish this fight early, but if Cormier can keep the fight going into the late rounds I think the advantage shifts to Daniel.
Add in the fact that Cormier has Velasquez as a training partner for this fight (which he didn't have against Jones) and you have to give the nod to Cormier. I think he grinds it out, without making the mistake that allows Johnson to finish the fight.
Play: Cormier 1.72
Chris Weidman vs Vitor Belfort
Weidman is still looking for validation at the Middleweight division. After the two Silva wins people were saying he got lucky both times. At least against Machida he showed he can dominate a fight for 5 rounds against a legend, but after Machida lost so handily to Luke Rockhold, there is still the question about whether Weidman truly is the top fighter in the division. He can further quiet those critics with a win against Belfort on Saturday. I for one believe that Weidman is the real deal and I actually think his most difficult opponents at Middleweight will come in the form of Rockhold or Jacare in his next fights.
That's not taking anything away from Belfort, who definitely has the ability to finish this fight. There are just so many question marks with Belfort because he hasn't fought in a year and a half and this will be his first fight without taking TRT. I could see Belfort finishing this fight with a TKO, but I think Weidman wins the fight 80% of the time.
Play: Weidman 1.20
So I'm going with the favourite in both title fights.
Tagged With : UFC 187