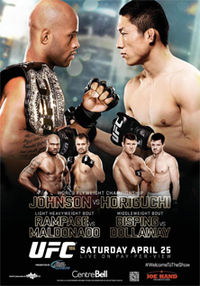 The UFC is coming to Canada and I am going to be in attendance.  The card isn't everything I would have hoped for (the Dillashaw vs Barao fight would have been nice to see), but watching a UFC PPV event live is still going to be an awesome time.
I'm glad to have heard that Rampage will be back on the card after winning his appeal.  He's just fun fighter to watch even if the fight doesn't have real title implications moving forward.
The CB Dolloway vs Michael Bipsing fight will also be a lot of fun.  I don't mind Bisping, but I think he will have his hands full with the younger Dolloway in this fight.
And I for one am actually looking forward to the Flyweight Title fight between Demetrious Johnson and Kyoji Horiguchi.  I think Horiguchi could be fast enough to keep up with Johnson and we could have a real fight on our hands in that one.
Some of the other fights are also interesting, but those 3 are the ones that really catch your attention.
Rampage Jackson vs Fabio Maldonado
This is a catchweight fight now at 215 pounds, likely because Rampage wasn't sure he was going to be able to fight until just a couple days ago.  I think Rampage still has a lot of power in his fists, but at the current odds I like Maldonado.
I could see Maldonado being able to push the pace and squeak out a decision victory in this fight.  He only has two losses in the past 2.5 years and these came by knockout to Miocic and Teixeira, who are two of the top fighters in the division.  His wins aren't that impressive, but I could see Maldonado sticking around with Rampage and if he is able to avoid getting knocked out he could pull out a decision.
Play: Maldonado 3.40
CB Dolloway vs Michael Bisping
Dolloway lost his last fight against Lyoto Machida early in the first round by TKO, but if he wins that fight he is in the title shot conversation.  Now ranked #11 in the Middleweight division a win over #10 ranked Bisping would shoot him back up to a chance against another top fighter.
I personally think Bisping is overrated as well.  He has losses to top fighters, but let's not forget that these are losses.  His wins are really not that impressive with a win over washed up Cung Le, an eye poke win against Alan Belcher and a win over Brian Stann, which wasn't overly impressive.  It's easy for Bisping to say he lost to a bunch of guys doing the TRT, but the fact is he also lost to Tim Kennedy and Luke Rockhold recently and he just hasn't looked very good against top opposition throughout his career.
Play: Dolloway 2.35 @ SportsInteraction.com
Demetrious Johnson vs Kyoji Horiguchi
Johnson is one of the most dominant champions currently in the UFC.  He just seems to be so much faster than most of his opponents and just a bit better at every aspect.  The same is likely true against Horiguchi, but the Japan product has looked very good as well, albeit against much weaker competition.
That said at these odds I actually like taking a stab at the upset.  Horiguchi is a fast, new style fighter in the UFC, who could give Johnson some issues with his power.  He has two TKO's in the UFC already in just 4 fights and those kind of knockouts can be rare in the Flyweight Division.  Just ask Johnson who has won the vast majority of his fights via decision.
I'm rolling the dice in this fight and taking Horiguchi for the huge upset.
Play: Horiguchi 7.00 @ SportsInteraction.com
Tagged With : Demetrious Johnson • Kyoji Horiguchi • Michael Bisping • Rampage Jackson • UFC betting • UFC Montreal