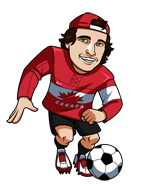 Toronto FC has made it to the finals.  There is only one strong Mexican club between Toronto FC and the glory of a CONCACAF Champions League title.  This will be the third elite Mexican club in a row for Toronto FC who defeated UANL in the quarterfinals and then Club América in the semi's.  Guadalajara was actually considered the weakest of the Mexican clubs who qualified for Champions league, but they've strung together some very strong legs and have relied on their defense to get them to the finals, beating the New York Red Bulls 1-0 on aggregate in the semi-finals.
The first leg of the finals takes place tonight at BMO Field in Toronto.  TFC will need to win this leg because Guadalajara has not yet given up a home goal in Champions League competition and Toronto FC has yet to win a match in Mexico.
Toronto FC vs Guadalajara Chivas Leg 1 Odds
Here are the odds for the first match from SportsInteraction.com:

Toronto is a big favourite in this match with odds of just 1.54.  They had odds of 2.21 to win against UANL in the quarterfinals at BMO Field, which shows how the expectations of this club have increased as the tournament has progressed.
**To find these odds and bet on this game at Sports Interaction you must select 'Soccer' -> 'International Clubs' -> 'CONCACAF League'.
My Pick
I do like Toronto FC to win this game, but at these odds I don't think there is much value in TFC, especially against a team as sound defensively as Guadalajara Chivas.
That said, I do believe Guadalajara to be the weakest overall team of the 3 Mexican clubs Toronto FC has faced to this point in the tournament.  They qualified for the Champions League by winning the Clausura 2017 Championship one year ago and then proceeded to only win 4 of 17 matches in the July to November season.  They've followed that up by only winning 3 of 15 matches so far in the Clausura 2018 season and are at risk of being relegated.  Yes, they've likely put their focus on Champions League this season, but only winning 7 of 32 league matches since qualifying for Champions League a year ago definitely raises some questions.
Toronto is healthy and they've made winning Champions League their priority to begin the season.  I do think they have a great chance at winning this game, but it will be difficult to break through and score a goal against Guadalajara Chivas, who will make it their priority for this game to finish in a scoreless draw.
The sharp money is likely on a draw here at odds of 3.63.  Toronto FC will then need to dig deep and head into Mexico with their backs against the wall and come out with at least an away goal to win this tie.
Play: Draw 3.63
**Again, if this was purely a pick, I think Toronto FC winning this match is the most likely outcome, but based on the odds I believe the sharpest play is to bet the draw.
Tagged With : Champions League • Toronto FC • Toronto FC Betting