The Blue Jays bats were timely last night. Recording only 7 total hits but piecing together a 5 run 4th inning which proved to be enough in a convincing 5-1 victory over the Indians. Tonight, the Blue Jays dig into the box against right-hander Carlos Carrasco and look to carry over the momentum they built last night. On the mound for the Jays will be lefty Mark Buehrle who has proven to be their biggest pitching asset over the past few seasons.
Prediction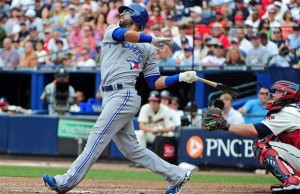 Toronto comes into tonight's game looking to string together their second straight victory. As always, their hopes heavily rely on the offence's ability to produce. The Jays are a team we've come to know for their proven ability to hang some crooked numbers on the scoreboard. Tonight, they face a slight test in the form of Carrasco as he's produced the leagues third-highest strike out rate (34.3%) among pitchers with at least 15 innings pitched. Carrasco however was roughed up in his last outing allowing 5 runs on 9 hits in just 4 1/3 innings against a potent Detroit Tigers lineup. This bodes well for a Jays team that produced a .333 average against him last season.
One interesting fact to consider for tonight's game is the handedness of Carrasco. If you have observed any Blue Jays games this season, you'll notice pitchers are taking the ball way outside on Jays batters as they've proven to be a team that crushes the inside offerings. With Carrasco being a righty, it presents a much tougher challenge to paint the outside portion of the plate and get those strike calls as he is naturally throwing across his body. Any time Carrasco attempts to pitch the Jays outside, he's vulnerable to throwing a ball or possibly leaving it out over the plate where the batter can turn on the pitch and drive it.
In my eyes, oddsmakers seem to be a little vulnerable tonight in offering a Blue Jays team total of only 3.5, while they're playing in the most hitter-friendly field in all of Major League Baseball this season. Couple this with the fact that the Blue Jays are ranked as the #3 team in runs per game thus far this season (5.30 RPG) and we have a clear edge to the over on this total. Sit back and enjoy the show.
Play: Over 3.5 Runs Total for the Blue Jays 1.909 @ PinnacleSports.com
Tagged With : baseball • May 1st • Team Totals • Toronto Blue Jays betting