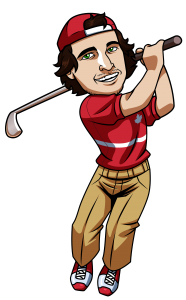 It was just a few weeks ago that Dustin Johnson got over the hump and took down the US Open for his first Major Championship win.  Now, just a month later we're getting set for yet another Major Championship with The Open Championship set to take place this weekend at The Royal Troon Golf Club in Scotland.
I always really enjoy watching The Open because the typical links style course that we go to in Britain gives a much different look than what we normally see on the PGA Tour and just the different look and added variables really makes it an interesting golf tournament in my opinion.
I'll be using the odds from Bet365.com for this article.  Bet365 has really gone all out with their Open Championship odds, and I've counted 49 different betting options they are offering for the tournament.  It's pretty crazy, but you'll definitely find something to bet on at Bet365.  Here's our full review if you're looking for more info on the sportsbook.
British Open Championship Winner Odds
Here are the odds of some of the favourites in this years British Open:
Dustin Johnson 10.00
Jason Day 10.00
Rory McIlroy 11.00
Jordan Spieth 12.00
Adam Scott 21.00
Sergio Garcia 26.00
Henrik Stenson 29.00
Rickie Fowler 31.00
Branden Grace 31.00
Justin Rose 36.00
Phil Mickelson 41.00
Louis Oosthuizen 46.00
Martin Kaymer 51.00
Lee Westwood 51.00
Shane Lowry 51.00
There are the 15 players in the field who are being given 50/1 or better odds from Bet365.com.
My Picks
Out of the big four my favourite pick is Dustin Johnson.  He's won the last two tournaments he's played in (US Open & WGC Bridgestone) and he really seems like he's playing the best golf of his career and also avoiding the collapses that seemed to follow him around during other big moments in his career.  DJ's big drive should be able to shorten this course for him significantly and if he can keep the drive straight, which I believe he will do, this will open up some shorter approach shots to the very small greens.  It will really likely come down to if DJ is straight off the tee and he's given me no reason to think he won't be based on his recent play.
Play: Dustin Johnson 10.00
Another pick I really like is Henrik Stenson.  With Dustin Johnson winning the US Open last month, Henrik Stenson is now likely the most decorated golfer in the world yet to win a major.  He did finish 2nd at The Open Championship back in 2013, which is his best finish at a major in his career, so he has had success here in the past.  Stenson is also arguably the most accurate driver off the tee, which should pay dividends this week at Royal Troon.  He should have approach shots into the small greens from fairways and once on the green anything can happen if Stenson putts well.  I think he's a great bet this week.
Play: Henrik Stenson 29.00
Last, but not least, the other player I like in these 15 is Louis Oosthuizen at 45/1.  Oosthuizen lost in the playoff at The Open last year by one stroke to Zach Johnson and his one career Major Championship victory also took place at this tournament back in 2010.  Oosthuizen always seems to bring his A-game to the Major Championships in recent years, with second place finishes at both the US Open and Open Championship last season and now a T15 and T23 at The Masters and US Open to kick off this year.  I expect Oosthuizen to be in the mix come Sunday and at these odds he's a great pick.
Play: Louis Oosthuizen 46.00
There you have the three plays I will be making for this years British Open at Bet365.com.  If one of these guys do take down the tournament on Sunday, I'll be happy with a nice tidy profit for the week, and hopefully you will be too.
Tagged With : British Open • Golf betting • Open Championships