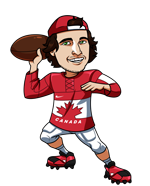 The way both the Eagles and Patriots defenses are playing Super Bowl 52 could easily be a low scoring affair with both teams having trouble gaining yards.  That said, the fact that this game is being played in a dome should help the offenses, and is likely the reason why this game has a fairly typical total of 48.5 even though its a contest between two top defenses.
In this article I will give the odds for the over/under on Super Bowl 52 from SportsInteraction.com and also give my totals pick along with my thought process.
Sportsbook
Features
Offers
Rating
Bet Now
Super Bowl 52 Over/Under Odds and Pick
Over 48.5 (1.91)
Under 48.5 (1.91)
First let's take a look at the scores of both teams two playoff games:
Patriots vs Titans – 35-14 = 49 total points
Patriots vs Jaguars – 24-20 = 44 total points
Eagles vs Falcons – 15-10 = 25 total points
Eagles vs Vikings – 38-7 = 45 total points
As you can see only one of the games that these two teams participated in had more than 48.5 points scored in it, and that was the Pats win over the Titans where there was still just 49 points scored.  Based on these games you can see that both teams defenses are playing very well heading into the Super Bowl, with neither team having given up more than 20 points in the playoffs thus far.
Now, let's dig a little bit deeper.
The Pats scored 458 points and allowed 296 points against in the regular season.  That means that their average game had 47.125 points scored in it.  That said, the Pats defense was awful for the first four weeks of the season.  They allowed 128 points against in just those first four games, while also relying on their offense to keep them close.  If we remove the 257 points scored in those first four games, then the average game between week 5 and 17 that the Pats participated in had just 41.42 total points.
The Eagles scored 457 points and allowed 295 in the regular season.  This means that the average game involving the Eagles had 47 points total.  We also have to remember that Carson Wentz was healthy for the majority of these games.  In the final three games of the season, which Carson Wentz started, the Eagles scored 53 points and allowed 45, which means the average total in those games was 33 points.  Yes, Foles had a big offensive game against the Vikings last week, but this Eagles team will still feel much more comfortable avoiding a shootout with their backup QB in the game.
Based on all of the statistics above the under bet looks like the obvious play.  That said, we also have to look at the venue for Super Bowl 52 because an indoor stadium like U.S. Bank Stadium in Minnesota provides a much more favorable environment for scoring than either Lincoln Field Financial in Philadelphia, or Gillette Stadium in New England, both of which are outdoor stadiums.  When the weather is cold or windy it becomes much more difficult to score points in an outdoor stadium than indoors under a roof.
My pick….
Even though the dome stadium definitely adds potential points to my analysis, I'm still leaning towards the under in this game.
The Eagles defense has been dominant all year and even more so in the playoffs.  They seem to be really be stepping up their game in the absence of Carson Wentz and the way they shut down Matt Ryan and the Falcons in the divisional round of the playoffs really made me believe that this team is going to be hard to score on for anyone.  The one area where the defense is seemingly average is through passes to the middle of the field, so whether or not Gronkowski is available will be a huge factor in whether I think the Pats can move the ball effectively, so keep an eye on those developments as well.
On the other side of the field, the Pats defense has been one of the best in the league this year as well if you remove those first four weeks.  They have not faced a top offense yet in the playoffs, but I do think they will be able to make life difficult for Nick Foles on Sunday and I don't think he will be able to play well enough to really hurt them often.
The game being played indoors is the wild card that makes me less confident in this pick, but I'm still happy taking the under here and putting my faith in both teams very solid defenses to get stops.
Play: Under 48.5 @ SportsInteraction.com
Check out my other Super Bowl articles in our football posts section.
Tagged With : Over/Under • Super Bowl 52 • Super Bowl betting • Super Bowl Total