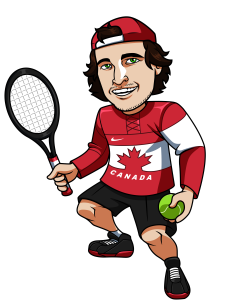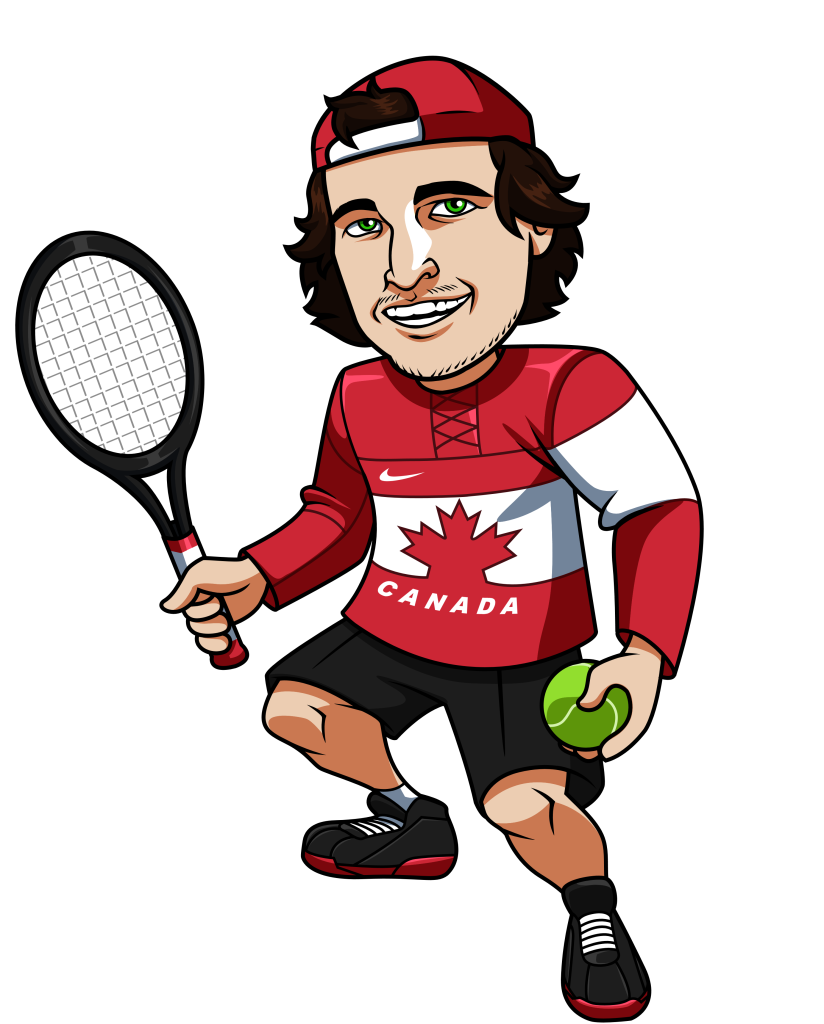 And then there were 8.  Today was a very interesting day at the Rogers Cup with a few big name's bowing out of the Men's tournament.
First off Australian Open winner Stan Wawrinka simply couldn't find his rhythm against Kevin Anderson and ended up losing in straight sets.  I watched this match and Wawrinka just couldn't get himself invested in the match and this was probably partly due to Anderson keeping the rallies short and sweet, especially on his own serve.  In other action Grigor Dimitrov survived a scare against Tommy Robredo and will now be the favourite in his quarterfinal match against Anderson.
The biggest surprise of the day was Novak Djokovic being easily beaten by Jo-Wilfried Tsonga 6-2, 6-2.  Tsonga converted on all 4 of his break point opportunities and was obviously the better player on the court.  That said, Djokovic just couldn't get anything going today.  Tsonga will now play Andy Murray who was slotted into the quarterfinals thanks to Richard Gasquet withdrawing before the match.  Murray has now only had one match en route to the quarterfinals and it was an easy win over Australian teenager Nick Kyrgios.
Another quarterfinal will be our home town favourite Milos Raonic facing Felciano Lopez.  Both men needed 3 sets to beat their opponents with Raonic beating Julien Benneteau and Feliciano Lopez taking out 4th seeded Tomas Berdych.  Raonic will now be a big favourite to win this quarterfinal match and reach the semi-finals.
David Ferrer came back from a set down to beat Ivan Dodig.  Ferrer hasn't played overly well this tournament, but he's been finding ways to win.  His next match he will have to play well to win though because it's against Roger Federer who beat Marin Cilic to get there.
Kevin Anderson vs Grigor Dimitrov
Kevin Anderson 2.65
Grigor Dimitrov 1.56
Wawrinka just didn't look into it today and I expect Dimitrov to be a much bigger challenge for Anderson.  Dimitrov has had an amazing year as he rose to #8 on the tour.  He's had a couple tough 3 set matches against Donald Young and Tommy Robredo and I don't think he's playing his best, but I expect him to find a way to win this match.  This is his first even since losing in the semi-final at Wimbledon, so he is likely shaking off some rust and getting used to the courts in Toronto.  He's now won 11 of his last 12 matches and I don't expect him to lose to Anderson tomorrow.
Play: Dimitrov 1.56
Jo-Wilfried Tsonga vs Andy Murray
Jo-Wilfried Tsonga 2.91
Andy Murray 1.43
Tsonga just ousted the #1 player in the world, but he still comes into this match as a fairly big underdog.  I like Tsonga in this one though.  He beat Djokovic very quickly today so he won't be overly tired when he plays a fresh Murray who got the walkover.  In fact I think the extra match will help Tsonga as these players are still getting used to the fast courts in Toronto and another match will help Tsonga.  Both players haven't played since Wimbledon so we really don't know what to expect from them.  Tsonga lost to Djokovic at Wimbledon and beat him easily here, while Murray lost to Dimitrov in the quarters of Wimbledon.  Murray has won the last 8 matches between these two, but Djokovic had won the last 18 sets against Tsonga and he still lost.  I'm just not sure how strong Murray is at this tournament and for this reason I'm taking Tsonga.
Play: Tsonga 2.91
Milos Raonic vs Feliciano Lopez
Milos Raonic 1.32
Feliciano Lopez 3.89
Our boy Raonic is a big favourite in this match, but I'm still taking him to win.  He should have got the nerves of playing in Toronto out of his system and when you really look at his matches he is playing good tennis with just a few too many errors.  I could see him really turn it on in these next few matches as he makes his case for the title.  Raonic has won there last two meetings (both on grass), and the only loss to Lopez was in 2011 on clay.  Another factor is that I'm not overly impressed with a win over Berdych.  I was going to take Raonic big over Berdych if that had been the matchup because I don't like the way Berdych is playing right now.  Lopez's other wins in the tourney haven't been impressive either so I don't think it's that he is playing very well that he has made it this far.  Raonic should be able to get through this match fairly easily and set up a semi-final with Federer.
Play: Raonic 1.32
David Ferrer vs Roger Federer
David Ferrer 5.00
Roger Federer 1.18
As I mentioned above Ferrer isn't playing overly well.  He dropped a set to Michael Russel in the 2nd round and then dropped one to Dodig in the 3rd.  Federer has been on top of his game, except for a few slip ups against Cilic, and I expect him to rip through Ferrer in the quarters.  Federer holds a 14-0 record over Ferrer in their careers.  And I bet that in some of those matches Ferrer was the one coming into the match on the top of their game.  I don't give Ferrer much of a chance in this match.
Play: Federer 1.18
If I'm right on all of these we will see Dimitrov vs Tsonga and Raonic vs Federer semi-finals on Saturday.  Either way check back to see my semi-finals predictions.
Tagged With : Andy Murray • David Ferrer • Feliciano Lopez • Grigor Dimitrov • Jo-Wilfried Tsonga • Kevin Anderson • Milos Raonic • Roger Federer