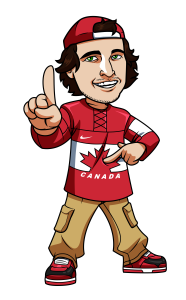 It's not the hockey we are used to in Canada, but thanks to Canada qualifying for the men's field hockey at the Olympics, we will get to watch a lot more of this game that is immensely popular in Europe and Asia, and is referred to as simply 'hockey' in many countries.
Team Canada qualified for the field hockey at the 2016 Olympics way back in June of 2015 by finishing 4th at the 2015 FIH Men's Hockey World League Semifinals event.  Goalkeeper David Carter of Canada was named player of the tournament and Team Canada will need another monster performance out of Carter if they hope to do any damage at these Olympics.
Men's Field Hockey Gold Medal Winner Odds
Here are the odds to win the 2016 Field Hockey Gold Medal at the Rio Olympics from SportsInteraction.com:

As you can see there are really five teams that are being given a chance at the win with Australia, Holland, Germany, Great Britain and Argentina all coming in with odds of under 10/1 to win the tournament.
Canada slates in at 66/1 and they are in a very difficult group with Holland, Germany, Argentina and India as the favourites to advance to the quarters from group B.
My Pick
As much as there are 5 teams with under 10/1 odds I really see this as a 2 team tournament with Australia and The Netherlands each having a great chance to bring it down.
Australia is the favourite and rightfully so, after defeating Holland 6-1 in the finals of the 2014 World Cup, and following that up with wins at both the 2016 Men's Hockey Championships and the 2016 Sultan Azlan Shah Cup.  That said, the two 2016 wins came at tournaments that did not feature The Netherlands and the 2014 World Cup win was two years ago, so we really don't know how these two teams stack up.
The Dutch bounced back from the World Cup loss with a 2015 EuroHockey Nations Championship win in which the Dutch outscored opponents 19-1 over 5 games, capped off by a 6-1 victory in the finals over Germany.
I really think both the Australians and Dutch are on another level in this tournament.  I considered placing a bet on both teams, but I prefer to just have one horse in the race.  You may have noticed from my other Olympics predictions, I've been steering away from the top favourite in most circumstances and this is no different.
I'll be taking the Dutch.  They will likely have an easier quarterfinal match than the Aussies, who will be up against one of the 4 formidable teams from group B.  If Australia does happen to fall out before the finals this tournament really is Holland's to win, so at odds of 4.33 I'm ready to toss some funds on the Dutch.
Play: Netherlands 4.33 @ SportsInteraction.com
Other Field Hockey Betting
SportsInteraction.com is also taking bets on every individual field hockey game throughout the Olympics.  To find the betting lines simply visit the SportsInteraction.com website, click on 'Olympics' followed by 'Team Sports' and this will bring up the field hockey betting lines.
Ready to bet on Field Hockey at the Olympics?  Click here to visit SportsInteraction.com.
Tagged With : Field hockey betting • Olympics field hockey