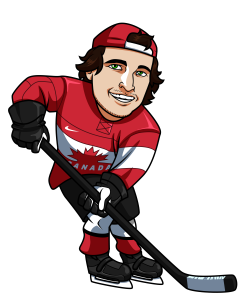 Tonight could be the last night that DraftKings offers NHL contests for this season.  If the Tampa Bay Lightning win tonight, they will advance to the Stanley Cup Finals, at which point DraftKings will no longer have the minimum 2 games needed to run an NHL fantasy contest.  It's a sad day indeed, especially because I've been doing so well at DraftKings these playoffs.  Analyzing a small amount of games makes finding the value picks far easier.
In this (potentially) last day for NHL daily fantasy we have the Lightning vs Rangers tonight and the Blackhawks vs Ducks tomorrow to make up the entire contest.  Two games and four teams to find players to fill your roster.  Here are my thoughts….
First of all, if you're entering a GPP (guaranteed prize pool) then you should consider taking players who will complement each other.  Such as the big line of Perry-Getzlaf-Maroon on the Ducks or the Kid Line on the Lightning.  In GPP's you want to finish right at the top, so just putting together an above average lineup isn't good enough.  That said, you'll still need cheap players as value picks, which is what I'm going to be recommending below.
Click here to set your lineup at DraftKings.com….
Goaltender
Ben Bishop ($8700) – Bishop is coming off a shutout in his last game, but he is still the cheapest goaltender available.  I would probably take him even if he was the most expensive because the Lightning are favoured to win tonight (odds of 1.80 @ SportsInteraction.com) and the Bolts are at home.  They also recommitted to playing defense-first hockey last game and after that success I expect them to continue this at home tonight.
Center
Valtteri Filppula ($3400) – Filppula is being relied on a lot this series and he's been taking Callahan's spot on the top line alongside Stamkos and Killorn for many shifts.  With Stamkos ($9100) and Killorn ($8000) having huge price tags, this is a strong play for a guy who plays 20+ minutes and could be out there in goal scoring situations.
Wing
Ryan Callahan ($2900) – Callahan hasn't produced this series, but he is on the ice with Steven Stamkos enough that he could blow up any game.  If you need someone under $3,000 he is a good pick.  He's losing some of his powerplay time to Filppula, but when you consider he was priced at $6000 just a few games ago, he's still a decent player with upside.
Patrick Sharp ($4300) – Sharpie was going for $7800 just 3 days ago and his price hasn't jumped back up after getting 2 assists last game.  This is a very strong play because I think the Blackhawks will be ready to go on Wednesday night.
Patrick Maroon ($4000) – I'm very surprised to see Maroon back down at $4000 after being up at $5200 last game (which was still a steal).  He's averaging 3.4 FPPG over his last 10 games and he will be playing with Getzlaf and Perry.  This cheap price makes it very easy to take the big line of the Ducks, or just sprinkle him in with other lineups to at least have a piece if that line does do something.
Defensemen
Anton Stralman ($3300) – I've had Stralman on almost every lineup throughout the past two rounds.  He's just way undervalued and it doesn't seem to change.  He plays over 20 minutes per game, is on the top powerplay and penalty kill (for blocked shots) and has a lot of offensive upside.  He hasn't even been getting that many points the last few games and he still has a 2.3 FPPG over the past 10.  He's the cheapest d-man you can get with great upside and value.
Duncan Keith ($6200) – I like Keith at $6200 as well.  It might be a bit rich for this type of article, but how can Keith be priced lower than Seabrook or Yandle.  He isn't putting up that many points right now, but he still has 4.3 FPPG over the past 10 games and playing on the top PP can go off any minute.  Not to mention he plays almost 30 minutes a game so he's going to get on the scoresheet.  I generally don't like spending too much on defensemen in GPP's, but this is an exception.
Tagged With : Daily Fantasy Sports • DraftKings • fantasy hockey