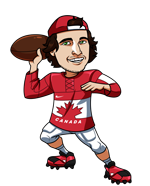 I had another rough go this past week, going 0-3 on my NFL picks.  The Browns and Bengals plays were looking good early, but the Bengals especially, let me down in the fourth quarter giving up 18 points to only beat the Bucs by 3 points with a 5 point spread.  The Lions were never really in the game against the Seahawks after giving up 3 touchdowns in the second quarter.  My season record is now 7-13-1, so fading my plays could be the right choice.
I will be using SportsInteraction.com for all of the spreads and picks below.  You can see our full SIA review here.  I'm going with just 2 picks this week.
Detroit Lions @ Minnesota Vikings
Detroit +5
Minnesota -5
I still think the Lions are a good squad this season.  They had a bad game last week in a bit of a let down spot, but I think they will bounce back with a good game against their division rivals.  The Golden Tate trade definitely won't help this offense, but with Marvin Jones Jr. and Kenny Golladay, Stafford still has weapons at his disposal including Kerryon Johnson and potentially Theo Riddick out of the backfield if he's cleared to return.
The NFC North is still wide open after the Packers, Vikings and Lions all lost last week, while the Bears had a bye week.  I've not been impressed with the Vikings of late.  Their offense has become very reliant on Adam Thielen and with Dalvin Cook still injured their run game is fairly average with Latavius Murray carrying the load.
Take the points and look for the Lions to show their true ability after a poor game last week.
Play: Lions +5
Tampa Bay Buccaneers @ Carolina Panthers
Tampa Bay +6.5
Carolina -6.5
The Bucs are going back to Ryan Fitzpatrick after Winston threw 4 INT's last week.  Fitzpatrick came in and played well, scoring two touchdowns in the fourth quarter to tie up the game with the Bengals late, before a late field goal won the game for Cincinnati.  That said, I'm still not sold on Fitzpatrick as a solid NFL quarterback.  He has glimpses and in the Bucs pass heavy attack he has the ability to hit receivers for some big plays, but I think he will also be susceptible to throwing a few interceptions of his own this coming week in Carolina.
The Bucs offense loves to attack through the air and they have put up an impressive 201 points for in just 7 games this season, but this style of play also allows opposing offenses a lot of time to work and the Bucs have given up 233 points to prove it.  The Panthers are the exact opposite, content with slowing the game down and relying on solid defense, while their offense does enough to win games.
I'm expecting the Panthers defense to be superior to the Bucs offense in this game and for the Cam Newton and company to go off for a big game at home.  The Panthers are 4-0 at home and the Bucs are a perfect team for an offense to really go big against and build some confidence and chemistry.
Look for the Panthers to run away with this one.
Play: Panthers -6.5
Tagged With : NFL betting • NFL Picks