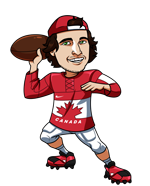 Last week did not go as planned with my spread betting picks.  The Bears were completely outmatched in Tampa Bay, and the Chargers played some classic Chargers football, finding a way to lose at home to the Jay Cutler lead Miami Dolphins.  It was a rough 0-2 week, so I'm really looking to bounce back with a some wins this Sunday.
My record is now 2-3 against the spread two weeks in.  Once again, I didn't find a ton of games I liked so I will be going with 2 plays again this week.
I'll be using SportsInteraction.com for all of the spreads and predictions below.  You can see our full Sports Interaction review here.
Sportsbook
Features
Offers
Rating
Bet Now
Miami Dolphins @ New York Jets
Miami -6
New York +6
I bet against the Dolphins last week and they showed me that they are not to be taken lightly.  Down for most of the game the Dolphins really came through in the fourth quarter, putting up two very important field goals, while holding the Chargers to 0 points in the frame.  It was a gutsy performance and it really showed me that this defense is one to watch out.
The Dolphins absolutely shut down the Chargers run game last week, with Melvin Gordon only recording 13 yards on 9 carries.  The Jets really don't have much of a pass game at all with basically no receiving weapons at Josh McCown's disposal, so if the Dolphins can shut down Matt Forte and Bilal Powell I just can't see the Jets posing any type of offensive threat this week.
On the other side of the ball, Jay Cutler showed he still has some football left in the tank.  He played solid football last week and made the throws required of him to move the chains.  Jay Ajayi will be this teams usual weapon this season, but Cutler being able to find Jarvis Landry 13 times to keep picking up short gains is a great sign for this offense.  I expect Ajayi to be able to continually find room against this Jets defense that gave up 110 yards to LeSean McCoy in week 1 and another 123 yards to the Lynch/Richard/Washington tandem of the Raiders last week.
The Dolphins will be able to move the ball consistently against this Jets defense, while shutting down the run coming the other way for plenty of three and outs on Sunday.
Play: Dolphins -6
Dallas Cowboys @ Arizona Cardinals
Dallas -3
Arizona +3
The Cowboys were shown they have some room to improve when the Broncos defense completely shut Ezekiel Elliott and company down en route to a 42-17 win in Sunday Night Football this past week.  That said, I still do believe that the Cowboys are one of the better teams in the league and I fully expect them to bounce back against the Cards this Monday Night.
The Cardinals have looked downright bad to start the year.  They were absolutely thrashed by Stafford and company in Detroit in week 1 and then only pulled out an overtime win over the lowly Luck-less Colts in week 2.  Palmer and his receivers have not looked in sync whatsoever and Palmer has made some very poor decisions as shown by his 4 interceptions in the first two games of the season.  The Cowboys defense will be chomping at the bit to attack Palmer and force some more of those poor decisions.
The David Johnson injury destroys this Cards offense who use him basically in every play when healthy.  Kerwynn Williams showed he will not be the answer to try to fill Johnson's shoes with a weak 22 yards on 9 carries performance against the Colts, and Chris Johnson and Andre Ellington don't exactly inspire hope in this offense.
Returning home might be just what the doctor ordered the Cards, but playing against a talented team in the Cowboys, who are eager to bounce back from their own week 2 embarrassment is not a recipe for success in my eyes.  I think the Cowboys run away with this.
Play: Cowboys -3
Tagged With : Dallas Cowboys • Miami Dolphins • NFL betting • NFL Picks