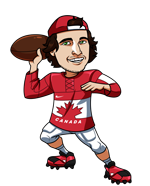 NFL week 1 has come and gone, and although it was a bit of a strange week with the defenses really stealing the show, I'm happy with going 2-1 to kick things off.  I was extremely close to going 3-0 out of the gate, but the Jets lost by 9 points in Buffalo, so I was beaten on that spread by 0.5 points.  My Panthers and Rams picks each crushed their spreads though, so I'm one game above .500 after week 1.
This week it was hard for me to find many plays I truly liked.  I finally decided to just go with two plays and not force anything this early in the season.
I'll be using SportsInteraction.com for all of the spreads and predictions below.  You can see our full Sports Interaction review here.
Sportsbook
Features
Offers
Rating
Bet Now
Chicago Bears @ Tampa Bay Buccaneers
Chicago +7
Tampa Bay -7
The Bears really should have won their game against the Falcons last week.  They were able to get to the Falcons 5 yard line with almost 30 seconds left and four downs to score to win the game, but three incomplete passes from Glennon and then a sack lead to a tough loss for the Bears.  That said, the fact that they were able to stay close and continue to come back against a team that made the Super Bowl last year should mean good things for the Bears moving forward.
Tarik Cohen emerged as a pass catching threat out of the backfield and him along with Howard will make for a dangerous tandem for the Bears this year, which is good because the Bears won't be going for many deep balls with their depleted receiver corps.
The forced week 1 bye will not help the Bucs.  They will still basically have 1 week to prepare for the Bears, which isn't the case coming out of a normal bye week, and the fact that the Bears have had a game to knock off the rust and the Bucs have not, will also play a factor in this game.
Chicago did well to limit Julio Jones last week and if they can do the same to Mike Evans, that should really hinder the Bucs attack, especially given that Doug Martin is suspended to start the season.
The Bears will compete and potentially win this game, and even if they do fall behind they showed the ability to stay in the game last week, which has loving the spread in this game.
Play: Bears +7
Miami Dolphins @ LA Chargers
Miami +4.5
Los Angeles -4.5
I didn't intentionally go into my research looking to bet against both teams with the forced bye last week, but that's just the way things played out.  Once again, I think missing week 1 will only be a disadvantage for the Dolphins, who definitely could have used a game to get their offense clicking with Jay Cutler at the helm.
The Chargers put up a valiant effort on Monday Night Football, ultimately losing to the Broncos, but I saw glimpses from the offense that I really liked.  Melvin Gordon showed that he is going to be a threat in the receiving game this year and I expect him to play a big role in the Chargers attack all year long.  I'm also looking for Keenan Allen to really explode in this game against the Dolphins.  He was quiet in week 1 against the Broncos, but he still secured a touchdown and the Broncos were keying on him to shut him down.  When healthy Allen is one of the best receivers in the game and him and Rivers will surely hook up early and often in this game.
I also really like the Chargers defense and their ability to get to Cutler this week.  They forced two interceptions in the game against the Broncos while sacking Siemian 4 times and the way Cutler likes to hold the football and sling it around the field I expect the Chargers to be able to get to him in this game and force some bad plays.
I really like the Chargers this year if they can stay healthy and I think they easily cover this 4.5 point spread.
Play: Chargers -4.5
I think I'm just going to stick with those two plays this week.  I was leaning towards the Giants -3.5 at home to the Lions on Monday Night Football, but being a Lions fan it's hard to pull the trigger on that bet, especially knowing what Matt Stafford can do in a big game.
Tagged With : NFL betting • NFL Picks • NFL predictions • NFL Week 2