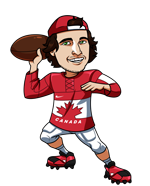 I once again went 1-1 last week and now there are just a couple weeks left to get back to .500, which has been my goal ever since the awful start to the season.  I was very confident in the Chargers this week, but they simply did not have it in Kansas City.  Perhaps the Chiefs are coming out of their slump at the right time.  I did win the other game thanks to the Panthers defense getting to Aaron Rodgers on several occasions and forcing some mistakes in his first game back from injury.  My season record now sits at 14-18-1 against the spread, so I will need to go nearly perfect in these last two weeks to get back to even.
I'll be using SportsInteraction.com for all of the spreads and predictions below.  You can see our full Sports Interaction review here.  I'm going with 3 plays this week.
Sportsbook
Features
Offers
Rating
Bet Now
Denver Broncos @ Washington Redskins
Denver +3.5
Washington -3.5
The Broncos have won two straight to bounce out of their 8 game losing streak.  The defense has gotten back to playing some very solid football, shutting out the Jets two weeks back and then holding the Colts to 13 points in Indianapolis this past week.  Osweiler actually looked solid at QB, and you could see the defense add some jump in their steps wit the offense finally contributing.
I do not see the Redskins having the weapons to really put up points on this Broncos defense, if they play to their capabilities.  Cousins really hasn't had much to work with this year, and the teams running game is almost non-existant.  The Broncos defense should have no trouble keeping the Redskins to under 20 points in this game.
That brings in the Broncos offense.  I liked what I saw from Osweiler last week, and even though they've been quiet you still do have Demaryius Thomas and Emmanuel Sanders as top end targets at WR.  The Redskins have been able to shut down a single top WR this year, but when a team has two high quality WR they have a lot of trouble.  According to FootballOutsiders.com, Washington ranks 28th in the league against the #2 WR.  Add in C.J. Anderson coming off a big game and I think this Broncos offense should easily score north of 20 points in this game, which should be enough for the win.
Play: Broncos +3.5
Detroit Lions @ Cincinnati Bengals
Detroit -5
Cincinnati +5
The Bengals have really mailed it in this season.  They've now lost 3 games in a row, and they were absolutely destroyed in their last two games, including a 33-7 home loss to the Bears two weeks ago (last week they lost 34-7 in Minnesota).  The Bengals have only beaten weak teams this year and with all of the uncertainty and negativity surrounding Marvin Lewis and the entire coaching staff, I really think the Bengals are just looking to get through these final two teams before making some big changes.
On the flip side, this is a massive game for the Lions who are still very much in the playoff hunt in the NFC.  A win this week will set up a home game against the Packers, where a win would result in a 10-6 record for the Lions, which could be enough to get into the wild card.
Stafford looks to be fully healthy following that scare with his hand from a couple weeks ago.  The offense is spreading the ball around a lot at this point in the season with Tate, Jones, Ebron, Golladay, Riddick and Abdullah, all involved.  In this big game, I expect Stafford to have a great game and for the defense to shut down this plummeting Bengals offense.  I'm expecting a convincing win in this one.
Play: Lions -5
Seattle Seahawks @ Dallas Cowboys
Seattle +4.5
Dallas -4.5
The Seahawks were absoultely embarrassed at home this past week losing 42-7 at home against the Rams.  Todd Gurley absolutely crushed the Seahawks defense, rushing for 152 yards and 3 touchdowns, while also adding a receiving touchdown.  It seems like cracks are starting to show in this Seahawks defense that lost some key pieces to injury this season.
The Cowboys are still in the playoff hunt at 8-6, and Ezekiel Elliott is likely back from his suspension this week ready to feast on this Seahawks defense.  If the Seahawks try to plug up the run game, that will open up space in the air for Dak Prescott, who has been playing solid football without Elliott, stringing 3 wins together over the past 3 weeks to keep the Cowboys in the playoff picture.
This is a huge game with both teams at 8-6 and gunning for a wild card spot, but I think the Seahawks defense is starting to fall apart and for the Cowboys to take full advantage at home.
Play: Cowboys -4.5
Tagged With : NFL betting • NFL Picks • NFL week 16