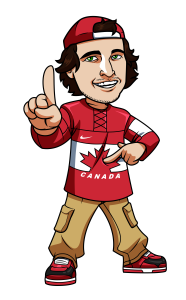 Here at SportsBettingCanadian.ca I'm committed to recommending and reviewing the best sportsbooks available to Canadians.  Part of this is keeping up to date on which sportsbooks are the most popular among Canadian bettors.  To keep up on this every few months I'll check Google Trends to see which betting websites are the most searched in Canada.  This time around I decided to write a quick post to share these findings.
Spoiler Alert: Our top 3 recommended sportsbooks are still the most popular among Canadians (as they should be).
Most Popular Sportsbooks in Canada
First of all I like to check how our top 3 recommended sportsbooks for Canadians are doing in the Google Trends.  Below you can see the chart for the past year with the sportsbooks names as the search terms.
You can see that Bet365.com is the most searched sportsbooks in Canada, followed by Bodog and Sports Interaction.  This is exactly what I expected to see.  Bet365 is the largest sportsbooks worldwide and they've put forth a lot of effort over the past few years to build their market share in Canada.
Bodog.eu being #2 was also expected because they also have done quite a bit of offline marketing over the past few years to build their brand awareness in Canada.  It was only a few years ago that Bodog switched its marketing strategy to become a purely Canadian sportsbook and recently they've revamped their site, so you can see they are starting to catch Bet365 this football season.
SportsInteraction.com is currently our top rated sportsbook because they've been working with us to offer some special promotions to our visitors (check the NHL promo here).  Sports Interaction doesn't market quite as aggressively as the other two sportsbooks, but instead relies on providing a great sports betting experience with fair odds.  They're doing just fine mostly relying on word of mouth, which shows the quality of their book.
5 Canadian Sportsbooks
To make sure my 3 recommended sportsbooks were still the most popular in Canada I added a few different sportsbooks to the comparison and they never came close to the 3 big dogs.  In the chart below I've added William Hill and Pinnacle Sports, both of which are decent sportsbooks that accept Canadian residents.
As you can see they are quite a bit less popular in Canada than Bet365, Bodog or SIA.
Sportsbooks vs Daily Fantasy Sites in Canada
Next up I wanted to see whether more Canadians were searching for our top sportsbooks or had the big daily fantasy sites taken the imagination of Canadians during this massive growth and marketing push.
As you can see Canadians are still very much interested in simply betting on sports, but the daily fantasy sites have jumped into the mix during the NFL season, with DraftKings actually just edging out Bet365 in searches during the most recent week.
Casinos and sportsbooks seem to be scared that they will lose customers to daily fantasy sports (just look at Nevada outlawing DFS), but I think this is counterintuitive.  People who may not have been interested in some of the less popular games may become invested due to daily fantasy and this will translate to them also placing bets on these games that they wouldn't have otherwise.
I personally have been betting quite a bit more since really getting into daily fantasy sports this year.  The research that goes into picking the best DFS lineup also applies to betting on games straight up or against the spread.  While researching players in DFS I find I often get a good read or feel for certain match ups and how they could play out in the game.  This ends up with me placing bets that I wouldn't normally have thought about placing.
Overall, this latest Google Trends investigation has shown me that Bet365, Bodog and Sports Interaction are still the 3 most popular sportsbooks in Canada, while DraftKings and FanDuel are right there with them as DFS sites used by Canadians.