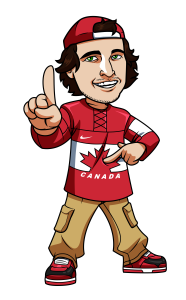 Here at SportsBettingCanadian.ca I'm committed to recommending and reviewing the best sportsbooks available to Canadians. Part of this is keeping up to date on which sportsbooks are the most popular among Canadian bettors. To keep up on this every few months I'll check Google Trends to see which betting websites are the most searched in Canada. This time around I decided to write a quick post to share these findings.
Spoiler Alert: Our top 3 recommended sportsbooks are still the most popular among Canadians (as they should be).
Most Popular Sportsbooks in Canada
First of all I like to check how our top 3 recommended sportsbooks for Canadians are doing in the Google Trends.  Below you can see the chart for the past year with the sportsbooks names as the search terms.
You can see that Bet365.com is the most searched sportsbook in Canada, followed by Betway and Sports Interaction. This is exactly what I expected to see. Bet365 is the largest sportsbooks worldwide and they've put forth a lot of effort over the past few years to build their market share in Canada.
Betway.com being #2 was also expected because they also have done quite a bit of offline marketing over the past few years to build their brand awareness in Canada. Betway is one of the sites that often comes up when I talk to Canadian bettors.
SportsInteraction.com is currently our top rated sportsbook because they are entirely focused on the Canadian betting market and have a long history of providing a great betting option for Canadian bettors. Sports Interaction doesn't market quite as aggressively as the other two sportsbooks, but instead relies on providing a great sports betting experience with fair odds. They're doing just fine mostly relying on word of mouth and actually seem to be catching Betway in terms of search interest here in Canada.
5 Canadian Sportsbooks
To make sure my 3 recommended sportsbooks were still the most popular in Canada I added a few different sportsbooks to the comparison and they never came close to the 3 big dogs. In the chart below I've added Bet99 and PointsBet, both of which are sportsbooks licensed in Ontario, and who are spending big advertising dollars in order to build their brand awareness in Canada.
As you can see they are quite a bit less popular in Canada than Bet365, Betway or SIA.
Sportsbooks vs Daily Fantasy Sites in Canada
Next up I wanted to see whether more Canadians were searching for our top sportsbooks or whether the big daily fantasy sites (which are now also Sportsbooks licensed in Ontario – and spending big marketing dollars) were receiving more interest.
As you can see Canadians are still very much interested in simply betting on sports, and our three recommended betting sites are still getting more searches here in Canada, even with both FanDuel and DraftKings spending their huge marketing budgets as they launch their sportsbooks in Ontario.
Sports betting is growing in Canada, and with Ontario legalizing online sports betting we will be seeing a ton of sportsbook advertisements over the next year or so as betting sites battle for market share. It will be interesting to come back to this post in a year and see if Bet365, Betway and Sports Interaction are still the dominant sportsbooks here in Canada.
At this time though, this latest Google Trends investigation has shown me that Bet365, Betway and Sports Interaction are currently the 3 most popular sportsbooks in Canada.