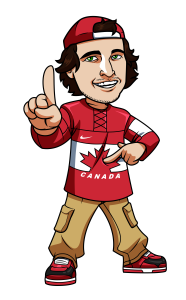 The Manitoba Derby is set to take place at Assiniboia Downs race track on this long weekend Monday here in Canada.  The Manitoba Derby is the most prestigious race held in the province each year and this race is sure to pack Assiniboia Downs on Monday evening.  Derby Day is always a hit and this year the people of Winnipeg will be treated to a great race that features Diamondmaze as the favourite in the race at 5/2 odds.  Witt'sdollarnight (3/1) and Escape Clause (7/2) are the other top contenders in this race, which is really anyone's race and setting up to be quite the barn burner.
Top Manitoba Derby Betting Site in Canada
2017 Manitoba Derby Morning Line Odds
Below I've outlined the morning line odds for the Manitoba Derby.  It's worth noting that the odds are not fixed and they will change throughout the day depending on which horses the money is bet on throughout Derby Day.  Check out our parimutuel betting page for more information on how horse race betting works.
Diamondmaze 5/2
Witt'sdollarnight 3/1
Escape Clause 7/2
Plentiful 6/1
Tizfun 7/1
Shaded 9/1
Coors Lute 12/1
Stonehart Ridge 30/1
As you can see Diamondmaze is the favourite, but Witt'sdollarnight and Escape Clause are both being given very legitimate shots at getting the win.  I'm personally going to be tossing a few dollars on Escape Clause.  He's the hometown horse who has raced all of his career races at Assiniboia Downs.  This means he has raced against weaker competition than many of the other horses participating in the race, but he knows the tracks, he likes the track and he's won 5 races in a row, which shows he knows how to get the job done at this race track.  That said, I'm by no means an expert on these horses so be sure to do your own research before placing your Manitoba Derby wager.
How To Bet On 2017 Manitoba Derby in Canada
If you're new to betting on horses online, here's a quick guide to how you can get your bets placed on the Manitoba Derby from the comfort of your own home.
Sports Interaction is our top rated sportsbook for Canadians, and that includes all horse races.  On top of that, they're the only online betting site I could find that takes bets on races at Assiniboia Downs races.  The racebook is very clean, easy to navigate and understand so you can quickly place the wagers you want.  On top of this Sports Interaction only accepts Canadian residents, which allows them to completely focus their efforts on making the sports betting experience completely geared towards Canadians.  This allows them to offer quick and easy banking options, as well as provide betting lines you won't find anywhere else, such as this Manitoba Derby race.
If you sign up through one of our links you will be entitled to a 100% up to $125 bonus on your first deposit.
Click here to visit SportsInteraction.com and open an account.
**The Sports Interaction landing page may be MLB themed.  Don't worry about that.  Click through and you'll find the racebook after opening your account.
#2. Deposit Funds
Next up you'll have to fund your account.  You can see some of the deposit methods accepted on our dedicated payment options page.
I want to point out that Sports Interaction does not often offer reload bonuses, so I suggest taking full advantage of the 100% up to $125 first deposit bonus offer.
#3. Bet!
Select 'Racebook' from the top navigation bar on the Sports Interaction website.  Then select 'Canadian Thoroughbred', which will bring up a drop down menu where Assiniboia Downs will be located.  Next select the race with the post time of around 5:20pm.  This will be the Manitoba Derby.
Below I've included a screenshot showing where you will find the Assiniboia Downs racetrack.  This screenshot shows an arrow pointing to Woodbine, but on Derby Day, Assiniboia Downs should show up there as well.
Once at the Manitoba Derby race you can go ahead and place your wagers.  You'll see the options for straight, exacta, trifecta, etc.  To learn more about what these bets mean check out our horse race betting section.
That's it!  Ready to bet?  Click here to visit SportsInteraction.com.
Tagged With : Assiniboia Downs • horse race betting • Manitoba Derby • Manitoba Derby betting