I haven't focused on eSports here at Sports Betting Canadian in the past, but it's impossible not to notice how popular eSports betting has become worldwide, including here in Canada.  I will look to include eSports betting articles moving forward and I'm also planning to add an eSports betting section to the site in the near future.
The League of Legends World Championship begins tomorrow with 24 teams from all over the world battling it out for the World Championship Trophy.  The tournament will be held over the next 6 weekends with the World Championship Finals set to take place on November 4th at the National Stadium in Beijing.  This weekend is the first of two play-in stages, which will be followed by two group stages, the quarterfinals, semi-finals and then the finals.
Bet365.com is our recommended sportsbooks for betting on the League of Legends World Championships, and they are offering a huge range of LOL betting markets for the tournament.
Sportsbook
Features
Offers
Rating
Bet Now
League Of Legends World Championships Futures
These are the futures bets offered for the entire tournament.  As you can see there are 5 different bet offerings where you can back specific teams throughout the course of the touranment:

To Win Outright
SK Telecom T1 and Longzhu are the two big favourites heading into the World Championships, but there are 7 teams with 20/1 or better odds, which I will list below:
SK Telecom T1 2.75
Longzhu 2.75
Samsung Galaxy 7.50
World Elite 15.00
Edward Gaming 17.00
Team SoloMid 21.00
Royal Never Giveup 21.00
To see the full outright winner odds head over to Bet365.com, select 'E-Sports' and then click the 'To Win Outright' link as seen in the screenshot above.
League Of Legends World Championships Match Betting
Let's look at some of the bets you can make on each individual match.  I will be using the odds from the Play-In Stage 1 matches.  Here's a look at all of the bets available on the play-in matches.  These same bets will be available on the matches at each stage.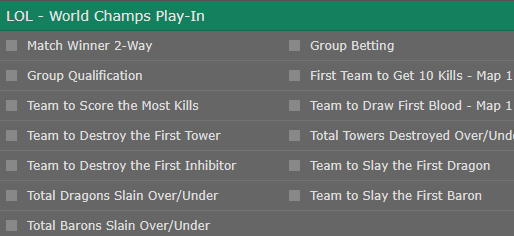 Match Winner 2-Way

Betting on the match winner straight up is the most basic and popular type of League of Legends wager.
Here's an example of a match winner bet using the play-in match between Gambit Esports and Lyon Gaming.  In this match Gambit Esports is the favourite at odds of 1.66.  A $100 bet on Gambit Esports would pay out $166 ($66 winnings) if they get the job done.
To see the odds for all of the other League of Legends World Championship matches visit Bet365.com and select E-Sports.
How To Bet On 2017 LOL World Championship In Canada
If you're a Canadian wanting to bet on the League Of Legends World Championships follow this simple three step guide to get your bets placed within a few minutes.
Bet365 is one of our three recommended sportsbooks for Canadians, and they are without a doubt the best sportsbook for eSports betting.
Click here to visit Bet365.com and then click on the 'Join Now' link in the top right corner of the screen.  Fill out the registration form to create your account.  **There is no need to enter a Bonus Code.  By using our link to sign up you will receive the best bonus available.
Step 2. Deposit
Next you'll need to make a deposit to fund your account.  Bet365 accepts Visa, MasterCard, iDebit, InstaDebit, paysafecard, entropay and bank wire deposits.
By signing up through our link you will also qualify for a first deposit bonus equal to your first deposit, up to a $200 maximum.
Step 3. Place Your Bets
You're now ready to place your LOL bets.
Once at the Bet365 website website click on 'E-Sports' from the left sidebar.  The LOL – World Championship odds should be featured at the top of the page.
If you're new to betting online I suggest checking out our betting odds page to make sure you understand exactly what return you can expect on each wager.
Ready to bet?  Click here to visit Bet365.com.
Tagged With : League of Legends • League of Legends betting • LOL • LOL betting