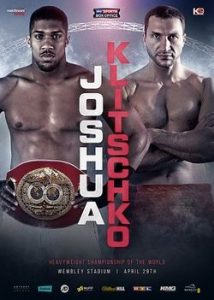 The Klitschko vs Joshua boxing match is the biggest boxing event of 2017.  It's been quite the ride watching two Klitschko vs Fury rematches being cancelled in 2017, and it feels like a relief to now finally be a day away from Wladimir Klitschko getting back in the ring to follow up his title loss to Tyson Fury way back in November of 2015.  When this fight was announced the oddsmakers had this Klitschko vs Joshua fight as a pick'em, but as we've neared the fight the money has come in on the younger Anthony Joshua and pushed him to become a significant favourite heading into this match.
It's the legend against the new blood and we really don't know which Wladimir Klitschko will show up on fight night.  Was the Fury fight the beginning of his decline or just a blip on his legendary career.  Tomorrow night at Wembley Stadium we will find out.
I've received quite a few emails from fans in Canada asking me how they can bet on this fight, so I decided to add this article to give a quick 3 step guide explaining how you can get bets in on Klitschko vs Joshua tonight and tomorrow before the fight.
Bet On Klitschko vs Joshua in Canada – Step By Step Guide
Follow this quick and easy 3 step guide to place your bets on tomorrow's heavyweight title fight.
Step 1. Open a Sportsbook Account
First you will need to open an online betting account.  I recommend our top rated sportsbook, SportsInteraction.com.  They are a Canadian sportsbook that has by far the smoothest deposit and withdrawal options of any Canadian sportsbook and they are offering fair odds, with several prop betting opportunities on this Klitschko vs Joshua fight.  Check out our full Sports Interaction review here.
Click here to sign up at SportsInteraction.com.
Sportsbook
Features
Offers
Rating
Bet Now
Step 2. Deposit Funds
As I mentioned above, Sports Interaction has amazing banking options for both deposits and withdrawals.  You can see some of the deposit methods you can use on our deposit methods page.
Step 3. Place Your Klitschko vs Joshua Bets
Now that you've funded your account you're ready to bet!  Once on the Sports Interaction website, click on the 'Boxing' drop down menu in the sportsbook and select 'boxing'.  You will see the Wladimir Klitschko vs Anthony Joshua fight at the top of the boxing odds screen.
Sports Interaction is also offering total rounds, method of victory, and round betting prop bets for this fight.
So there you have it.  Those three steps should get you betting on the Joshua vs Klitschko heavyweight title fight this weekend.  Also be sure to check out my Klitschko vs Joshua odds and picks article where I give my thoughts on the fight and pick a winner.
Ready to bet?  Click here to visit SportsInteraction.com.
Tagged With : boxing betting • Joshua • Klitschko