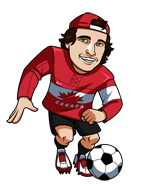 Yesterday was close to a big day again with the Nigeria vs Argentina game only a few minutes away from cashing my draw bet, but the Argentines were able to find some magic near the end of the game.   Although the powerhouses have had some scares, they continue to book their tickets into the knockout stages so far in this tournament.  I'm adding this article before the matches begin on June 27th, and at this time my record sits just in the profit at 15-17 for +0.92 units.
I will be using the best odds available from any of our top rated betting sites for Canadians.  The odds often change leading up to matches so be sure to compare odds when making your wagers to make sure you're getting the best value.
Japan vs Poland
Japan 2.62
Draw 3.30
Poland 2.94
If you had of told me before the tournament that Japan would be favoured to win their final group stage match with Poland I would have said you were crazy.  But here we are with the oddsmakers having a Japan win the most likely of the 3 possible outcomes in this match.  Yes, this is an important match for Japan and Poland has not looked good in this tournament, but I think these odds are significantly off.
First of all, Japan only needs a draw to book their ticket to the next round, so I don't think they will be pushing the action a ton looking for the win.  Secondly, even though Japan has 4 points in this tournament, they really haven't looked great.  They were lucky to beat Colombia thanks to an early penalty shot and red card that put them a goal ahead and with an extra man from the 6th minute in that game.  And they still almost didn't get the win in that match.  Against Senegal, they needed to come back twice with some heroics to get the point.  In my eyes, Japan is still the worst team in this group.
Poland is playing for honour in this match and I still expect them to bring their best.  They haven't been able to generate much offense so far in the tournament, but that Japanese are not great defensively and I expect Lewandowski to find the back of the net in this match.
If you are of the opinion that this Poland team is worse than Japan, I still think a draw is the smarter bet because the Japanese will be happy to play to a draw and book their spot in the knockout round.  If you're like me and think Poland is the better team that will bring a lot of effort to go out with a win, then these odds for a Poland win are very appetizing.
Play: Poland 2.94 @ SportsInteraction.com
Senegal vs Colombia
Senegal 4.60
Draw 3.78
Colombia 1.85
Colombia showed their quality in the 3-0 win over Poland.  If it wasn't for that early red card and penalty goal against vs Japan, Colombia would surely be 2-0 heading into this match.  As it is though, Colombia needs a win to ensure they advance to the knockout round.  I think they should be able to book their ticket by scoring at least a couple of goals against this Senegal team.  Senegal has a ton of pace and pressure on the attack, but they aren't the most organized team defensively and with the talent that Colombia has, I'm confident they will be able to break down the Senegal defense and score goals en route to a win in this match.
Play: Colombia 1.85 @ Bet365.com  **These odds are subject to change as we get closer to the match.
England vs Belgium
England 2.80
Draw 3.16
Belgium 2.87
There has been talk of Belgium being happy with second place in the group.  I think this is because it looks like there's a good chance that Japan will win group H, in which case a second place finish in group G would set up the easiest possible round of 16 match up.  For this reason, I think it's smart to wait and see which team finishes atop H from the early games before betting on this match.
If everything plays out how I expect with Poland and Colombia both winning, then Colombia would finish atop group H and there would be everything to play for in this match.  With the top spot in this group getting a round of 16 match against Japan/Senegal I expect both teams to be looking for the win.  With England holding the fair play tie breaker I actually think Belgium will be the team pressing forward looking for a win.
This is a risky bet until the group H matches are sorted out, but I think Belgium is the stronger team, so if both teams have everything to play for then Belgium is the smart play.
Play: Belgium 2.87 @ Bet365.com  **These odds are subject to change as we get closer to the match.
Panama vs Tunisia
Panama 4.50
Draw 3.81
Tunisia 1.85
Tunisia had a battle with England in their first match and still put up 2 goals against Belgium even though they were blown out in that game.  Tunisia is clearly the better team in this match and I expect them to be looking to get a win to end their 2018 World Cup campaign.
I like Tunisia to get the better of Panama in this meaningless match.
Play: Tunisia 1.85 @ Bet365.com  **These odds are subject to change as we get closer to the match.
Again, these odds can change leading up to the matches, so be sure to check and compare the odds for each match yourself before placing your bets.
Tagged With : World Cup betting • World Cup odds • World Cup picks