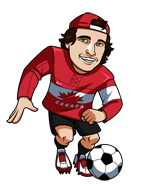 I wasn't able to get my Day 4 picks up yesterday, but the actual matches that took place on Saturday definitely went my way and allowed me to add profit to my record to this point in the tournament.  My record now sits at 4-3 for +5.24 units, with a good chunk of those winnings coming from the draw play on the Argentina vs Iceland game.
I will once again by using the best odds available at the time of writing this article from any of our 3 recommended betting sites for Canadians.  The odds can change leading up to the match so be sure to check the odds at each of the bookies before placing your wager.
**Also check out our how to bet on the FIFA World Cup in Canada page for a step by step guide to getting your bets in on any World Cup match.
Sweden vs South Korea
Sweden 2.15
Draw 3.38
South Korea 4.00
This is one of my favourite plays to this point in the tournament.  I think Sweden should be easily the better team in this match and I expect them to have plenty of opportunities to find the back of the net against this South Korean squad.  I'm not very high on the teams coming out of Asia this year, and South Korea really didn't even have a good qualification run, finishing a distant second to Iran in their AFC Third Round group and just barely qualifying ahead of Syria, Uzbekistan and China.  I think it's between South Korea, Saudi Arabia and Panama as the weakest team in the tournament, and I expect Sweden to show this tomorrow.
Sweden has had trouble scoring goals of late, which is a concern I have for this match.  They tied both Peru and Denmark 0-0 in their two most recent tune-up games for the World Cup and only beat Sweden 1-0 on aggregate over two matches in their qualification.  This is a terrific defensive team, but they do have some trouble to score goals without Ibrahimovic.  That said, I still think the levels will be so different than Sweden should be able to score at least 1 and more likely 2 or 3 goals in this match, while keeping their own clean sheet.
Sweden will know that both Mexico and Germany will surely beat South Korea in this tournament, so they will need to win this game if they hope to qualify.  Especially now that Mexico upset Germany in their match today.
Play: Sweden 2.15
Belgium vs Panama
Belgium 1.17
Draw 8.00
Panama 23.00
Belgium is arguably the most talented team in the touranment and Panama is arguably the weakest side.  This should be a one sided match with the elite Belgian attack having their way with Panama.  The odds aren't great, but I still think the sharp money has to be on Belgium to start the tournament with a win.
Play: Belgium 1.17
Tunisia vs England
Tunisia 9.00
Draw 4.49
England 1.44
This is a tricky game to predict.  I do think England will be the better side, but they often have trouble making it easy on themselves and at those odds I find it hard to back the English.  I would instead prefer to take the higher odds and look for a draw in this match.  Tunisia only lost 1-0 to Spain in their final tune-up match for the World Cup, and earned draws with both Turkey and Portugal in their other tune-up matches, which shows they can get results against strong European sides.
Blindly betting the powerhouses has not been profitable to this point in the World Cup and I expect that to continue, with the value to be found on nations who are underestimated, but have the ability to hang with the top teams.  I think Tunisia falls into that category in this match against England.
Play: Draw 4.49
Again, these odds can change leading up to the matches, so be sure to check and compare the odds for each match yourself before placing your bets.
Tagged With : FIFA World Cup • World Cup betting • World Cup odds • World Cup picks