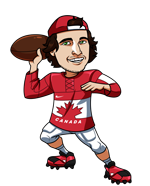 The 2017 NFL season is here and with it comes another exciting season of NFL daily fantasy at DraftKings.  This year I'm only going to be doing one article with my DraftKings picks each year.  I will be focusing on QB + Receiver stack plays because I feel that is the most important place to start your team, and I'm a big believer in always stacking at least one receiver with your QB.  I think I saw some stat where the Millionaire Maker team had a stack in all but one week last year (when Kaepernick went off by himself), but don't hold me to that.  Regardless, it's very sound strategy to start building your team with a stack and go from there, so hopefully these articles will help you with that.
I won't be doing my running back targets article this year, but I'll add my favourite RB play at the end of these articles to give a bit of info in that regard as well.
All of the prices I'm using are from DraftKings.com and the stacks are for PPR leagues, which is the scoring method used at DK.
Click here to set your week 1 lineup at DraftKings.com.
***Billion Dollar Lineup***  DraftKings is running an interesting promo for week 1 where every entry into their free contest with $100,000 guaranteed is also entered into the Billion Dollar promotion where a perfect lineup wins you a billion dollars.  It's a ridiculous amount of money and the odds are astronomical, but might as well give it a go.  It's free to enter for everyone with a DK account.  Click here to enter your lineup.
Matt Ryan ($6900) + Julio Jones ($8500)
I expect Matt Ryan to make a statement here in week 1.  The Super Bowl collapse has to still be fresh in his mind, so I fully expect him to look to have a big game here in week 1 to show that he means business once again this year.  Ryan is a very safe play with around a 20 point floor, but it's his ceiling of 30+ points that makes me interested this week.  I love the fact that both Devonta Freeman and Tevin Coleman are dynamic pass catching backs, which means even if the Falcons look to get the running backs into play it doesn't necessarily mean Ryan won't also be racking up points.
My favourite stack with Ryan though is obviously Julio Jones.  Julio should be healthy heading into week 1 after struggling with a toe issue last season.  A healthy Julio Jones is a scary player for defenses.  He always has the potential to be the highest scoring player on the entire slate.  Just look at his 51 point performance in week 4 last year.
Kirk Cousins ($6400) + Jamison Crowder ($5600)
Cousins is still an underrated fantasy QB in this league.  Last season he scored 29.8+ points 3 times and when he is on the 300+ yard bonus is very much in play.  Cousins starts out this season playing at home against the Eagles.  This is a pick'em game, so depending on how the game script goes this could be a great spot for Cousins.  I expect the Redskins to be pass heavy in this game because I just don't have much faith in Rob Kelley getting a large number of touches.  Overall, Cousins is a nice high upside play that comes in at a reasonable price.
A lot of people will be looking to pair Cousins with Terrelle Pryor, but that's not the route I'm looking to go.  Pryor is a new addition to the Redskins, and although Cousins and him may develop chemistry down the road, it doesn't appear that they have an instant connection.  For this reason I much prefer to pair Cousins with Jamison Crowder.  He's a young player who should take another step forward this year and Cousins familiarity with him should result in Crowder being his favourite target on Sunday.
Matt Stafford ($6100) + Marvin Jones Jr. ($4100)
Another narrative pick at QB would be Matt Stafford who will be ready to prove he is worth the huge contract he just signed with a big game in week 1.  I also think this game sets up very nicely for Matt Stafford to turn into the gun slinger he's capable of being.  I don't think the Lions defense will be able to hold David Johnson, Larry Fitzgerald and company at bay and it may result in Stafford being forced to put up some big numbers in front of his home fans to keep the game close.
Golden Tate is the obvious stack, but at $6500 he's expensive.  I'm more interested in Marvin Jones Jr. at just $4100.  Jones Jr. has the ability to have big games, like his 41.5 point performance in week 3 last year, and with the Anquan Boldin no longer in the picture Jones Jr. may be looked at to take a step forward this season.  He looks decent in the preseason and I think a big game is possible here.
This stack will be less owned than the other two and it will also allow you to roster some other very strong players.  I personally will be looking to include David Johnson coming the other way while using this stack.
Top Running Back Play – David Johnson ($9400)
I will have no problem paying up to David Johnson on the road against the Lions in week 1.  As I mentioned in the Stafford stack portion of the article, I expect David Johnson to have no trouble putting up big numbers against the Lions defense.  At a $400 discount to Le'Veon Bell, I think Johnson is fairly priced and has a great chance of breaking the 30 point plateau.
Johnson was equally as good on the road last year and has a very high floor to go with his monster ceiling.  If this game stays close I think Johnson is very likely to get the most points of all the running backs on this weeks slate.
Click here to set your lineup at DraftKings.com….
And check out my week 1 spread picks here.
***I am an affiliate with DraftKings and receive commission for referrals.
Tagged With : DraftKings • DraftKings Targets • NFL Fantasy • Quarterbacks • Stacks • Wide Receivers