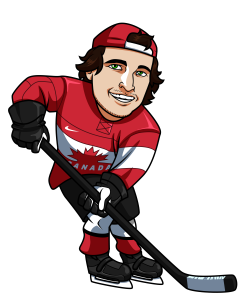 DraftKings is running a big $80,000 guaranteed Tuesday Special ($20 entry) contest tonight so I wanted to get up a post outlining my DraftKings targets for tonight.
Click here to check out the contest.
****DraftKings scoring.  It's very important to understand the scoring rules that DraftKings uses for daily fantasy hockey in order to be able to best build a winning lineup.  The daily fantasy hockey scoring varies dramatically between DFS sites, so just make sure that you know the scoring at whichever site you use.  You can check out ourDraftKings vs FanDuel daily fantasy hockey scoring page to learn more, or I just created a YouTube video on this subject that you can check out here (give it a like if you get a chance).
Goaltender
Petr Mrazek – $7000
Mrazek is by far my favourite play tonight in net.  The Red Wings are favourites to win the game so there is a very good chance of Mrazek getting the win bonus.  On top of this, the Red Wings have given up the most shots against this year, while the Hurricanes have the third lowest shooting percentage in the league.  This means there is a very good possibility that Mrazek could rack up some easy saves tonight to pad those stats.
Player Stacks
Claude Giroux ($6700) and Jakub Voracek ($6400)
The Flyers are up against the Sabres tonight, so there is always the possibility of a blow out when a team plays the Sabres.  These two haven't really blown up yet this year, but this could be the game where they go ham.  The Sabres are giving up 3.25 goals per game and the Flyers have looked good over the last couple games.  Add in the fact that Giroux is killing penalties and I think there is the opportunity for a big game here.
Mikko Koivu ($4400) and Jason Zucker ($3900)
The Oilers are still allowing a lot of goals this year (3 per game) and the Wild have been great at home so far this year.  Add in the fact that Koivu and Zucker kill penalties together and you could add in a few extra blocked shots and possibly a shortie against an Oilers team that isn't responsible on the back end.  This is a great cheap stack to help you get some of the higher priced guys such as Giroux/Voracek or Benn/Seguin.
Value Play
Brandon Gormley ($2500) ****NO LONGER VALUE****
***EDIT*** It's been brought to my attention that Tyson Barrie will be back from suspension tonight, which will drastically reduce the value of Brandon Gormley.  I'm getting off of him on my lineups.  Sorry for this overlook and thanks to Nick for noticing this and mentioning it in the comments.
Good luck in DFS hockey tonight guys, and don't forget to check out my new DraftKings vs FanDuel video for the scoring break down.
Tagged With : DraftKings Targets • NHL daily fantasy