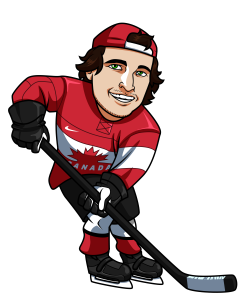 Qualifiers for the $500,000 Fantasy Hockey World Championship begin tonight at DraftKings.  I've been having success with NHL fantasy at DraftKings this season and I will definitely be working hard to secure a seat in this contest.  The 2015 Fantasy Hockey World Championship at DraftKings only featured a $200,000 prize pool, so with it more than doubled this year, it's definitely the biggest live fantasy hockey contest we've seen to this point in the industry.
I know a lot of my readers are also big into the daily fantasy hockey and play a lot at DraftKings, so I wanted to write up this quick post outlining some features of the DraftKings Championship.
What You Win
Each seat is valued at $18,000 and you also win $1000 to be put towards airfare.
There are 40 seats, which means of the $18,000, $12.5k goes towards the prize pool for the 2016 Fantasy Hockey Championship.
The other $5,500 then goes towards the package, which includes a 5-night stay in San Diego (March 16th-21st), viewing parties throughout the week and exclusive DraftKings excursions.
The $500,000 prize pool is broken down with first place winning $100,000 and the worst you can do is go home with a $5,000 win.
How To Win
DraftKings will be running qualifier contests for the next two months, leading up to the March 16th-21st trip dates.
Tonight, which is the first night of the qualifiers, there is one $3 and one $1000 entry contest.  Throughout the next couple of months I expect qualifiers to come in the form of $3, $5, $20, $27, $100 and $1000 buy-in contests.
The Legacy
On top of the $100,000 top prize the real allure of this contest, at least for me, is to attempt to become the Fantasy Hockey World Champion.  It has quite a nice ring to it.
So if that's something that is of interest to you, don't wait.  Start working on qualifying right away because there are only 40 seats available.
Click here to enter a qualifier on DraftKings.com….
Tagged With : daily fantasy hockey • DraftKings • DraftKings NHL