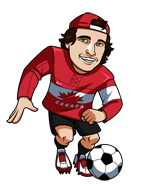 Toronto FC started off their 2018 season in a big way, defeating the Colorado Rapids 2-0 on aggregate to advance to the quarter-finals of CONCACAF Champions League.  They followed that up with a 2-0 loss to Columbus Crew SC at BMO Field this past weekend, so it's not all good signs leading into the 2018 season, but I think this team wants to do some damage in Champions League and that's where their focus will be early in the season.
This Wednesday, TFC gets their quarterfinal bid underway hosting the UANL Tigres at BMO Field.  Toronto will need a strong home leg in this tie because UANL are the favourites to win the Champions League this year having won the Mexico First Division in each of the past 3 seasons.  They also finished runner-up in last years CONCACAF Champions League and have several world class players on the squad.
Toronto FC vs UANL Tigres Leg 1 Odds
Here are the odds for the first match from SportsInteraction.com:

Toronto is favoured in this match, but the main reason for these odds is the fact that Toronto is playing at home at BMO Field.  If this game was played on a neutral field UANL Tigres would likely be the favourites.
**To find these odds and bet on this game at Sports Interaction you must select 'Soccer' -> 'International Clubs' -> 'CONCACAF League'.
My Pick
I like Toronto to get the job done at home and head to Monterrey with a lead.  I'm not reading too much into their recent loss to Columbus Crew SC because I think winning the CONCACAF Champions League is the priority for this team at this point in the season.  They won everything there is to win in the MLS last year and now their sights are set on the Champions League.  It's a long season in the MLS and they will have time to catch up after the Champions League is complete.
I'm also looking at the fact that Toronto was 13-1-3 at home at BMO Field last season.  They are generally an extremely solid home team and I think the location of this game will play a huge factor on Wednesday night.
Toronto is healthy for the most part with Jozy Altidore, Sebastian Giovinco, Victor Vazquez and Michael Bradley all healthy and eager to add another trophy to their collection.
I expect Toronto to look to put up some goals in this game because it will be very difficult to win in Mexico if they do not win this first leg.
I was impressed with TFC in their two games against Colorado to start the Champions League and I think they have the talent to compete with the Tigres and set themselves up to have success in the second leg.
Play: Toronto FC 2.21
Tagged With : CONCACAF Champions League • MLS betting • Toronto FC • Toronto FC Betting