The Cleveland Indians roll into Fenway Park tonight to kick off a 3-game series against the Boston Red Sox. Both the Indians and Red Sox find themselves in the basement of their respective divisions, a combined 29 games back. The Indians were handled by the Minnesota Twins last night 4-1 while the Red Sox lost an extra innings decision to the Seattle Mariners 10-8. Tonight, the Indians send out a red hot Danny Salazar whose last six starts have seen him hold a 1.48 ERA and rack up 43 K's in 42.2 innings' work. The Red Sox will counter with 25 year old Matt Barnes. Barnes has appeared as a reliever 26 times in his young career but will find himself making his first big league start tonight. This is a situation we love to pick on and below I'll show you why.
Prediction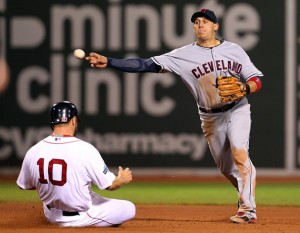 Cleveland's offense should get a large boost tonight as Michael Brantley is likely to be cleared from his day-to-day status and placed in the designated-hitter's role tonight. The Indians are given a very juicy matchup here as they have a spot-starter in Matt Barnes making his first big league start. While he's usually a reliever, Barnes had to be called up to fill the void when knuckleballer Steven Wright went down with a concussion. Vegas has Cleveland set as the highest scoring team tonight at 4.9 runs which doesn't really surprise me with this matchup.
Barnes has been tagged in his time as a big league reliever. The young 25 year old has given it up to both sides of the plate whether he's at home or away. Toting a rotten road wOBA of .442,  a wOBA to righties of .433 and .373 to lefties there's no wonder Vegas loves this Cleveland squad tonight and we should too. Although Cleveland is slightly below the league average in wOBA versus right-handed pitching at .311, they've been hot over the last 14 days racking up a two week wOBA of .343 which is good for 7th best in the league. Couple this with the fact that Barnes owns a 53.3% FlyBall Rate in a hitter-friendly Fenway Park and we could be in for a few long flys from this Indians offense tonight.
Play: Cleveland Indians @ 1.68 on Bet365.com
Tagged With : Boston Red Sox • Cleveland Indians • Fenway Park • Free Play