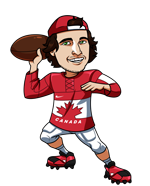 I was finally able to get things going with a 3-1 record against the spread in week 16.  I was feeling very good about going 4-0 with my Alouettes +7 pick on Monday night with Als and Eskies tied 24-24 heading into the fourth quarter, but of course Montreal collapsed and ended up losing by 16.  All-in-all though it was a solid week with my underdog spread picks of the Ti-Cats, Roughriders and Redblacks all hitting, and all of those teams actually won their games straight up, so if you took the money line in those games you would have been in for a nice pay day.  That 3-1 week brings my season record up to 33-28, which is trending back in the right direction after a few tough weeks.
I'll be using SportsInteraction.com for my CFL picks all season long.  They're our top rated sportsbook and they are an in-game sponsor of the Hamilton Tiger-Cats this season, which shows their commitment to the CFL.  You can check out our full SIA review here.
Sportsbook
Features
Offers
Rating
Bet Now
Calgary Stampeders @ Hamilton Tiger-Cats
Calgary -10
Hamilton +10
Hamilton had a very impressive 30-13 win on the road in Winnipeg last week.  That win really put an exclamation point on a very solid 6 game stretch in which the Ti-Cats have gone 4-2 coming out of their week 9 bye after losing their first 8 games of the season.
Hamilton is playing decent football, but there is levels to this league and the Stamps are on a level of their own at the top.  Calgary is coming off a bye week so they should be ready to go into Hamilton and run up the score, similar to their last game which was a 59-11 shellacking of the Alouettes.
If the Ti-Cats don't pull off that big upset in Winnipeg last week I think this spread is at least 13 points, so I'm going to go ahead and take Calgary here and expect them to be fired up to score plenty of touchdowns out of their bye week.
Play: Stampeders -10
Ottawa Redblacks @ Saskatchewan Roughriders
Ottawa +3
Saskatchewan -3
Ottawa was able to pull out a 30-25 win in BC last week, but let's not get carried away expecting them to beat West Division teams out West.  BC is 1-6 in their last 7 after last weeks game and that lone win was against the Alouettes.  The Roughriders are a far better squad that is playing much better football at this point in the season.  Saskatchewan went into Toronto and won by a field goal last week, after going into Ottawa and winning that game by a point as well.
I believe that the Roughriders are the better team in this game regardless of the fact that Trevor Harris is back at QB for Ottawa.  Look for the Roughriders to win this game by at least a touchdown.
Play: Roughriders -3
Toronto Argonauts @ Edmonton Eskimos
Toronto +7
Edmonton -7
The Eskimos finally earned a win to snap their 6 game losing streak, after winning their first 7 games of the season.  The team now sits at 8-6, but when your only win in your last 7 games was against the Alouettes and you were tied going into the 4th quarter you can't have a lot of confidence moving forward.  I do not think that win in Montreal will be enough to snap this team back to playing good football.
The Argos dropped a hard fought battle to the Roughriders in Toronto this past week, but that is their first loss after going 3-0 coming out of their week 12 bye and the team is playing some decent football.
I would not be surprised at all if Toronto goes into Edmonton and wins this game, so I will gladly take the 7 points.
Play: Argonauts +7
The spread for the Lions vs Bombers game is not out at the time I'm writing these picks, but unless the spread is double digits I would be on the Bombers in that one.
Tagged With : CFL betting • CFL picks • CFL week 17