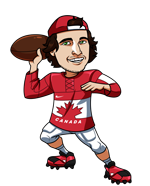 I stayed 6 games above .500 with my spread plays after going 2-2 last week.  The Roughriders and Stamps did their jobs to cover their respective spreads, but my strategy of playing Western teams on the road did not come through with Edmonton losing in Toronto, and I misread the Ottawa vs Montreal match-up as well.  My season record is now 28-22 on my spread plays, so I'm still in the black, but I would like a bit more profit moving forward.
I'll be using SportsInteraction.com for my CFL picks all season long.  They're our top rated sportsbook and they are an in-game sponsor of the Hamilton Tiger-Cats this season, which shows their commitment to the CFL.  You can check out our full SIA review here.
Sportsbook
Features
Offers
Rating
Bet Now
Ottawa Redblacks @ Winnipeg Blue Bombers
Ottawa +6
Winnipeg -6
Winnipeg is picking up a lot of wins lately, but a lot of them have been in tight games as their +44 point differential with an 8-3 record shows.  I do think they will pull out the win over Ottawa in this game, but to take them by a full touchdown is a lot to ask.
The Redblacks are down to their third string QB, but Ryan Lindley is arguably the most accomplished of the Ottawa QB's having played in the NFL from 2012-2015.  He didn't look great when called into action against Montreal, but a week of first team reps in practice and I'm expecting a good showing from Lindley in Winnipeg.
***This is the play I'm least confident in of the three, but I'm leaning towards the Redblacks and Ryan Lindley to have a good game.
Play: Redblacks +6
Hamilton Tiger-Cats @ BC Lions
Hamilton +12
BC -12
The Ti-Cats big 2 game winning streak did come to an end last week at the hands of the Roughriders, but it was still a good close game, which isn't something you could say about Ti-Cats games earlier in the season.  Don't get me wrong, the Ti-Cats are still the bottom basement of the CFL, but they have become more competitive and I expect that to continue moving forward.
The Lions are coming off a humbling loss in Calgary and they will be eager to return home for this game that seems like an easy win.  That said, this is definitely a let down spot for the Lions.  They would have got up for last weeks game against the Stamps to test themselves against the best in the league and they may be heading home taking this Ti-Cats team for granted.
I like Hamilton here to at least cover the points and don't be surprised if this is a competitive game from start to finish.
Play: Tiger-Cats +12
Montreal Alouettes @ Toronto Argonauts
Montreal +6.5
Toronto -6.5
Montreal has now lost 5 in a row after that loss at home to Ottawa last week, but that said it was the teams first week with a new head coach and they did have a few bad breaks in that game, such as the missed field goal return for a TD that really changed the game.
Toronto did get a big win out of their bye week at home over Edmonton last week, but lets not forget that this same Toronto team lost to the Ti-Cats just two games back.
I definitely give the Argos the edge in this one, but I'd have the spread closer to like 3.5.  At this spread I'm going with Montreal.
Play: Alouettes +6.5
Calgary Stampeders @ Saskatchewan Roughriders
The line is not yet available for the Sunday game.  I'll try to update this section when the line becomes available.  In the meantime just know that I'm probably taking the Stamps to cover anything under a 10 point spread pretty confidently.
Tagged With : CFL betting • CFL picks