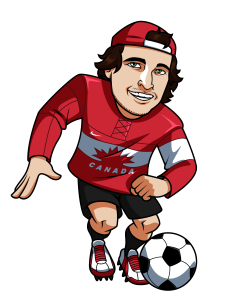 Brazil and Colombia are set to battle it out in the quarterfinals of the World Cup tomorrow in the mini-finals of the all-South American quarter of the draw.  Brazil came through on penalties over Chile in a very tough game that could have gone either way, while Colombia kind of breezed by a Luis Suarez-less Uruguay team with a 2-0 win thanks to a couple goals from James Rodriguez.
Let's look at the odds here and then I'll tell you my thoughts on the match.
Brazil vs Colombia Odds
The top odds are for the regulation (first 90 minutes of the game) and then the next odds you will see will be for which team will qualify for the semi-finals.
Brazil 1.86
Draw 3.75
Colombia 4.75
To Advance:
Brazil 1.42
Colombia 3.00
My Pick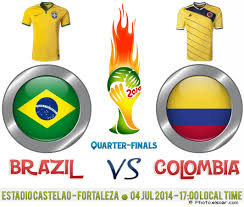 I had Chile beating Brazil in the round of 16 and I still think that they deserved to win that match.  I think that the match against Chile kind of made people realize even more than the group stage that this Brazil team really isn't that strong this year.  That said they are still fairly big favourites heading into this match with Colombia.
Colombia has won 4 straight games, each in regulation.  They've beat Greece, Ivory Coast and Japan in the group stage and then Uruguay in the round of 16.  These are not the strongest teams in the tournament by any means, but the ease by which Colombia has won (11 goals for and 2 against) shows that this team is for real.  Colombia also finished second to Argentina (2 points back) in the World Cup qualifying for the South American teams.  They also played very well in tune up matches with a win over Belgium, a draw with the Netherlands (both on the road), showing that they can compete with teams who are in the quarterfinals.
I think James Rodriguez will keep his goal scoring streak alive against the Brazilians and this could be enough to win the match.  Neymar was not a factor in the game against Chile and I think we will notice this again because his style seems to work very well against weaker opponents.  It will be interesting to see if Hulk can have another good game and Oscar can find his form to provide the offense for the Brazilians.
At these odds though I still think the smart money is on Colombia to pull off the upset in this match.
My Play: Colombia in regulation 4.75
Tagged With : Brazil • Colombia • World Cup betting